Share PDF files easily and invite people to collaborate on the Cloud with Lumin PDF
Share PDF files easily and invite people to collaborate on the Cloud with Lumin PDF. 
If you want to know how to share a PDF on Google Drive using Lumin, this is the guide for you.
How to share files through Google Drive 
How to collaborate on PDF files with your team
How to share files through Google Drive
In most cases, using Google Drive to share files is a great option to have all your documents in one place while working on them with your team. It's simple to share files on Google Drive and collaborate on them if you're working with popular file formats like .docx, .xlsx, and .ppt; however, that's not the case with PDF files. 
The first issue you might run into when doing PDF work in Google drive is that it's not possible to share a Google Drive file with non-Gmail users. If you need to share a file with someone outside of your organization who does not already have a Gmail account, that person will either have to create one or download the file via email. Particularly if your organization regularly needs to share large PDF files, this can be time-consuming and will eat away at your  memory on your computer's hard drive. 
Even though you can store PDF files in the cloud, sharing requires having a Google account, so you can't collaborate on them the same way you do with Sheets or Slides. Here again, you run into the problem of needing to upload a PDF to share it each time a new change is made. This can be particularly time-consuming when it comes to using PDF to share forms with clients, partners, or students.
Luckily, these roadblocks can quickly be eliminated by turning on the Lumin extension.
Select your PDF file in Google Drive, right-click on it and choose 'Open with'

📌 Note: You will notice that the PDF can be opened with Google Docs. However, this option does not always preserve layers and graphics from the original file. It also can remove your formatting, leaving you with a jumbled and incomplete document.
Choose 'Lumin PDF' from the list of suggested apps.
Connect Lumin to your Google Drive.

See your PDF file in the app and edit with different tools.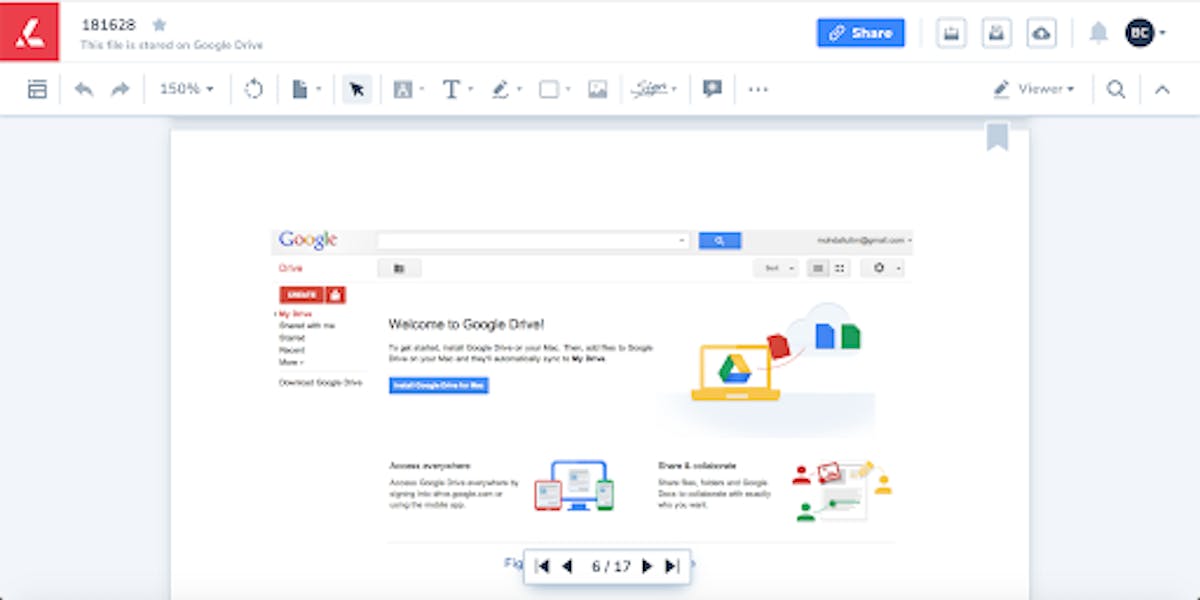 When you're ready to share the file, click the blue 'Share' button.
Invite other people by email to collaborate, or share the file with a public link without the need to connect via a Google account.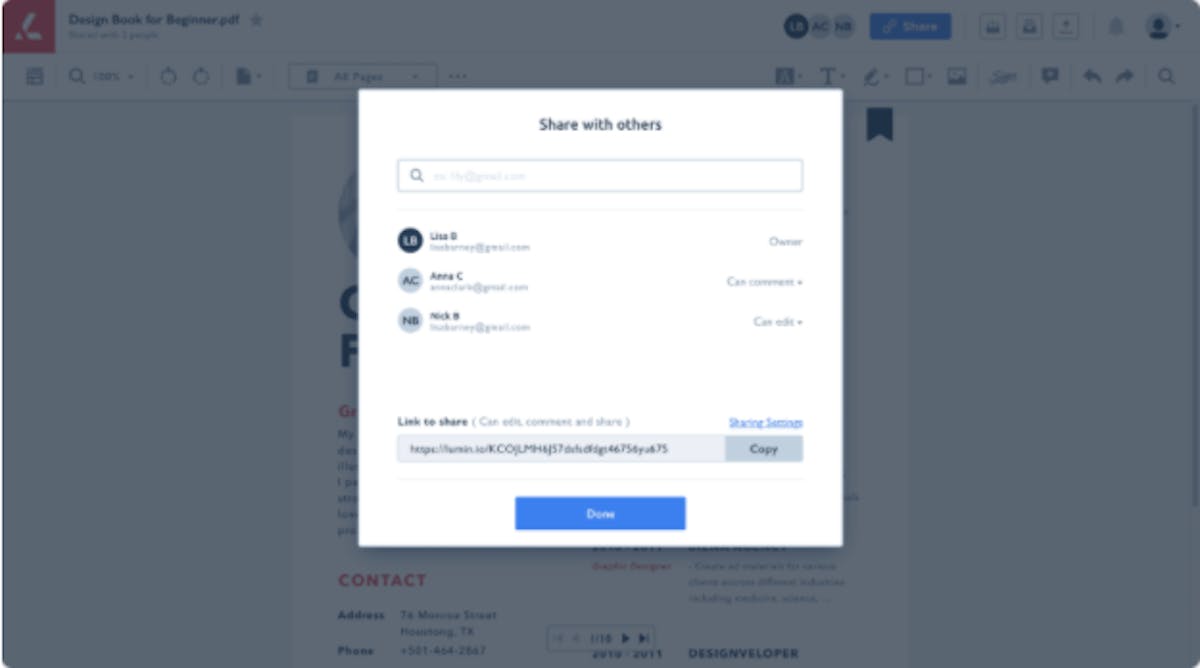 To expand the limited PDF editing capabilities of G Suite, you can connect your Google Drive to Lumin PDF. This allows you to access, move, edit and share your PDFs across all devices without leaving the cloud. You don't need to download your documents from Google Drive in order to upload them to Lumin's cloud storage. Just follow these steps:
Start from the main page of Lumin PDF
Go to the App menu – here you will see all your uploaded documents
Click the red 'Add' button
Click the 'Google Drive' icon in the pop-ups list. Aside from Google Drive, you can also upload your documents from your computer or Dropbox storage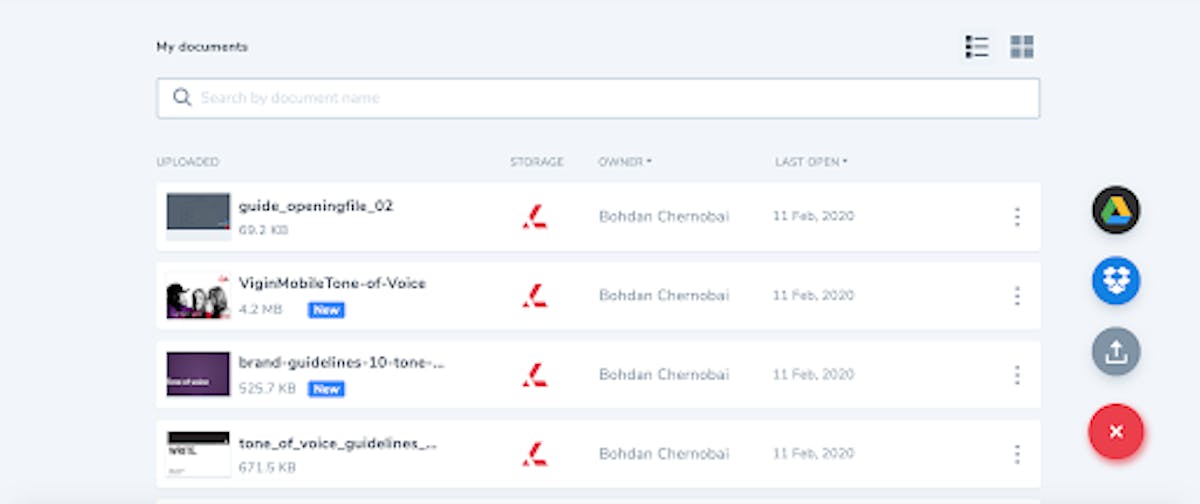 How to collaborate on PDF files with your team
Lumin PDF lets you share files with the same ease as sharing a Google doc, but gives collaborators the additional options of commenting and editing - all without the need for the recipient to have a Google account. This is a huge advantage when collaborating with individuals outside of your organization who may be using a different email provider.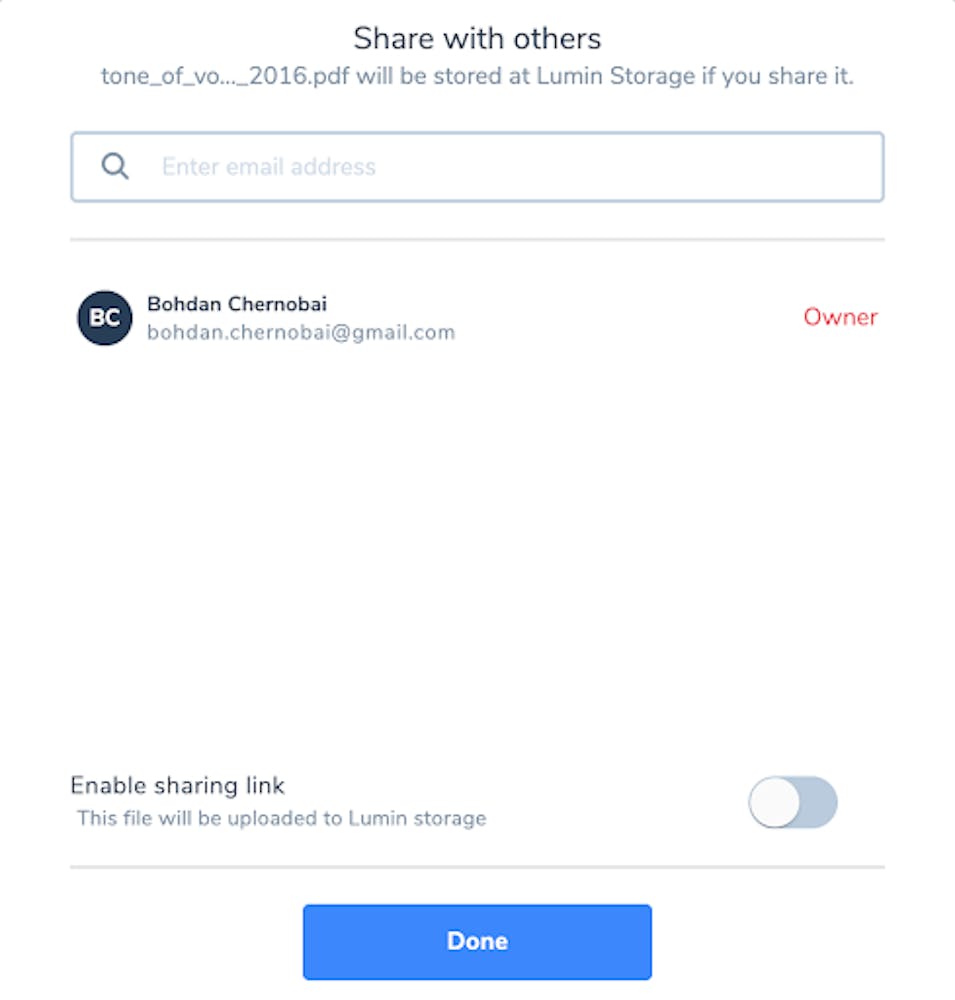 After enabling link sharing, a box will appear containing a share link for your document. This link grants access to anyone who has it and ends with a special key that is unique to your document. It grants access to comment, edit, and share the document and can be customized to grant some or all of the permissions to recipients.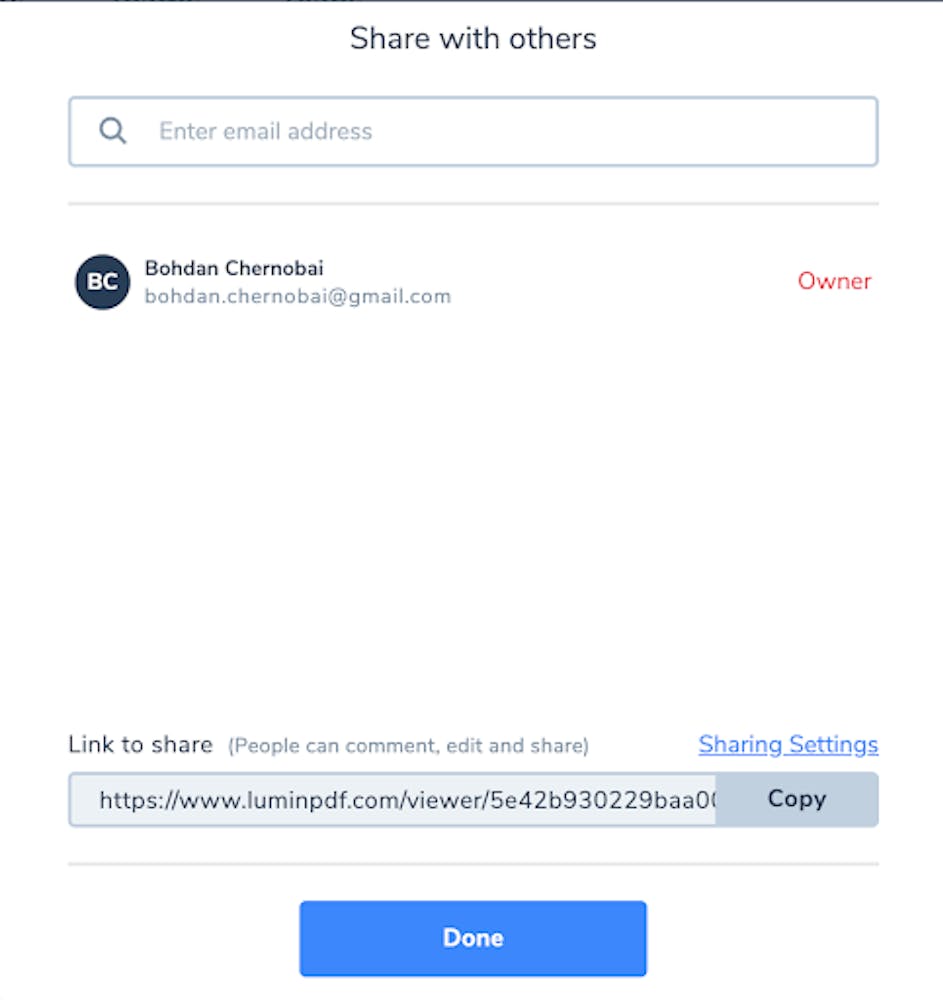 In the picture above, sharing settings are set to give the link recipient full access to the file to comment, edit, and share it. You can change these sharing preferences at any time by clicking on 'Sharing Settings' and choosing between 3 sharing options:
Comment: Can view and comment.
Edit: Can view, comment and edit.
Share: Can view, comment, edit and share.
From this menu, you can also turn off further sharing by recipients by changing the link setting to only 'People invited to this doc'.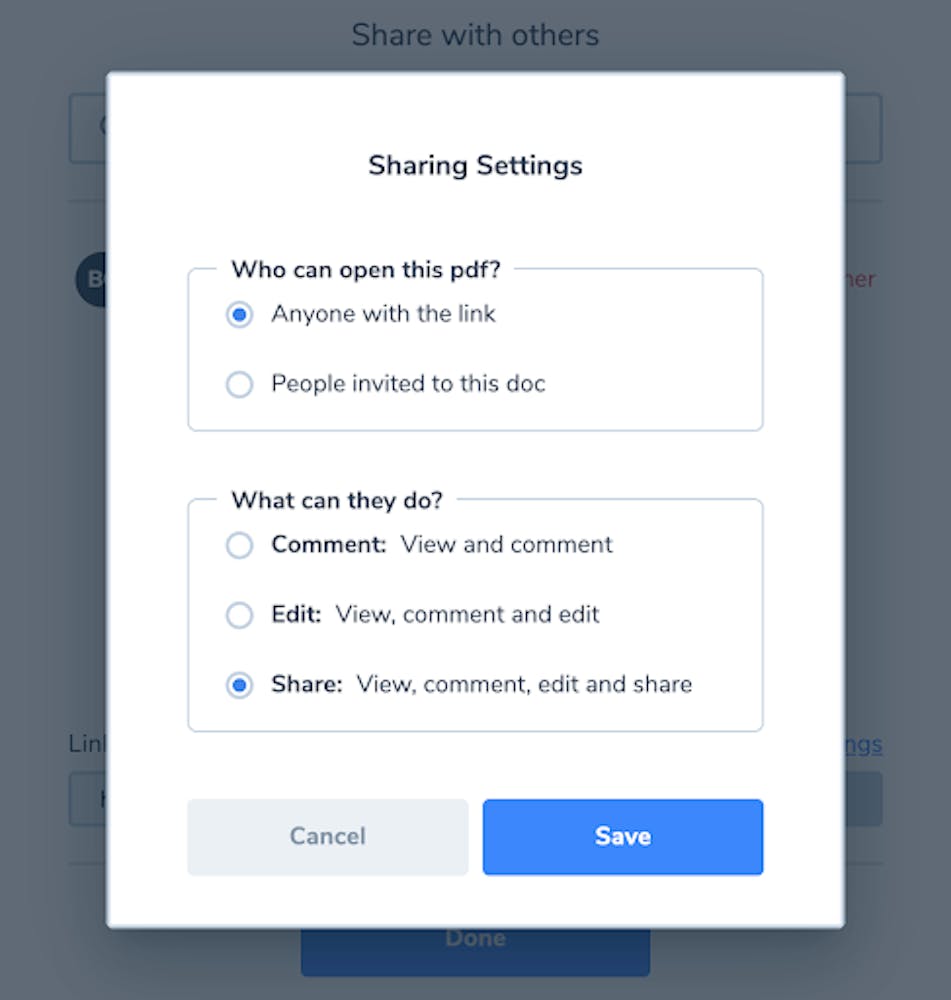 If you would like to share a document only with a specific person while restricting general access, you can do this by entering the email address of the person with whom you would like to share the PDF.
This option gives you the added benefit of being able to share a PDF on Facebook or LinkedIn directly from Drive without a need to remove collaborators - anyone accessing the PDF from the public link will be able to view it, while editing, commenting, and sharing will be restricted to specific individuals.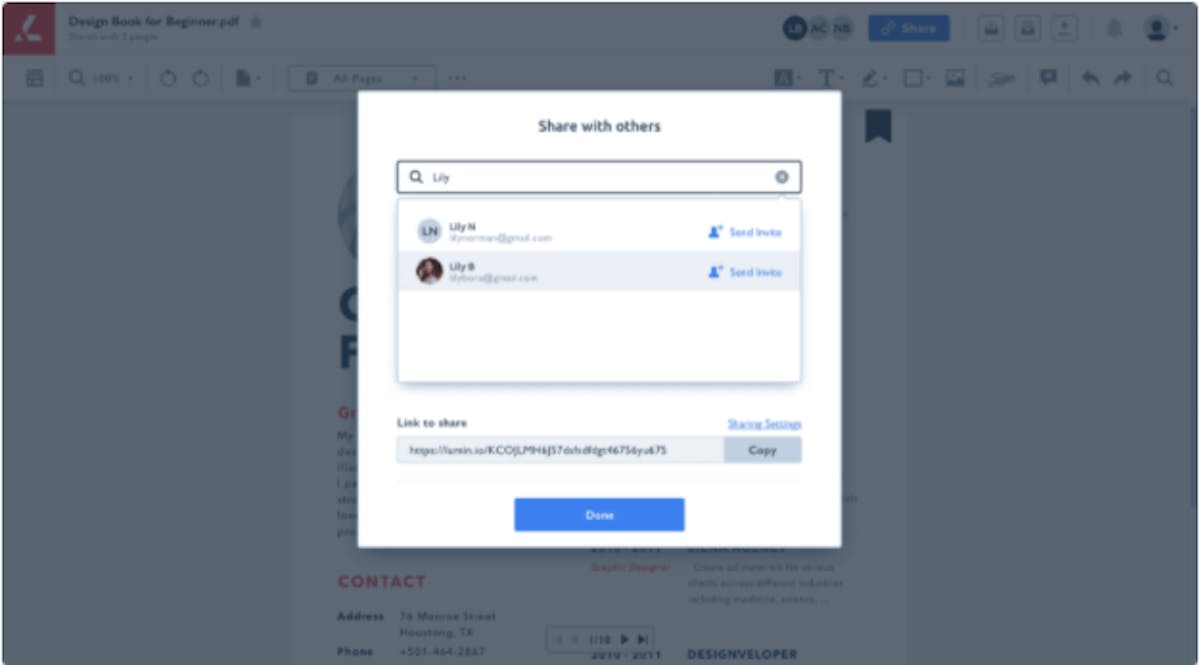 The same way as in Google Drive, view shared files in the main menu and check who has access to the file by choosing the file and clicking the 'Share' button.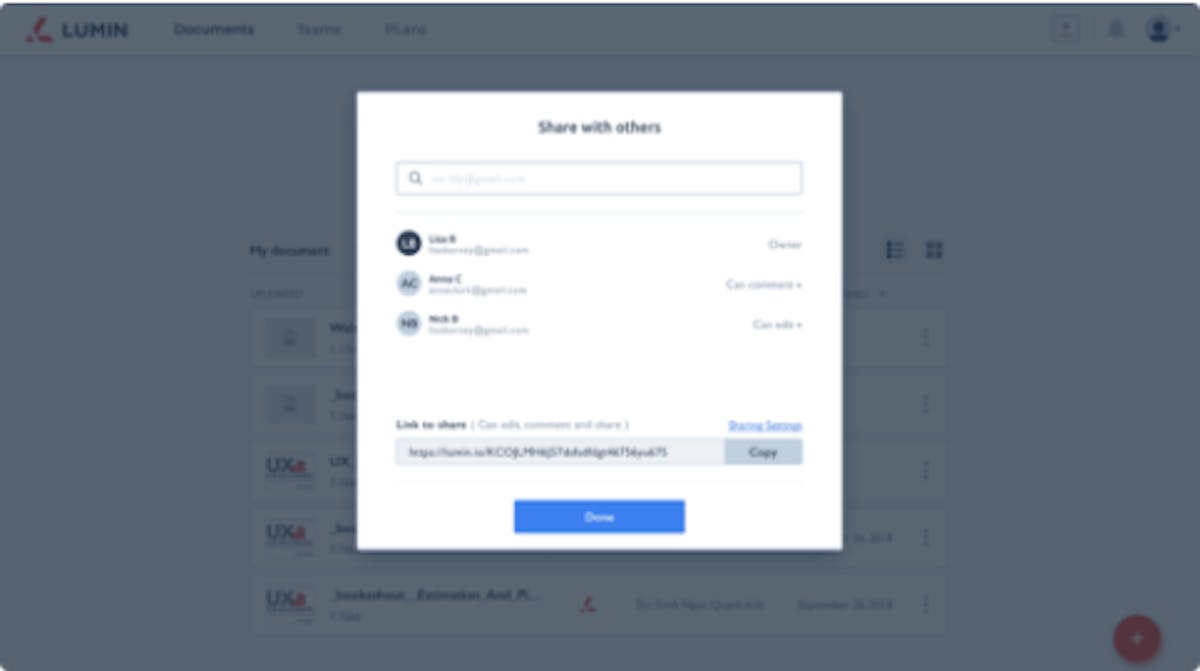 In the picture above, you can see that the file was shared with two users but each user has been granted different access privileges: one can edit the file, while the other can only comment. 
You can change these access privileges by clicking the down arrow and selecting 'Can Comment' or 'Can Edit' or 'Can Share'.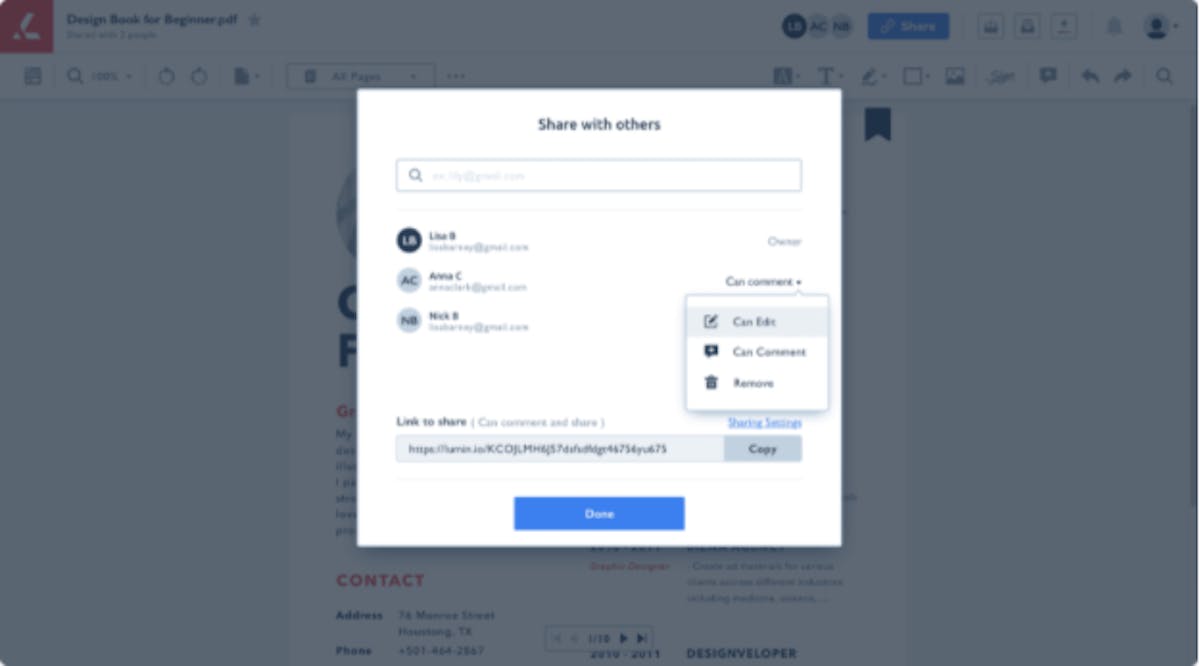 You can also change sharing settings from the Documents menu by selecting the file you need, clicking the ellipsis (...), and choosing the 'Share' option.