Lumin PDF brings your documents to life
Lumin PDF's powerful features are simple and intuitive to use. They're ready to go when you are from our beautifully designed cloud-based app.
Collaborate, annotate, view, share and e-sign with online tools that make the job quick and easy.
Learn more below.
☁️ Lumin + Google Drive
Follow this step-by-step guide to connect the Lumin PDF app to your Google Drive. Highlight, edit, annotate, and sign PDF files directly from your Google Drive.
Nowadays, there are alternatives to keeping all your files on your computer's hard drive. Cloud storage services are quickly replacing physical storage. They give users peace of mind by ensuring that hard drive issues or computer mishaps don't affect important files. These services also enable you to create, share, and collaborate on content with your team from any location in the world. Instead of downloading, editing, and uploading documents (and waiting for your team members to do the same), getting docs ready for publication is a matter of a few clicks. 
Google Drive, the home of Google Docs, Google Sheets, and Google Slides, is the most popular cloud service provider. These tools come in handy for anyone who often works with documents. However, Google Drive has some limitations when it comes to editing PDF files. You can edit a PDF file only by first converting it to a Google doc, which means you lose the formatting of the original doc. 
As an alternative, you can opt for Lumin PDF to get the same flexibility in PDF that Google Docs gives you for other types of documents. 
Let's see how you can connect the Lumin PDF extension to your Google Drive to open, edit, and share PDFs without any hassle. 
To connect your Drive to Lumin, start by going to your Google Drive storage.
Click on the New button in the left toolbar.

Hover over the More option, and then click Connect more apps.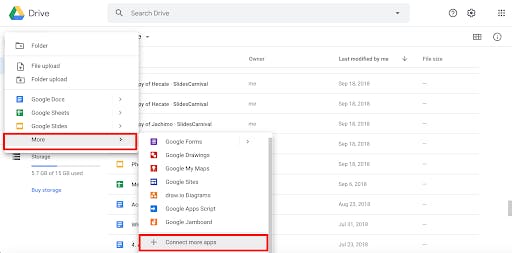 You will get to the G Suite Marketplace, where you can find various extensions for your Google Drive.

Type "Lumin PDF" in the search box, hover over the Lumin tile, and click on it.


This will take you to the Lumin PDF installation page. Click the Install button.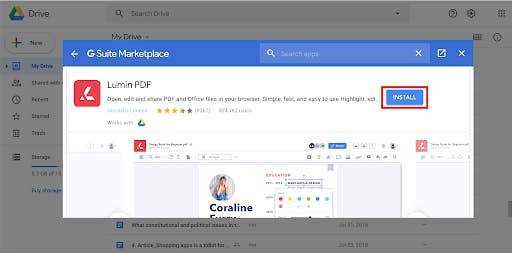 You'll be prompted to read Lumin PDF's Terms of Service and Privacy Policy. Click Continue, and the Lumin PDF extension will be connected in a few moments.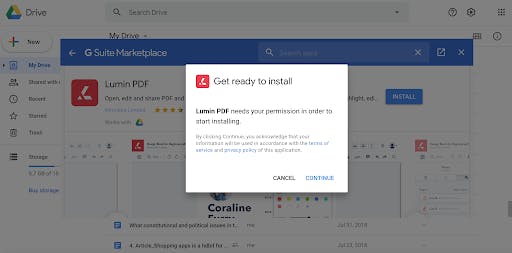 Hooray! Now Lumin PDF is connected to your Google Drive storage. You can also opt to use Lumin PDF as the default app for PDF files. If you often work in PDF files, this is a convenient option.
If you don't choose Lumin PDF as the default app now, you can always go back and change this later.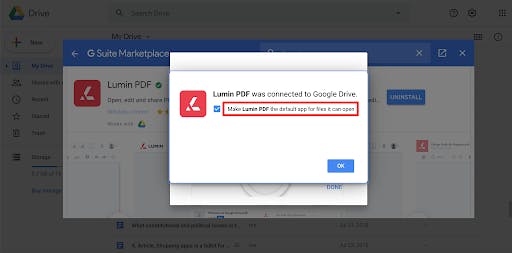 Alternatively, you can open your PDF in Lumin on a one-time basis.
Select a PDF file, right-click on it, and choose Open with. You will find Lumin PDF in the  "suggested apps" list.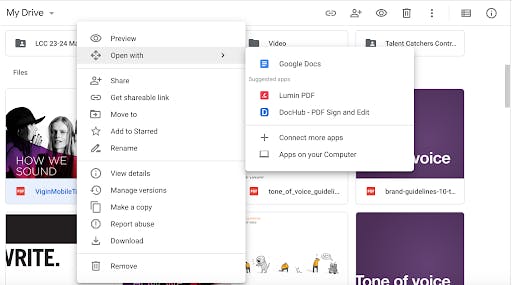 Choose Lumin PDF and you will be redirected to a new tab where you will be prompted to connect Lumin PDF to your drive.

Click the button Connect to Google Drive, choose your Google account in the new window, and review your sharing options.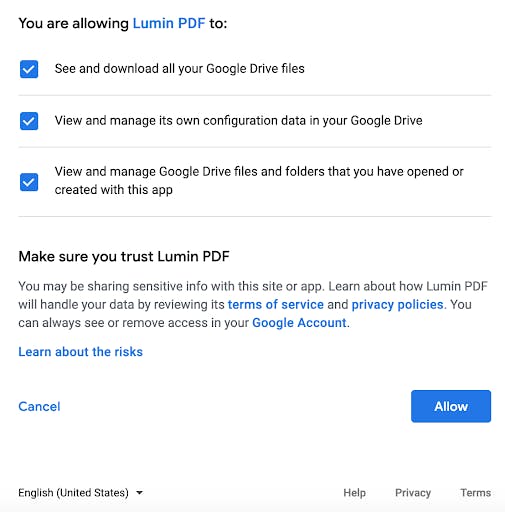 You're all set! Now you know how to open PDFs in Google Drive and can start editing your PDFs quickly and conveniently.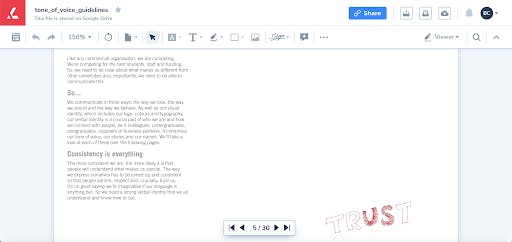 Later, when you return to your Google Drive storage, you can find Lumin PDF under the Apps launcher icon and then clicking Open with in Google Drive. Apart from PDFs, Lumin also can be used to open Microsoft Word, Excel, .jpeg and .png files. All of these files will be preserved in the original file type when opening the document and will only be converted when downloaded from Edit Viewer in Lumin.
Since the extension works with Gmail, you can view your email attachments without downloading them. Just open PDF in Google Drive or Gmail using Lumin PDF and edit your file, draw or write on it, or invite your teammates to collaborate on the file together with you. All the convenient tools you're used to with Google Docs are now at your disposal for PDF files. Enjoy!