Lumin PDF brings your documents to life
Lumin PDF's powerful features are simple and intuitive to use. They're ready to go when you are from our beautifully designed cloud-based app.
Collaborate, annotate, view, share and e-sign with online tools that make the job quick and easy.
Learn more below.
✨Lumin Premium
How to Subscribe to Lumin PDF Premium
Lumin PDF is a software that takes the frustration out of working with PDF files. We decided to create a software that would provide users with convenience and flexibility for working with PDF files -- no downloading required. Lumin PDF replaces the tedious back-and-forth emailing, empowers e-signatures, and lets content discussions happen directly in the document itself. 
Lumin software offers handy tools for busy professionals who regularly work with PDF files. Lumin PDF is accessible via a Google Drive extension and offers many of the same features you're used to in Google Docs, plus e-signatures.
Lumin PDF allows you to annotate PDF docs online and to edit PDF files from any device: desktop, notebook, tablet, or mobile. You can use the PDF annotation tool to paint, draw, leave comments for the team, or change the layout or text of the PDF file. 
You can also use Lumin to share PDF files with other teammates via email or a shareable link. To share a PDF file as a link, you need to first select your sharing settings. Then, copy
the public link and send it by email, in a message to coworkers, or on any social network. 
If you access Lumin by installing the Google Docs extension, you will automatically be given a Free account and 1 GB of storage. If you have a Free account, you will never be charged for using the Lumin service. You can upgrade to a premium account to access more storage space and features. Advanced functions include unlimited storage, unlimited document life, no advertisement, e-signature, premium email support. 
A Free plan gives you access to basic Lumin features:
Real-time Sync. When someone is editing your document, you can see the changes as they make them. 
Annotation Tools 
Cloud Integration 
Automatic Saving 
Commenting 
Cross-Platform
You can opt for a paid Premium account to access features like: 
10 GB storage
Remove pages
Create custom fields 
Sign documents electronically
Share documents 
Send automatic notifications to collaborators 
Priority support
Ad removal
There are 3 types of Premium accounts to suit a variety of needs.  
The Personal Plan is tailored to personal and professional use. Along with the features above, it gives you 10 GB of storage. If you deal with a high volume of PDFs, you can opt instead for the Professional Plan, which comes with unlimited storage. 
For businesses, schools, and other organizations, Lumin Team and Lumin Enterprise provides collaboration features for PDF projects with more than one contributor. The team package works great for small businesses and startups. Lumin Team allows up to 100 people to access and contribute to shared PDF documents, with 50 GB of storage. Lumin Enterprise provides unlimited storage for large organizations. 
Stick with us and we'll show you how to open your own Lumin PDF account.
1.  Click the Plans link in the navigation bar to open the page with premium plans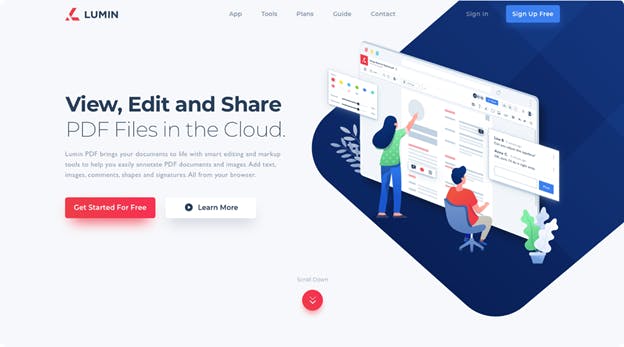 2. This will bring you to the Lumin Premium page. You may have to log in with your Lumin account first.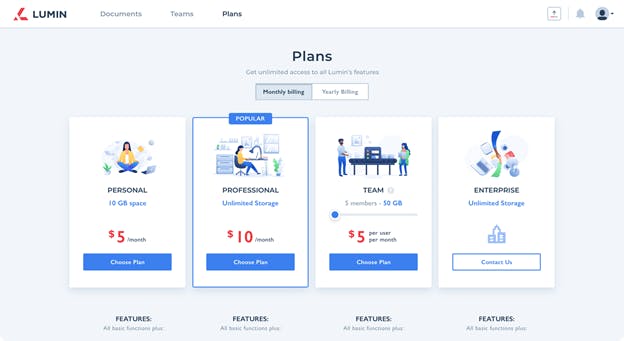 3. Add your billing details to the form, accept the Terms and Conditions, and then click Continue.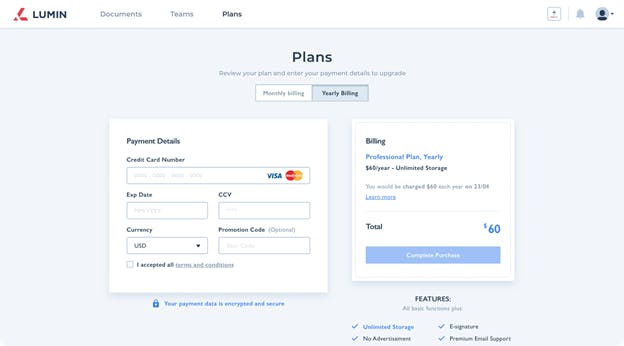 You're all set! Now you can enjoy premium features and collaborate on PDFs easily, with features like:
✨ Merging PDF files
✨ Signing PDF files
✨ Adding images to PDF files
✨ Sharing PDF files
✨ Collaborative editing
✨ Zero ads