Hello, how can we help?
Lumin is simple and intuitive. Most of the features work exactly as you would expect.
If you get stuck we have a ton of helpful information below
👋 Overview
Lumin makes it easy to create, edit, and share PDF documents. In this how-to, you'll learn how to open and upload PDF files using Lumin PDF.
How to open PDF files on Windows and Mac
Windows and Mac both have their own default PDF programs (Internet Explorer or Microsoft Edge for Windows; Preview for Mac). These default programs are great if you just want to have a quick look at the file. They open your PDF and let you navigate through the document, highlight text, and add handwritten notes and annotations. However, if you need to do heavy lifting — make direct edits, erase text, rotate or remove individual pages, or put stamps and signatures — then it can be helpful to add the Lumin extension.
How to open a PDF file with Lumin PDF extension
Initially, Lumin PDF was created as an extension for Google Drive to empower users working with PDFs with the same flexibility they have when dealing with other document types. When you need to edit and share your PDF files, you can opt for the Lumin PDF extension, which is basically the same as Google Docs for doc files, or Google Sheets for xlsx files.
When you navigate through your Google Drive, you can choose and open almost any file using the "Preview" feature, which opens archives, video, audio and other media files the same way you can preview your PDF file. However, with the default tool of Google Drive, the number of actions you can perform to your document is limited to navigating, commenting, or printing. Aside from that, you can also rename, share or move your file to a different folder.
Add Lumin PDF and your editing power will drastically increase. You can connect Lumin PDF to your Google Drive in 4 simple steps:
1. Select a PDF file in your drive, right-click on it, and choose "Open with". You will find Lumin at the top of the "suggested apps" list.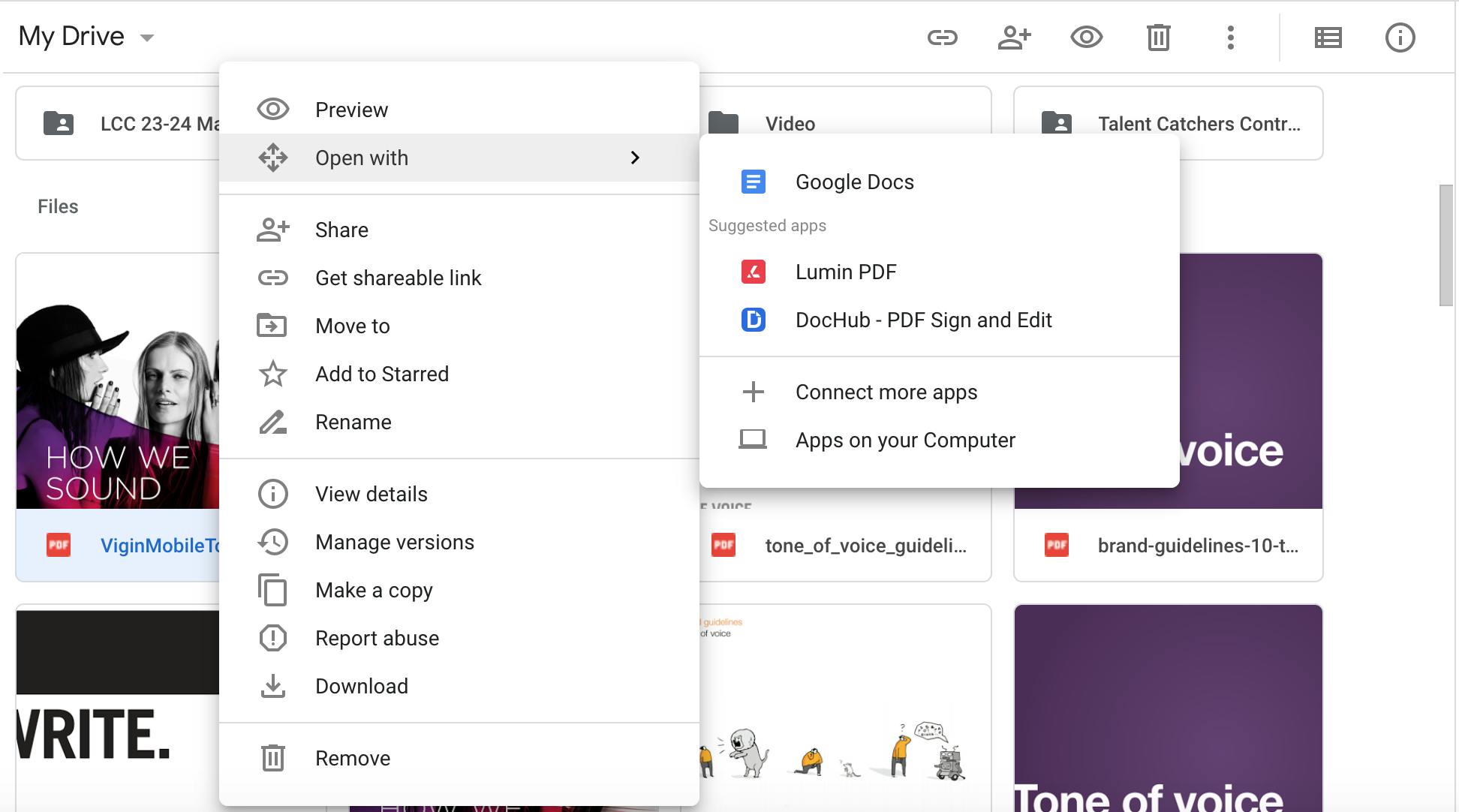 2. Choose "Lumin PDF" and you will be redirected to a new tab where you will be prompted to connect Lumin PDF to your drive.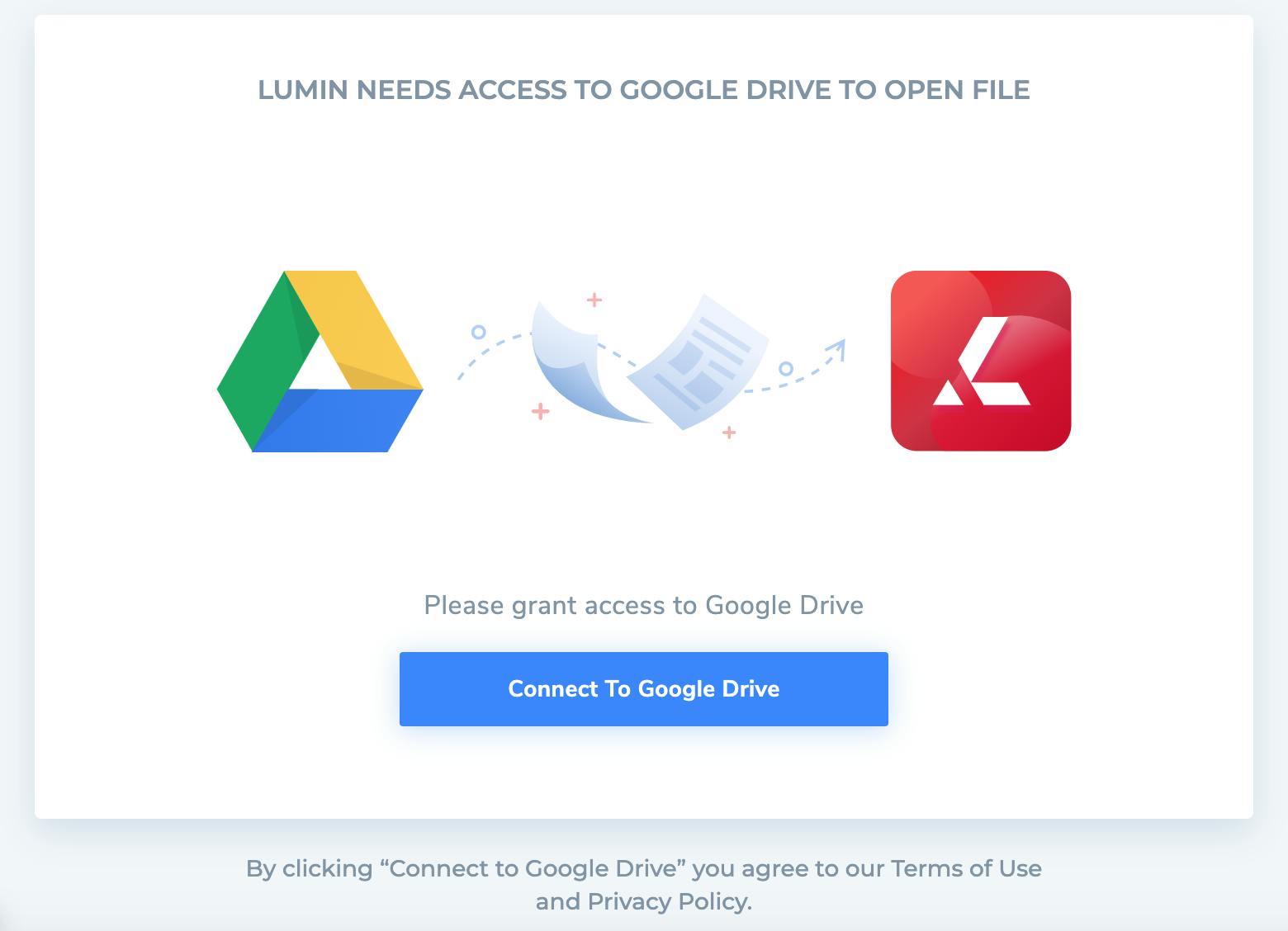 3. Click the button "Connect to Google Drive", choose your Google account in the new window, and review your sharing options.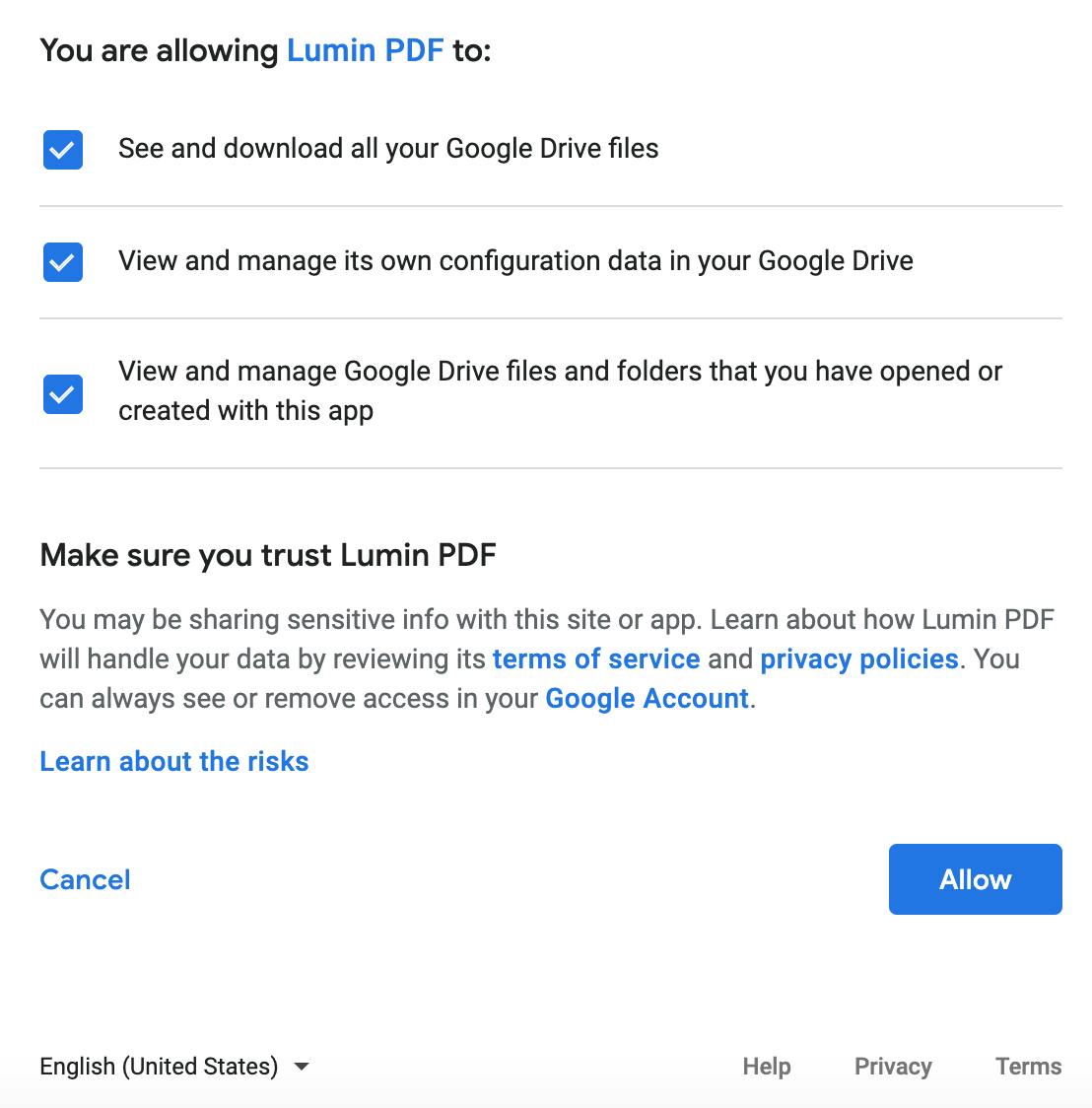 4. Now you're ready to collaborate, edit, and sign your PDF files in Lumin PDF! Enjoy all the editing capabilities available to you.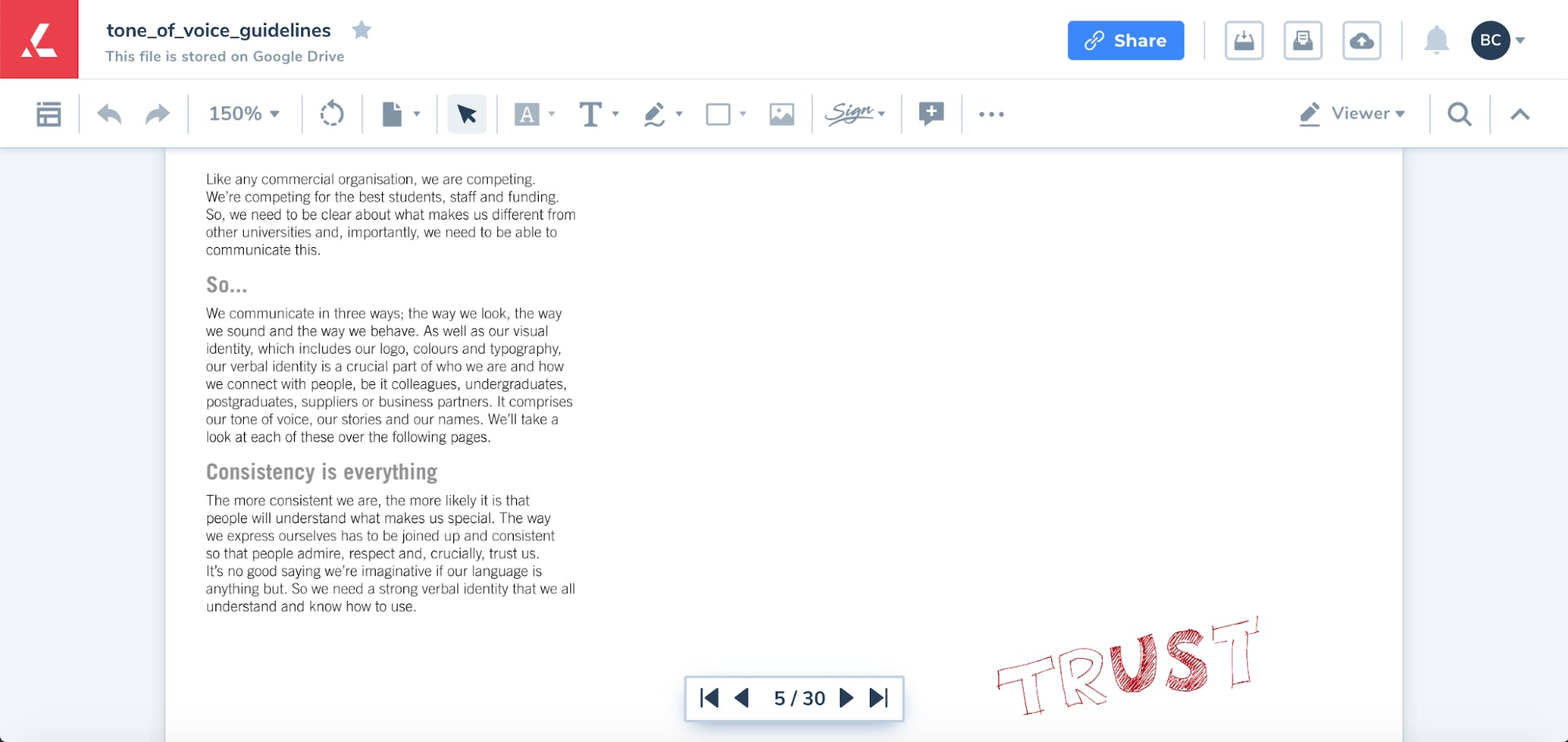 How to open a PDF file in your web browser
Alternatively, you can also open your PDF in Chrome, if this is your preferred browser. However, although you can choose this browser as your default PDF viewer, the actions you can perform in PDF using Chrome are limited to zooming, rotating, and printing. To expand your options for editing and collaborating, you can add the Lumin PDF browser extension. This also lets you share PDF and Office files without the need to switch to any additional solution outside your web browser. And since the extension works with Gmail and Google Drive, you can view your files or email attachments without downloading them. You can also use the Lumin extension to convert files from the original format to PDF for quick and easy viewing.
If you would like to open your PDF in Firefox, the process is the same.
How to open a PDF online from the Cloud
The great thing about working with your PDF files from cloud storage is that you can open, edit, and share your documents anywhere in the world from any device just by having access to the internet. This eliminates the drawbacks of traditional PDF, which does not allow files to be altered once they are shared.
These are steps on how to open your PDF files from the cloud using Lumin:
1. Start from the Lumin home page and click the App button.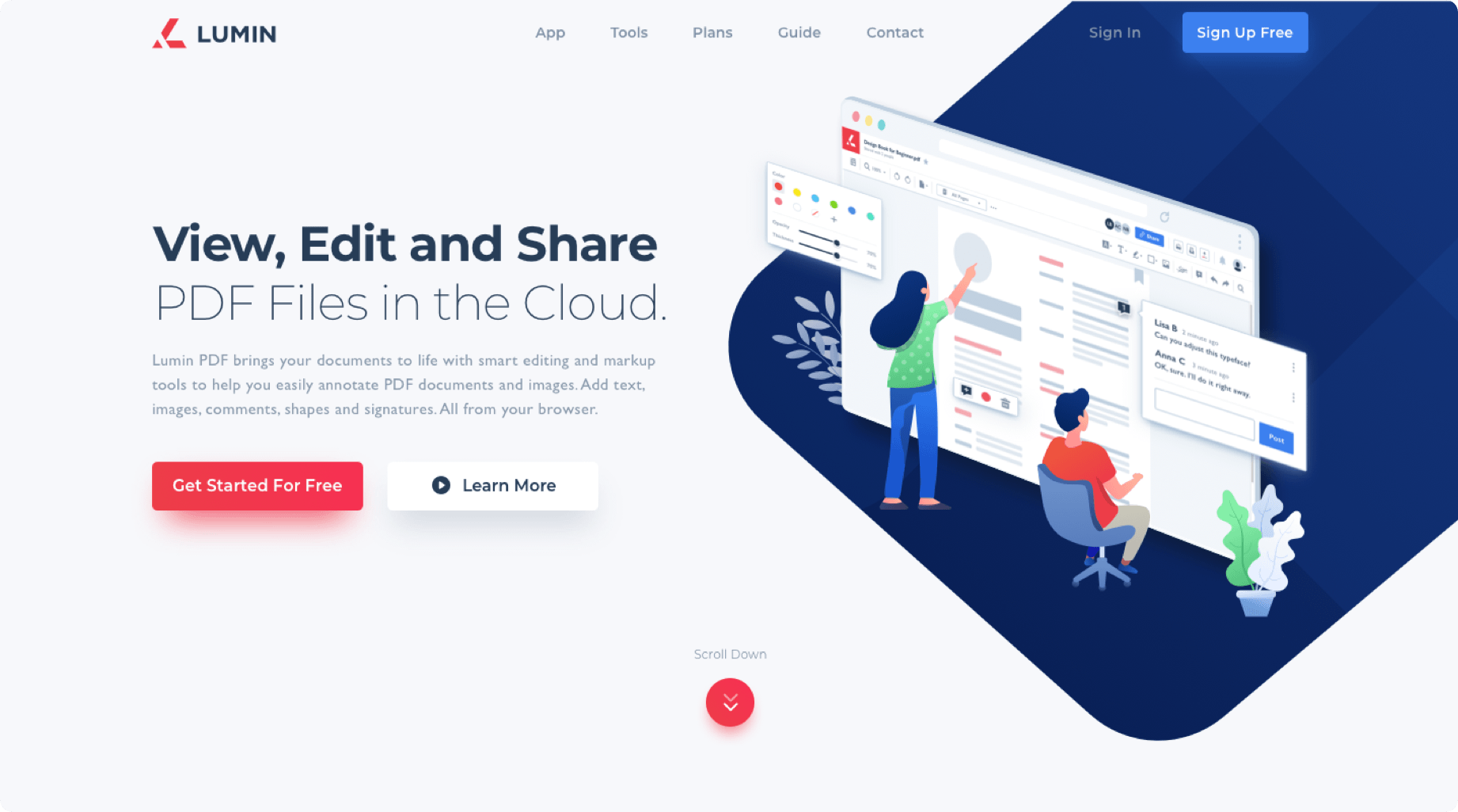 2. Now you see the main app page with all your uploaded documents.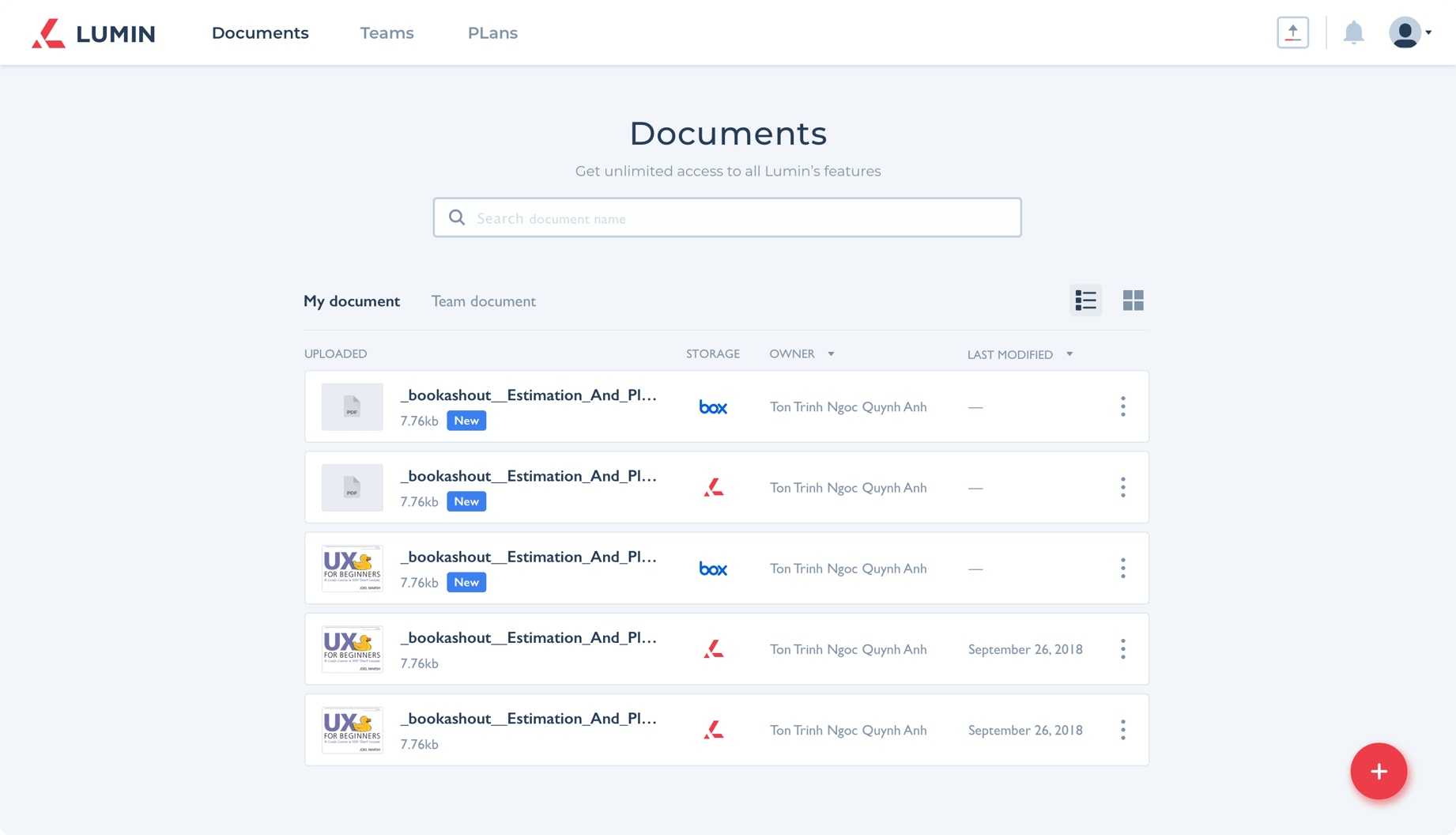 📌 Note: Files can be viewed and managed once you've created your personal or business Lumin PDF account.
3. To upload a file, click the red 'Add' button and choose your internal storage, Google Drive or Dropbox.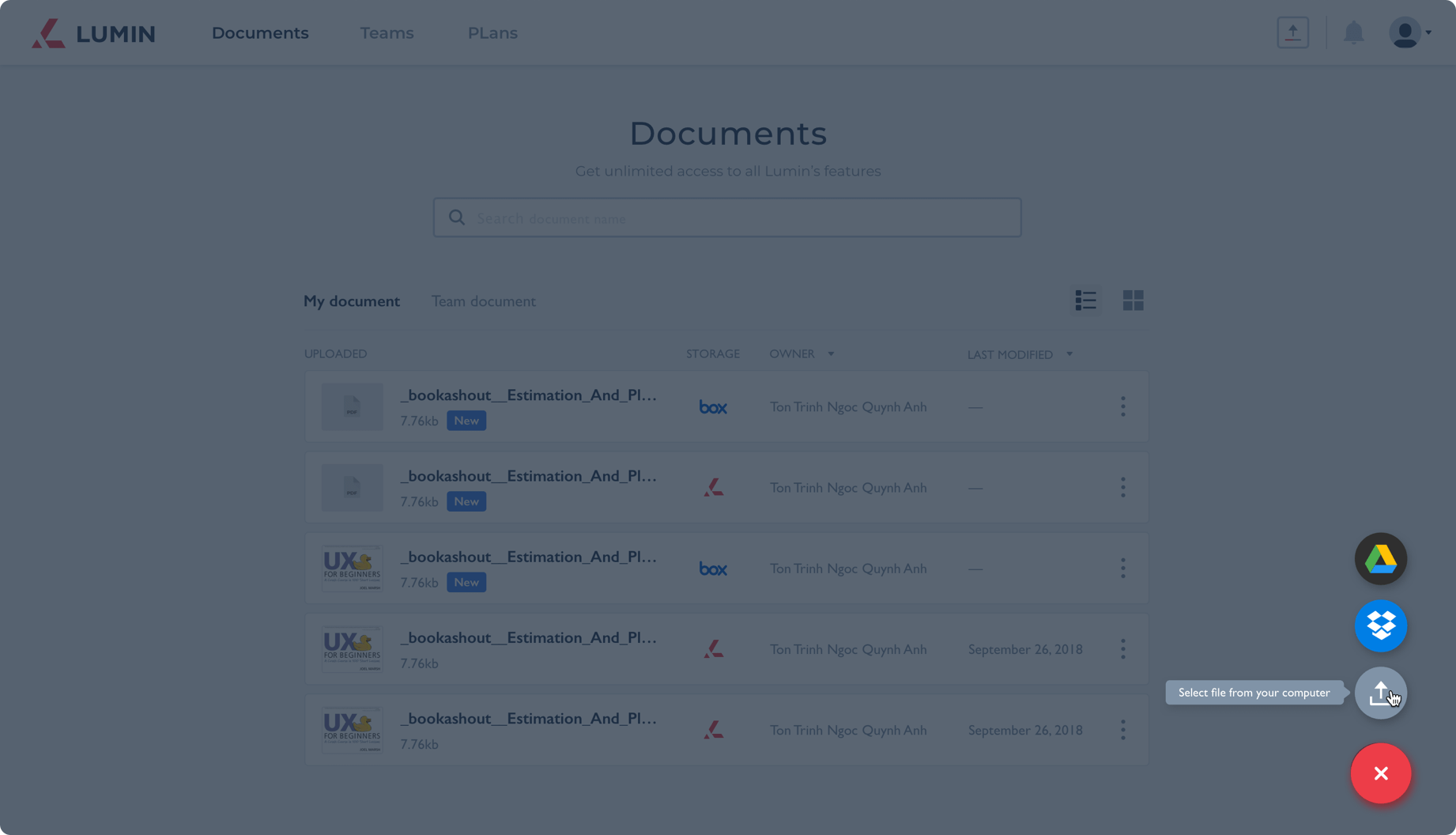 4. Once the file is added, you're free to edit, share, rename, and more.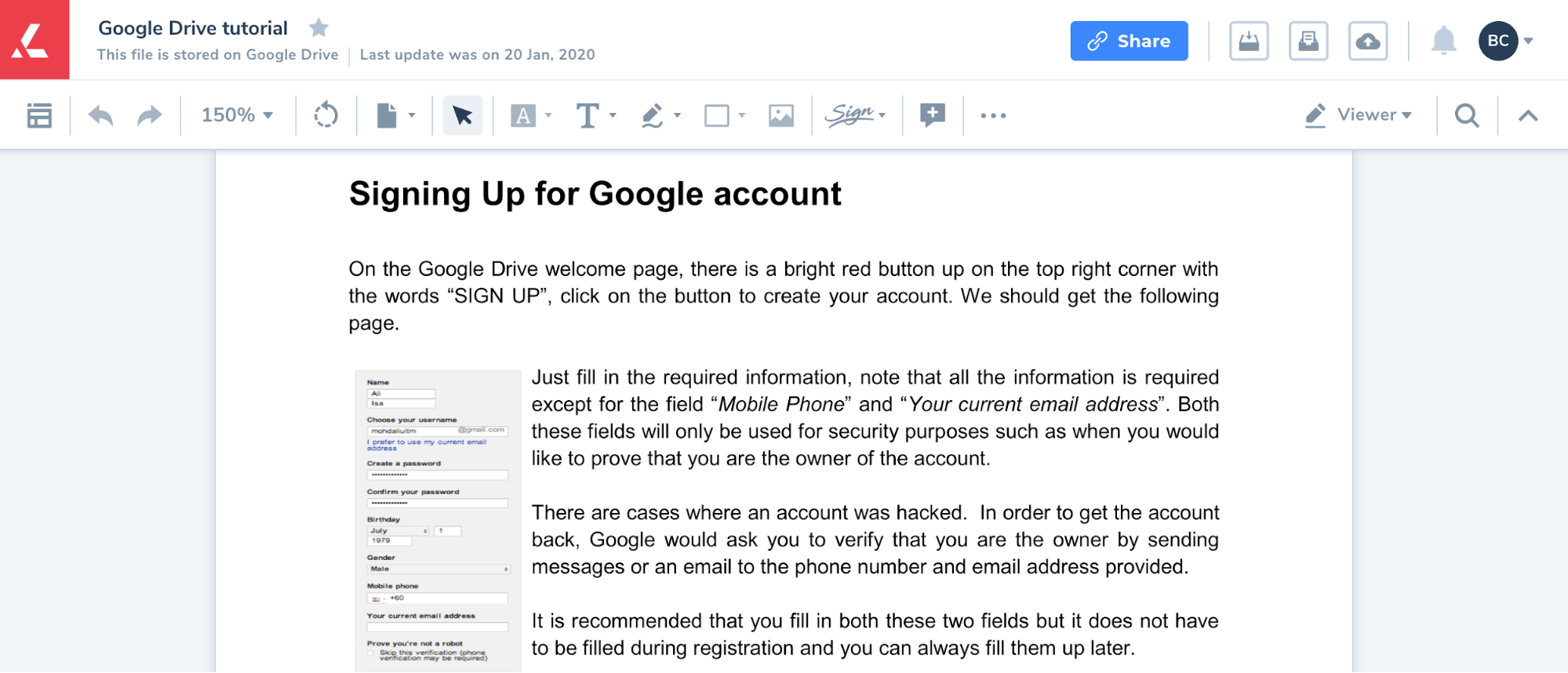 PDF aside, Lumin also can be used to open Microsoft Word, Excel and .jpeg and .png files. All of these files will be preserved in the original file type when opening the document and will only be converted when downloaded from the Edit Viewer.
How to open a PDF file on mobile
Lumin facilitates quick and easy collaboration by allowing you to share and edit PDF files simultaneously across devices. Your entire team can open PDFs on iPhone or Android on-the-go for collaboration from anywhere.
Follow these steps to open, edit and share PDFs on your mobile:
1. Download the "Lumin PDF" app from the app store.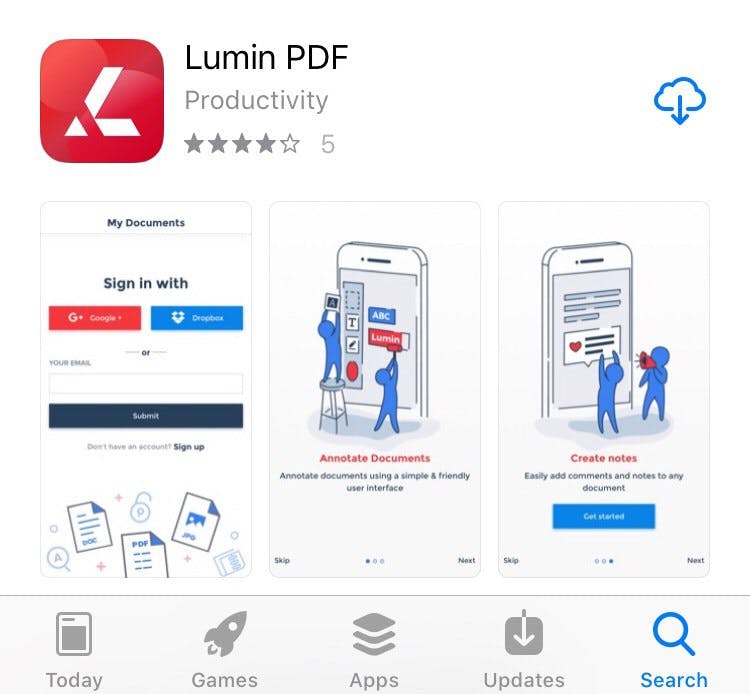 2. If you already have a Lumin PDF account, log in by entering your email and password, or with your Google or Dropbox account. If you don't have an account yet, create it in a few minutes from your mobile.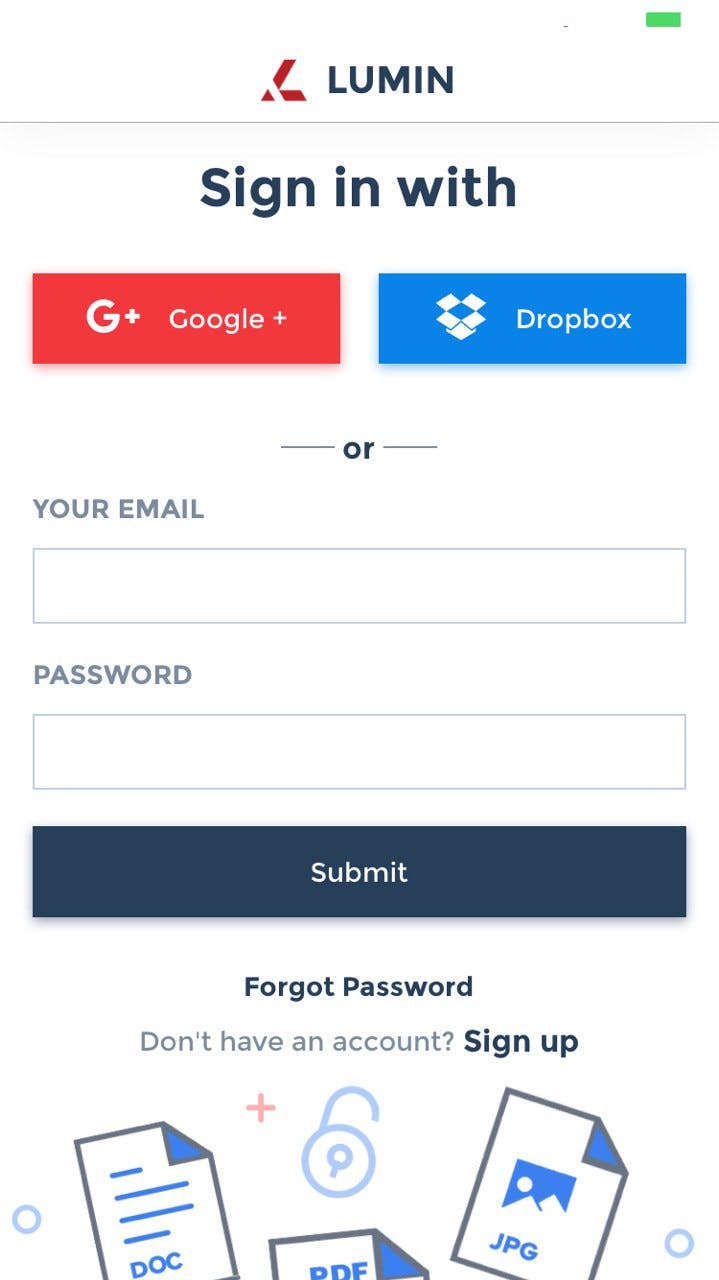 3. Enter the login details, and you will be directed to the main menu of the app. If you have been using Lumin PDF before, you will see the list of your previously uploaded files.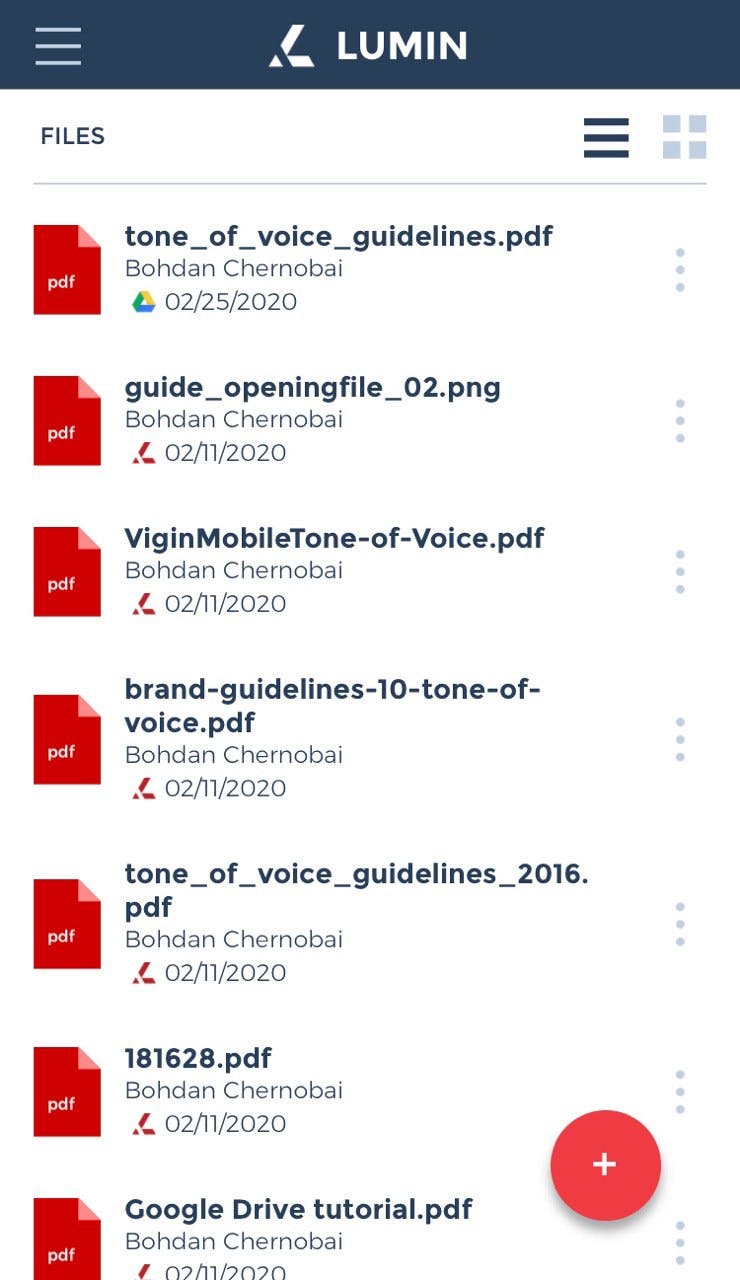 4. Click on the ellipsis (three vertically aligned dots) and you will be able to choose whether you want to "Edit", "Download", "Share", or "Delete" the file.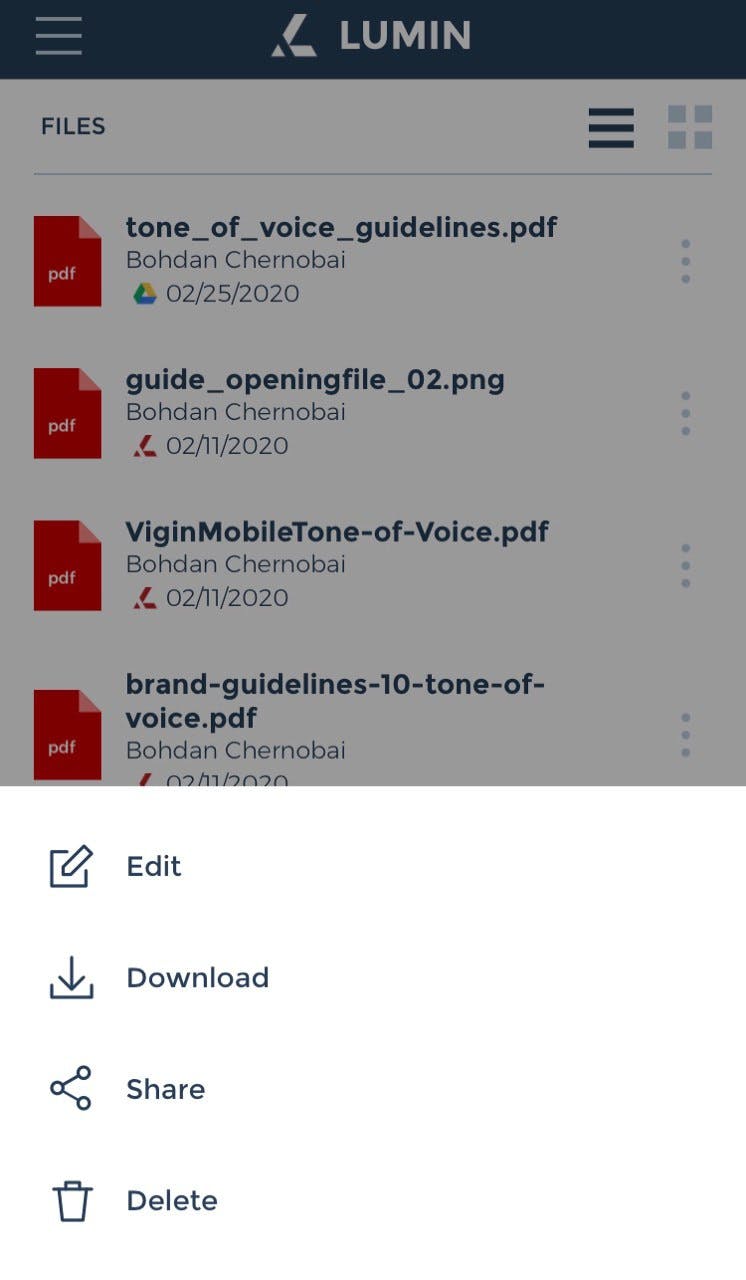 5. Navigate through the file, rotate, merge, and split pages, highlight and underline text, draw lines and shapes, add comments, and much more.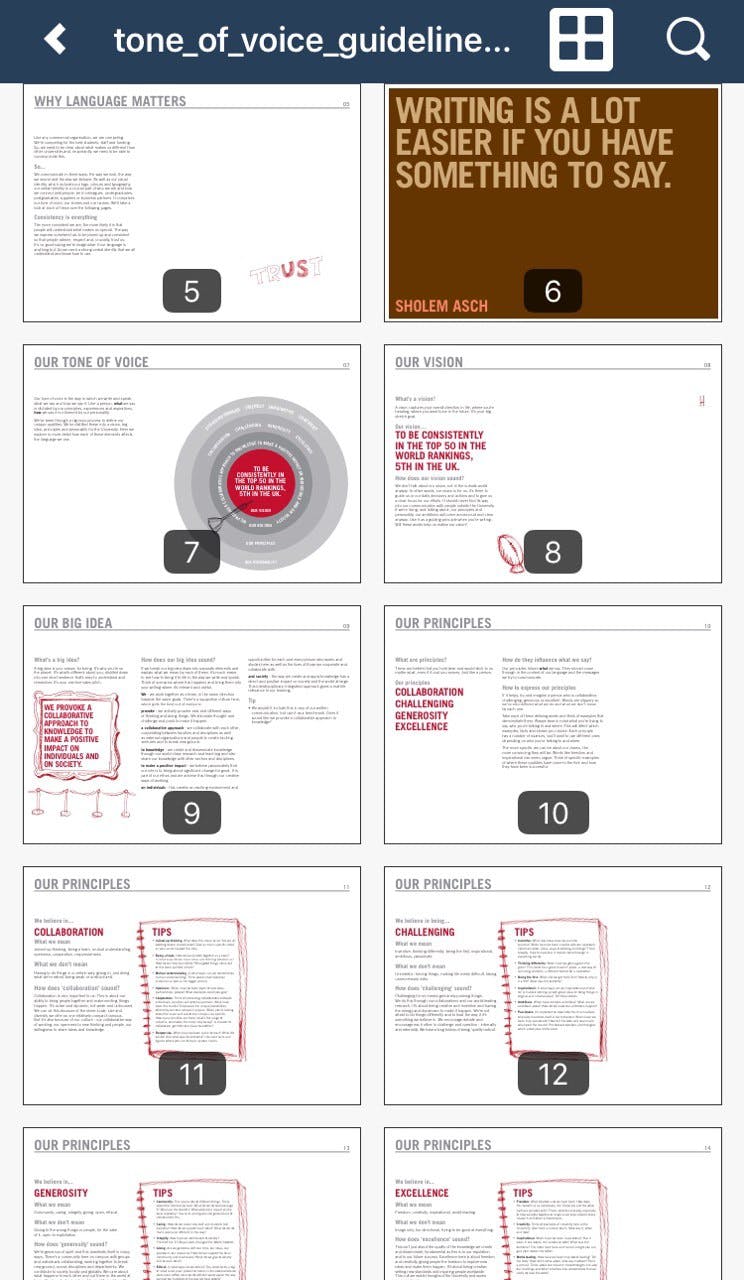 Now you can upload, open, edit, and share files on the go.