Lumin PDF brings your documents to life
Lumin PDF's powerful features are simple and intuitive to use. They're ready to go when you are from our beautifully designed cloud-based app.
Collaborate, annotate, view, share and e-sign with online tools that make the job quick and easy.
Learn more below.
📝 Edit Viewer Tool
With Lumin, you can annotate files, add signatures, pictures, or comments, and rearrange PDF files. In this guide, we will find out how to rearrange PDF pages online.
Switching to page manipulation mode
If you need to merge and rearrange PDF pages, switch from the viewer mode to the manipulation mode:
1. On the toolbar click on Viewer
2. Choose Manipulation

With large files, it's more comfortable to work when they are displayed in the Grid View. You can switch the view mode in the upper left corner. In grid mode, you can delete a page or turn it clockwise and counterclockwise.
The page manipulation menu will be to the left of the document. Let's look at each feature.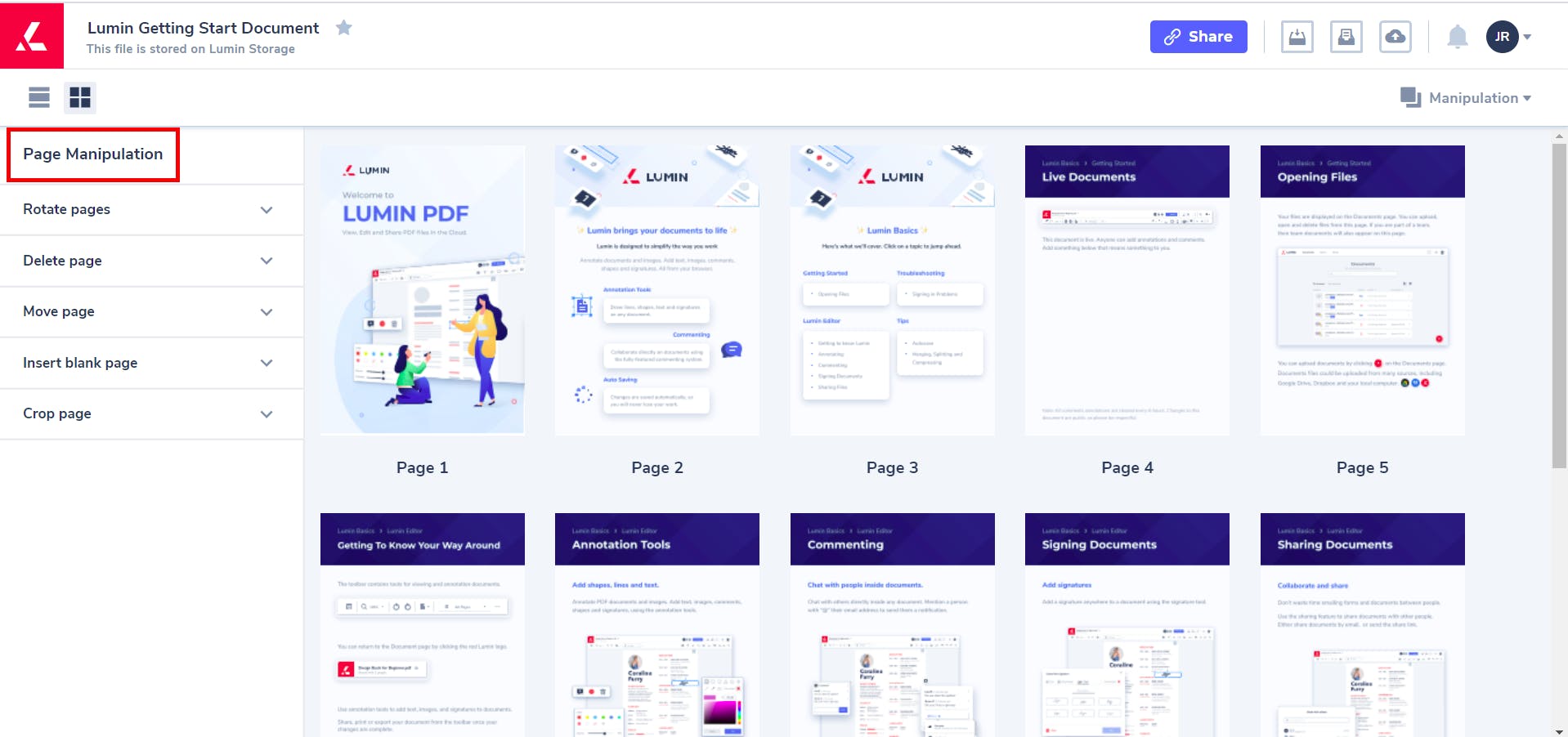 Page manipulation menu
How to rotate pages
If somebody from the team accidentally forgot to rotate pages, you can fix it in a few clicks. There are two ways to do expand one or several pages at the same time and see how it will be displayed in the document: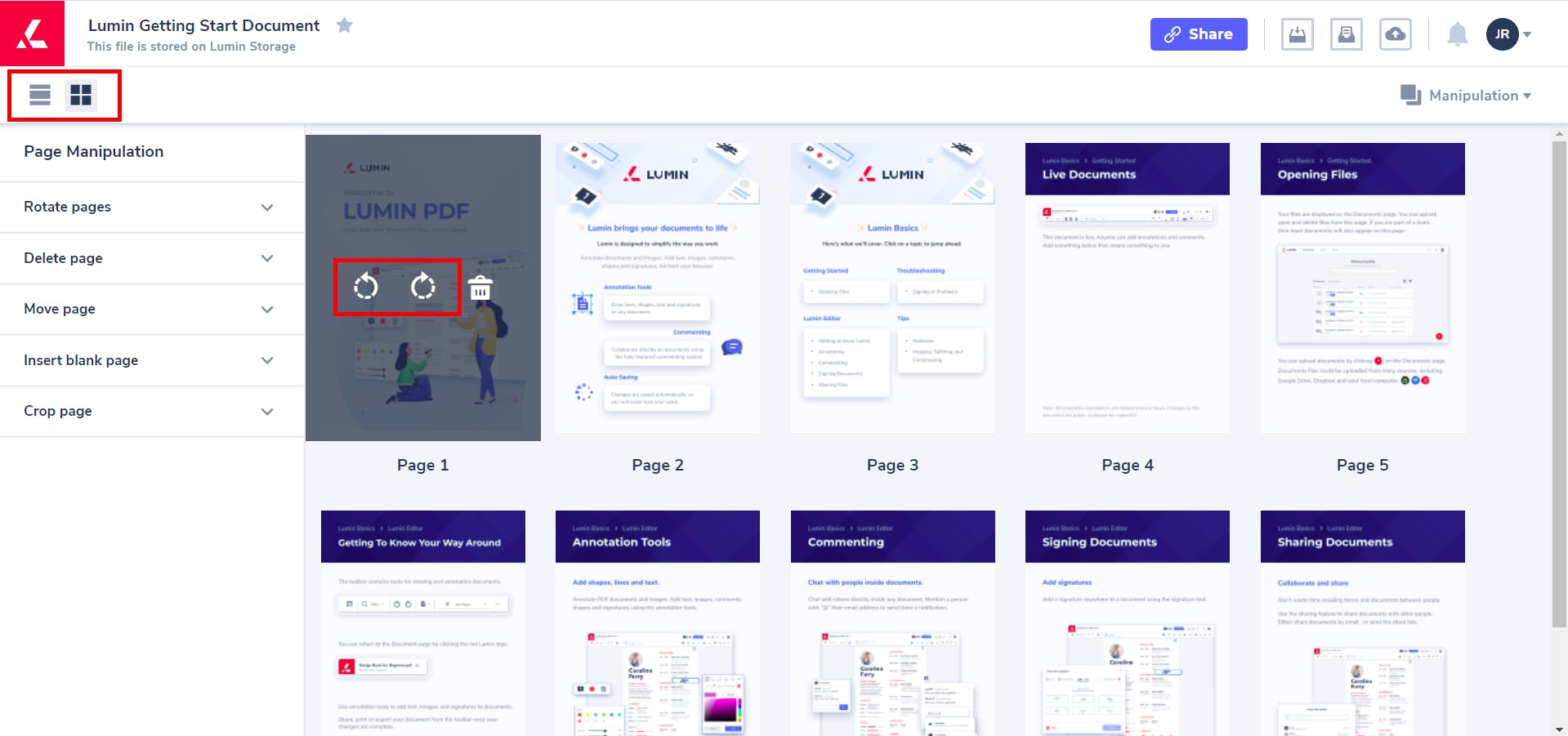 The second method is to rotate pages from the manipulation menu: enter the page numbers with a comma or add a list of page numbers; for example, from 1 to 10. This way is more comfortable when you need to rotate many pages.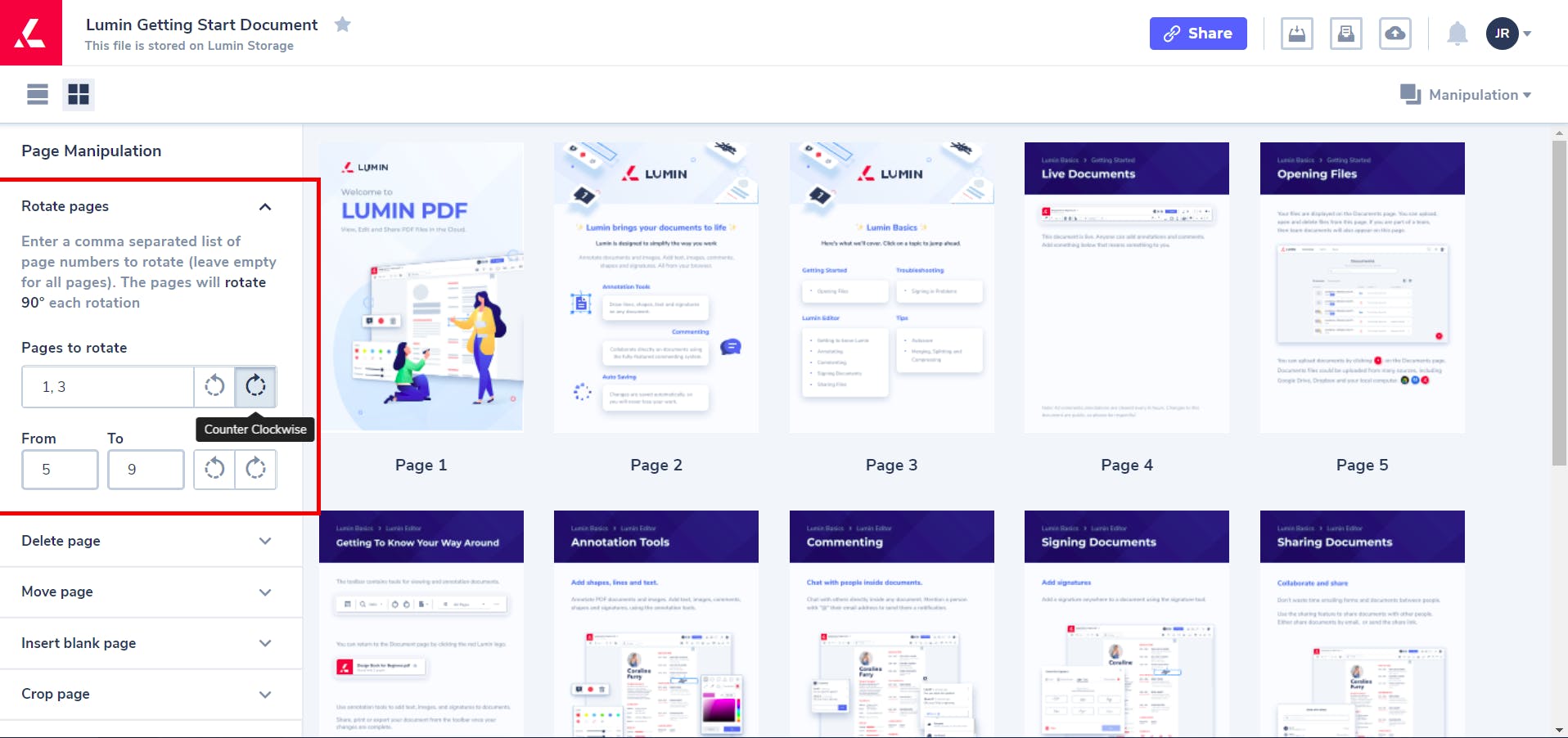 How to delete pages in PDF files
There are two ways to delete a page:
In Grid View, click on the Delete Page icon
Confirm deleting 
or
In the Manipulation menu, click Delete Page
Enter a page number to delete
Confirm deleting 
📌Note: You can't restore the page after deleting.

How to change the order of pages in a PDF
In the Manipulation menu, choose Move Page
Enter the number of the page you want to move From - To
Click Move
📌Note: this function does not swap pages. It moves the page from one position to another.

Another way to rearrange page order in a PDF file is to move it across the document by a cursor.
Hold the left mouse button on the page
Move it anywhere you want
Rearrange PDF pages as you need 
How to insert a blank page
Sometimes you need to insert a blank page to reorganize PDF pages. To add a blank page anywhere in your document:
Select the Insert Blank Page from the menu.
Enter the page number to which you want to add a blank page

How to Crop Pages
One more way to combine and reorder PDF documents is to crop the pages. Choose a page you want to crop and enter the number of pixels to remove. You can do it from all sides.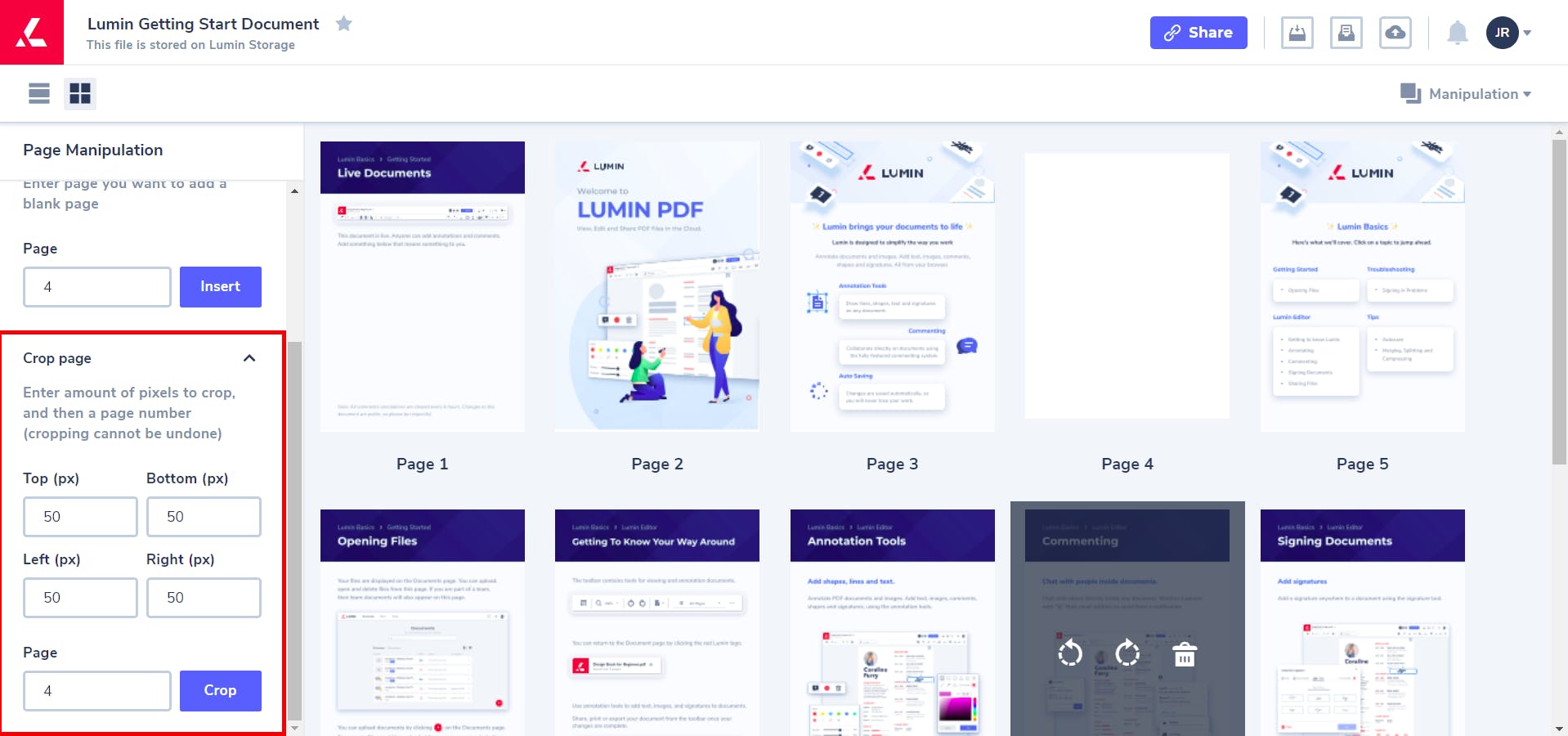 Lumin will notify you about cropping by a Warning message in the upper right corner. From the moment of cropping, you will have 5 seconds to undo this action. After that, the changes can no longer be reversed.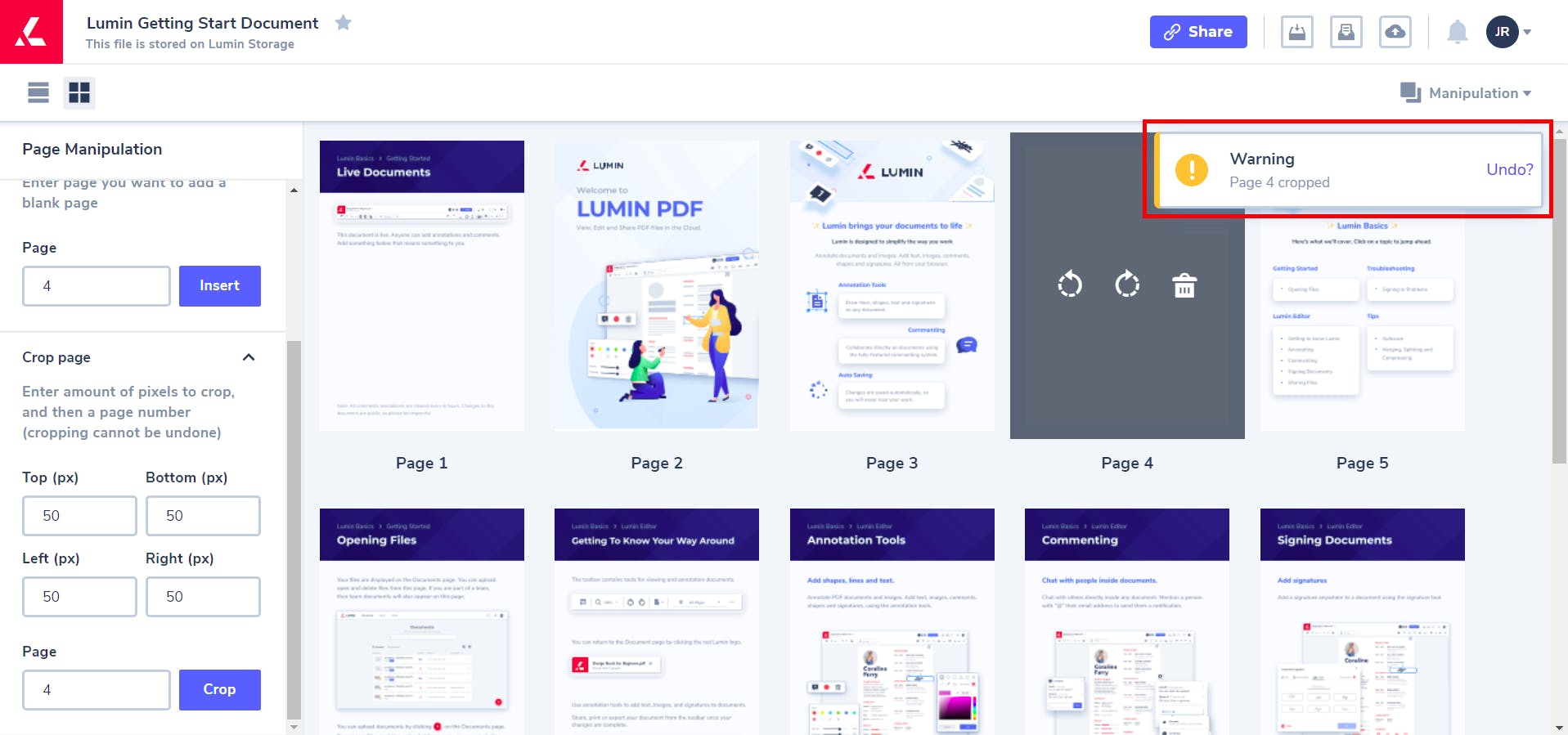 📌Note: 1 centimeter is about 40 pixels.
Rearranging PDF files online with Lumin is simple and easy. Check out our Guides to learn more about Lumin tools.