Lumin PDF brings your documents to life
Lumin PDF's powerful features are simple and intuitive to use. They're ready to go when you are from our beautifully designed cloud-based app.
Collaborate, annotate, view, share and e-sign with online tools that make the job quick and easy.
Learn more below.
📝 Edit Viewer Tool
Lumin PDF lets you annotate PDF docs online, using Mac or Windows or from an iPhone or Android Phone. You can also use Lumin PDF as an Google Drive extension and work comfortably with Google Docs, Google Sheets and your PDF files. 
The PDF annotation tool lets you work with PDF files like your own personal notebook: you can paint, draw, leave comments for the team, or change the PDF file however you like. This guide will walk you through how to use these features.

Lumin PDF annotating toolbar
How to Add Comments in a PDF File
Commenting with a PDF annotator is simple: 
Click on the Comment icon 
Select the text or image you'd like to comment on
Type away! 
If you're working in a large document or in a doc with many comments, you can quickly find and move through all comments by navigating to the Notes button, which will be to the left of the document.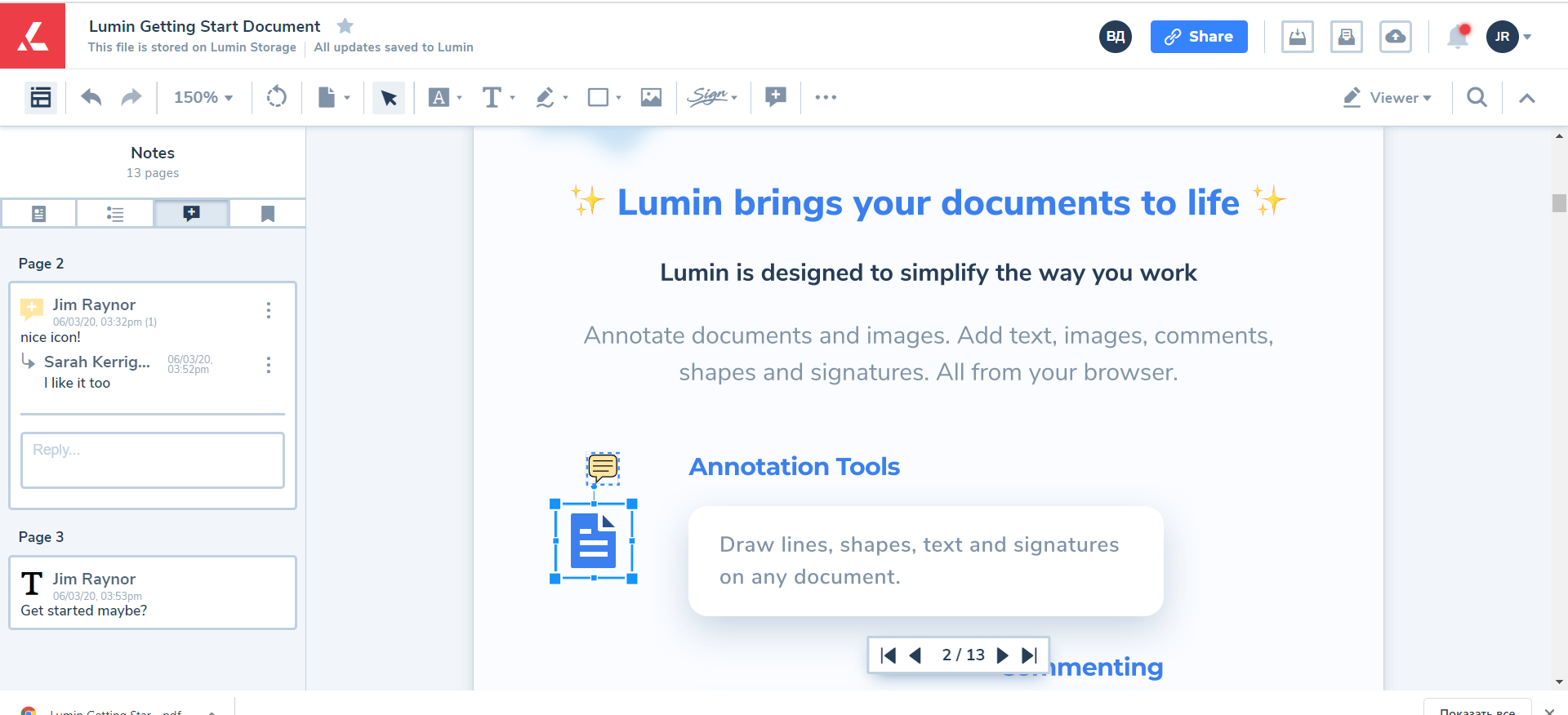 You can comment on anything in the PDF file.
You can reply to or mention individual collaborators in the document using @ followed by that person's name or e-mail address. 
When several people comment on a file, the responses are saved in a sequence called Flow, located below the very first comment. The flow of responses and comments in Lumin PDF is the same as in Google Docs.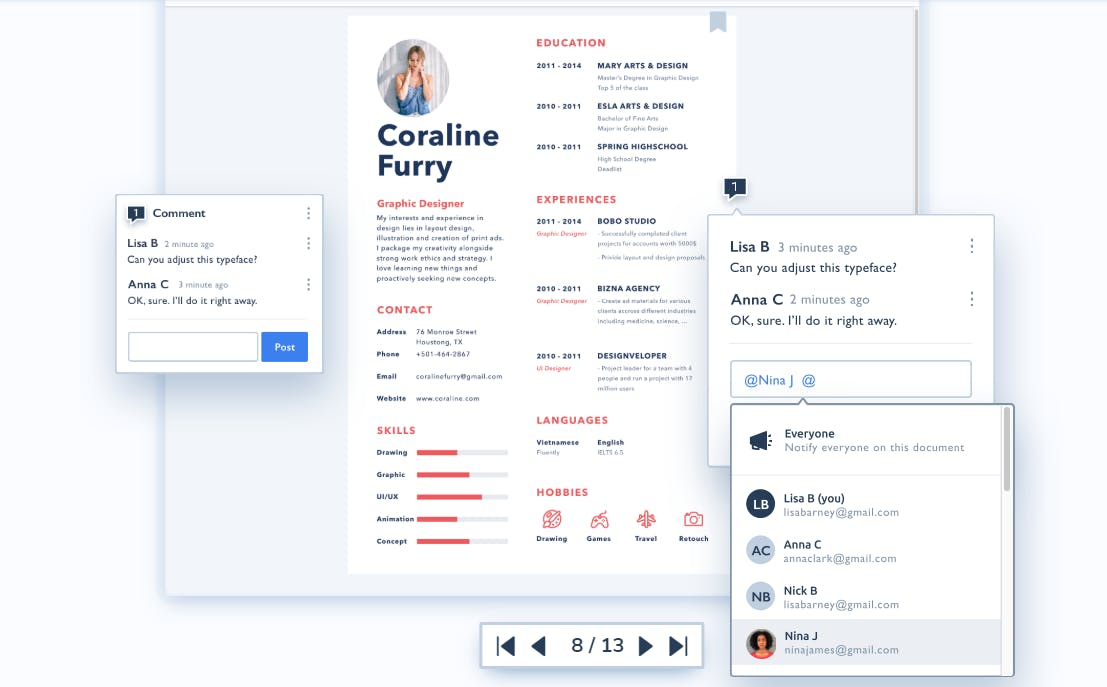 Chat with your whole team using Lumin PDF.
How to Add Comments in PDF by Free Text Option
Another way to annotate PDF files is to write the text in free space or on top of the image using your finger or stylus:
1. On the function bar, select the Free text icon 
2. Click where you want to position the text field. You can edit the text on the field itself or in the Panel → Notes tab, where the text field will be displayed among other comments.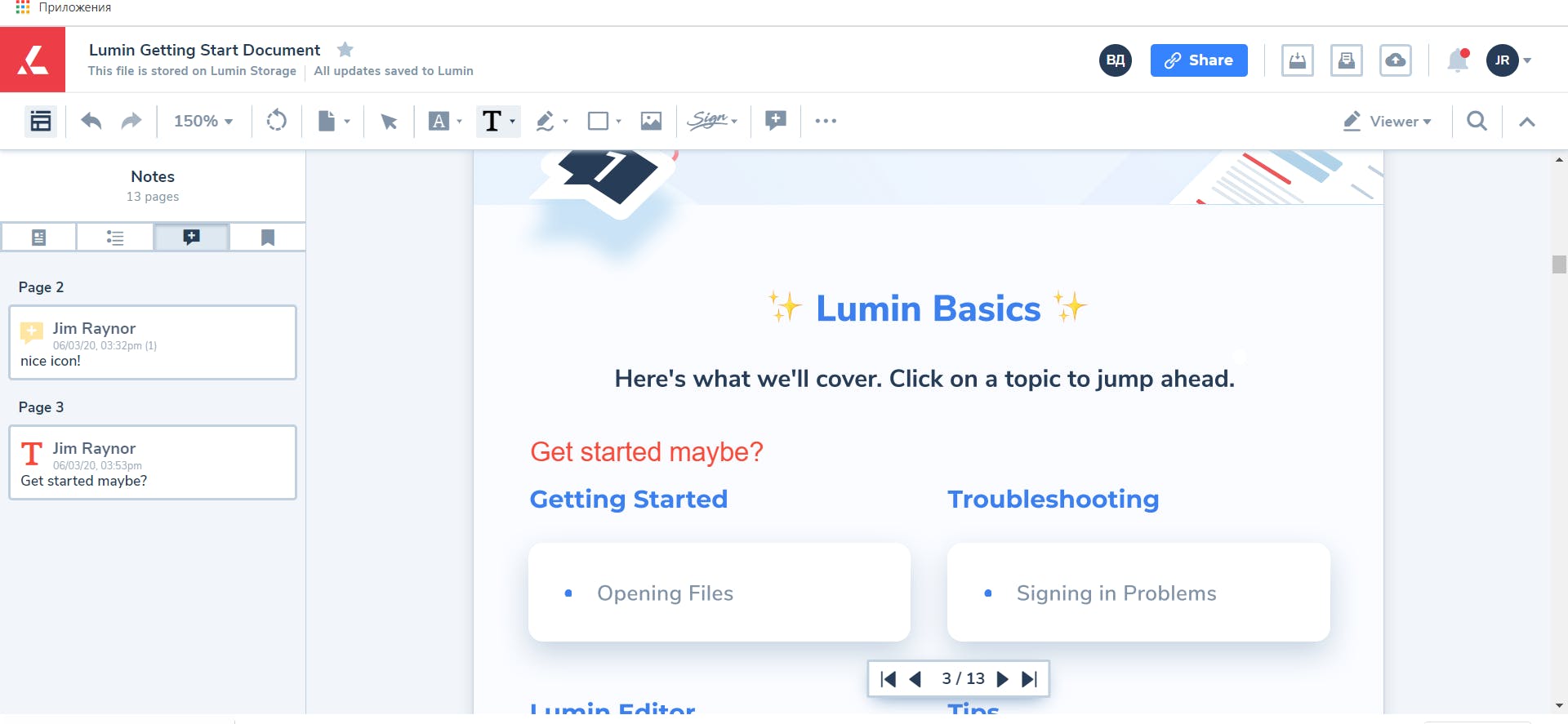 Make text comments more visible
If you need to change the font, style, size, color or remove the annotation, click on the text field again to bring up the formatting menu. If you click on the text field, you can reposition the annotation in the file.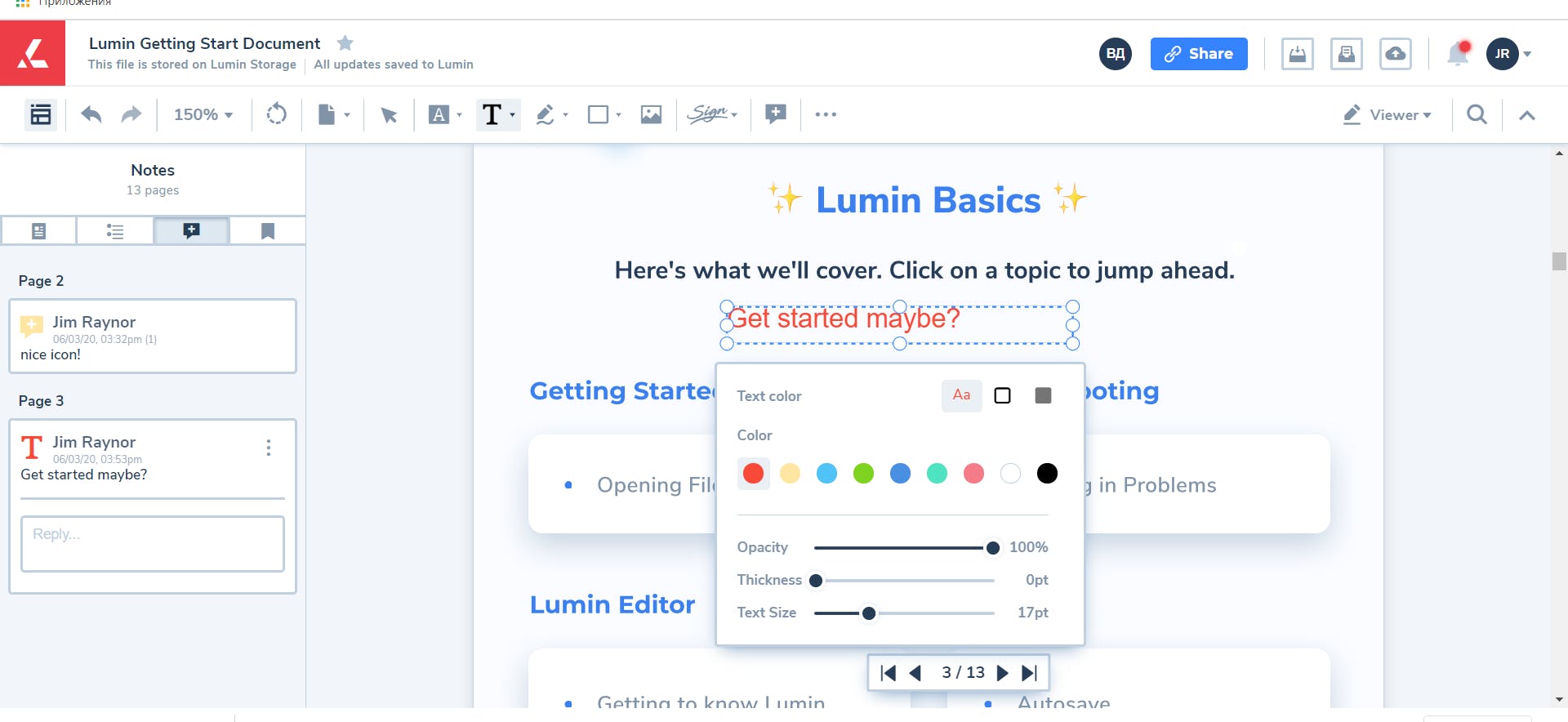 Change text color, opacity, thickness, size or location
📌Note: You or other reviewers also can respond to a new text as well as other annotations.
How to Make Comments on a PDF by Drawing
If you're a visual person or someone on your team is, the Drawing tool in Lumin PDF is for you. You can use this tool to quickly and clearly bring attention to places that need a fix anywhere in the document. It's almost like having a physical copy of the text in front of you, except this one is available to your whole team at the same time.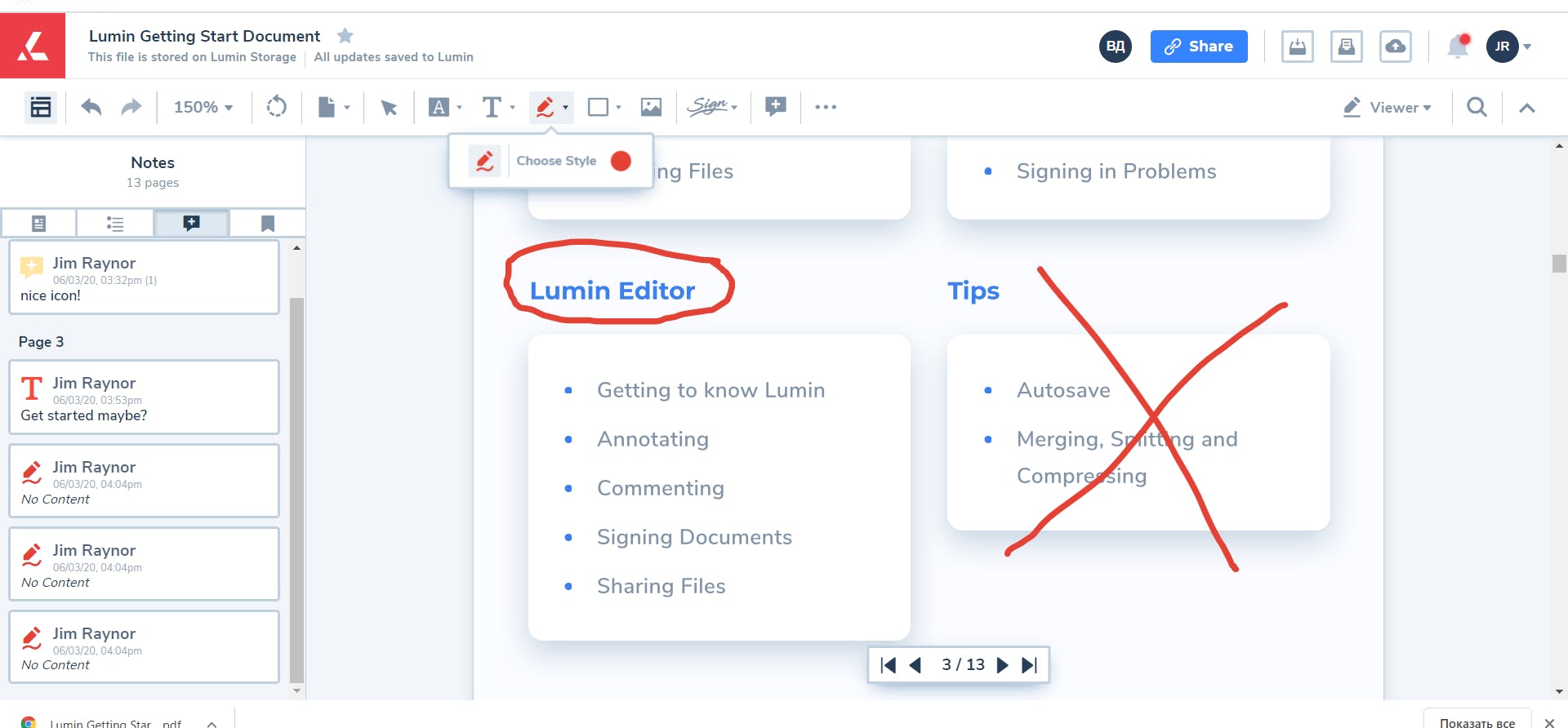 Use Drawing tools to annotate PDF file
You can also add a comment to the picture and create a discussion thread with the team. On the Notes tab, the ink comments have their own icon.
How to Add Shapes
You can also use Lumin PDF to make engaging designs and layouts for your docs. To insert shapes:
Select the Shape tools icon
Choose the form or style 
Circle with your cursor the area of the doc where you'd like to insert the shape
Once you've inserted the shape, you can go back later to adjust the color or leave comments.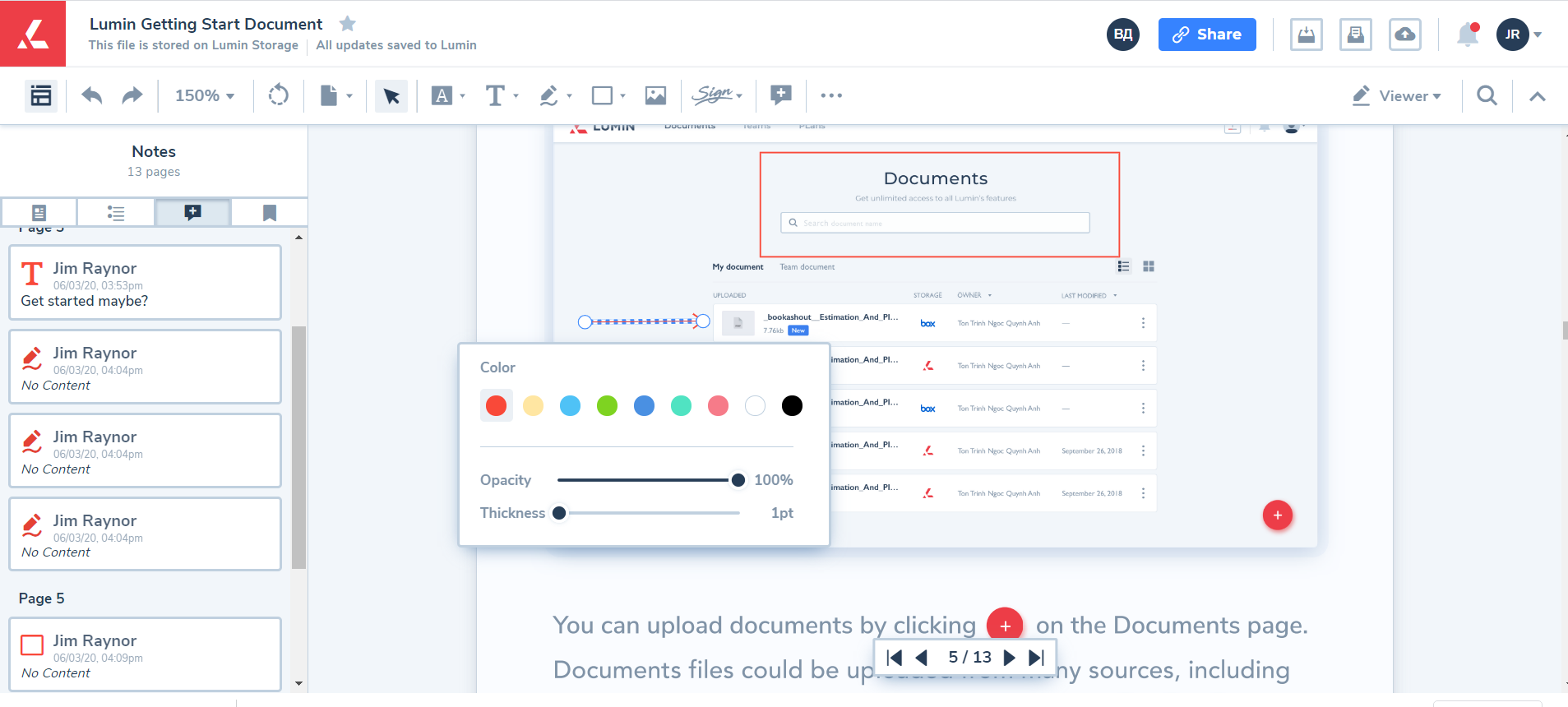 Use specific shapes to underline important points
How to Highlight Text
Click the Text tools icon at the function bar to choose a line style and underline the text, highlight something important, cross out mistakes or underline it with a squiggly. Like other functions, the text tool has its own icon and commenting function in the Notes tab. If you need to add a comment, change color or remove it, click on the highlighted text to pull up the menu.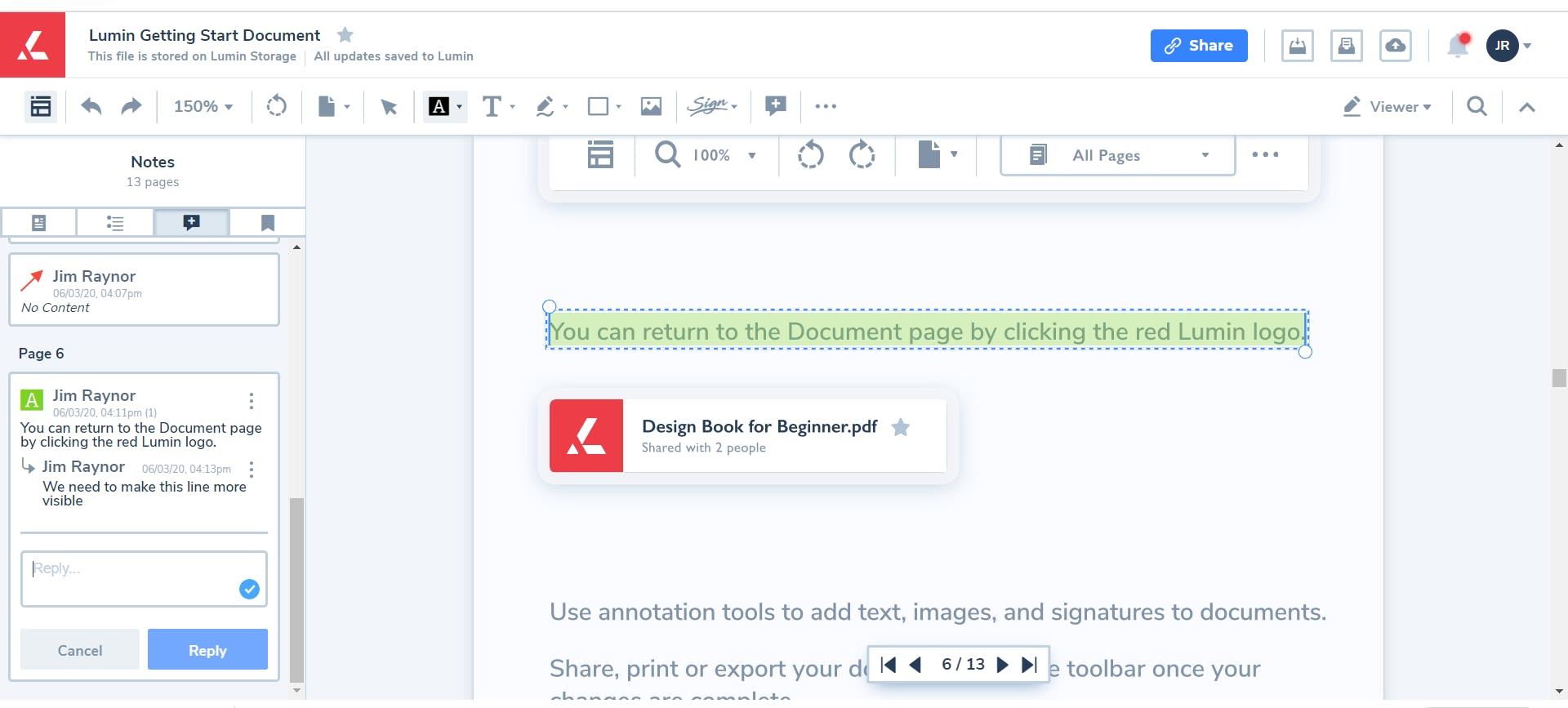 Highlight something important
📌Note: text tools will not work in a .jpeg or .png document, so to underline text on images you can use the line from the Shape tools.
How to Insert an Image 
You can also add annotations to a PDF file by adding an image. To do this:
Click on the Stamp icon 
Click on the place where you want to insert image 
Select file → format image size and settings
When you insert an image, you can choose its opacity — this will allow you to overlay the picture on top of the text and the text will remain readable.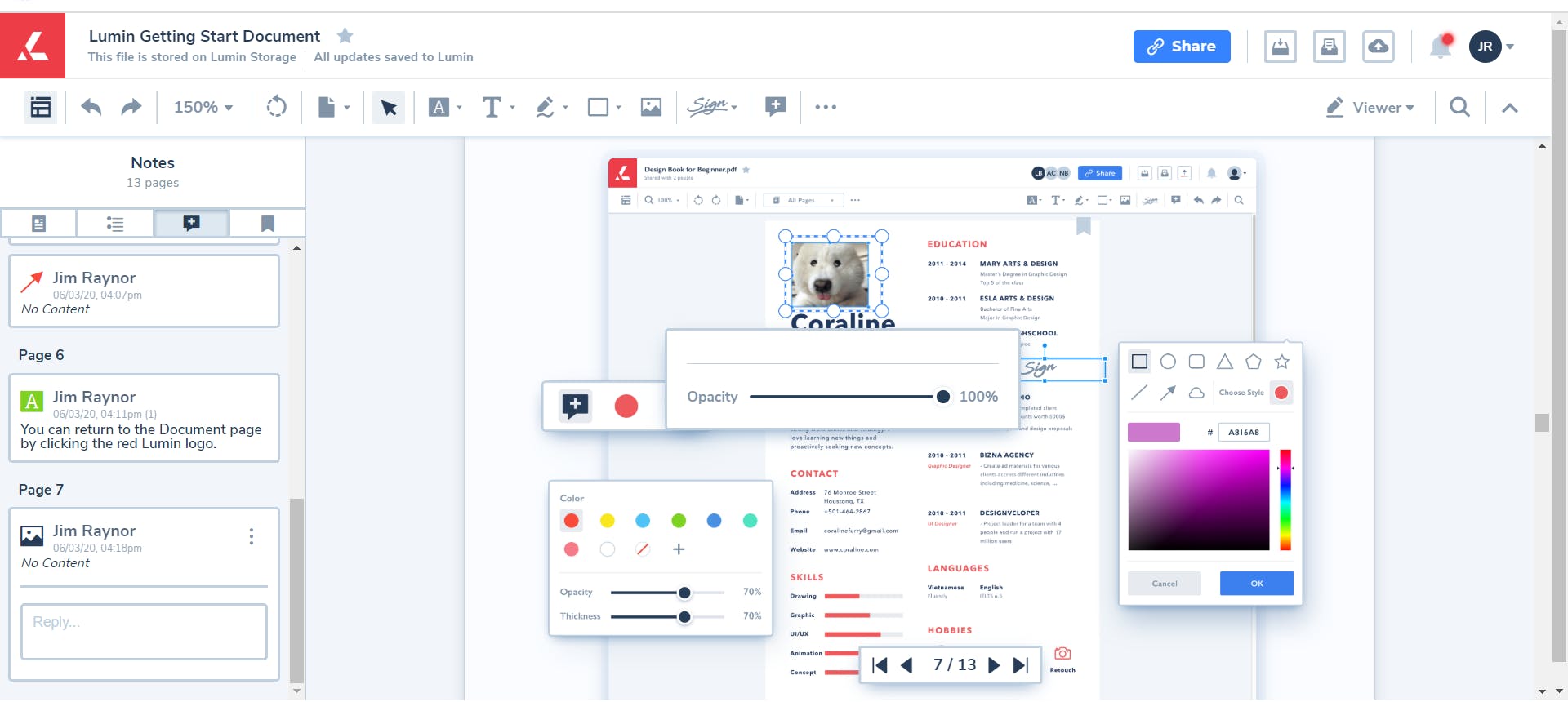 Adding images can be useful for CV forms
📌Note: If your PDF file contains an inappropriate image, you can cover it with the image you need.
To save edits or annotations, just click anywhere in the document. You can also save changes by pressing the ESC key. Don't forget that all your annotations, comments, and other actions are displayed in the panel to the left of the file. 
Make Editing Comfortable for the Whole Team
Using Lumin PDF, you can communicate with your team members directly in the doc. Add a new answer, continue an existing discussion with the team, or illustrate changes that need to be made. When your team is working on a large file with several authors, Lumin PDF keeps everyone synched in the PDF file itself.
Lumin transforms tedious editing back-and-forth in PDF files. Instead of wasting time sending forms and documents between team members or clients, you can use Lumin PDF for instant editing and collaboration and faster results for your organization.