Lumin PDF brings your documents to life
Lumin PDF's powerful features are simple and intuitive to use. They're ready to go when you are from our beautifully designed cloud-based app.
Collaborate, annotate, view, share and e-sign with online tools that make the job quick and easy.
Learn more below.
☁️ Lumin + Google Drive
Lumin PDF is a software that provides users with convenience and flexibility for working with PDF files. It replaces the tedious email back-and-forth, empowers e-signatures, and lets content discussions happen directly in the content itself. 
You can start working with Lumin PDF by connecting the Lumin PDF extension to your Google Drive. As soon as Lumin PDF is connected to Google Drive, you have the full power of Lumin annotating tools just a keyboard click away.
Lumin PDF allows you to annotate PDF docs online and to edit PDF files from any device desktop, notebook, tablet, or mobile. The PDF annotation tool lets you paint, draw, leave comments for the team, or change the PDF file according to your preference. 
You can also use Lumin to share PDF files with other teammates via email or a shareable link. To share a PDF file as a link, you need to first select your sharing settings. Then, copy the public link and send it by email, in a message to colleagues, or on any social network. 
With LinkedIn, Twitter, Facebook, and other social networks, you can share your PDF by copying the link and pasting it into the news feed post or direct message. Your chosen platform will automatically create a preview of the publication with the link to follow.
How to Disconnect Lumin PDF from Google Drive 
If you don't want Lumin to open the default viewer for PDF files in your Google Drive, you can change the default setting in Google Drive. In order to disconnect the app from Google Drive, you can start by going to the Google Drive web page.
1. Click the Settings icon on the right side of the page. Next, click the 'Settings' button in the dropdown menu.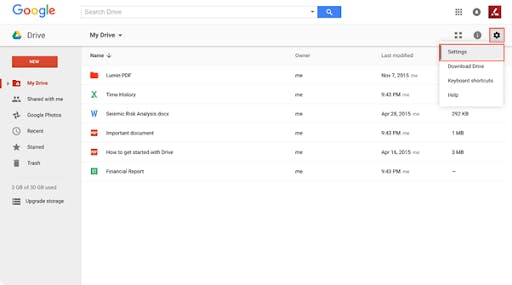 2. Click on the 'Manage Apps' button to show all the apps that are connected to your Google
Drive. Find Lumin and untick the 'Use by Default' checkbox. This will disconnect Lumin PDF
from Google Drive.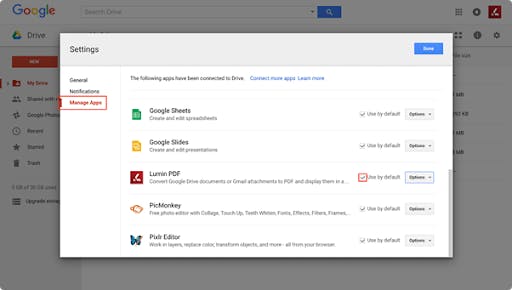 3. Click the 'Done' button to return to Google Drive.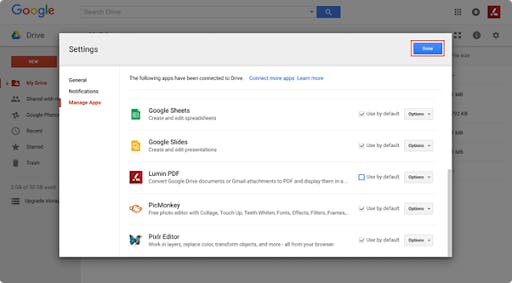 You have now disconnected Lumin PDF from your Google Drive.