Lumin PDF brings your documents to life
Lumin PDF's powerful features are simple and intuitive to use. They're ready to go when you are from our beautifully designed cloud-based app.
Collaborate, annotate, view, share and e-sign with online tools that make the job quick and easy.
Learn more below.
👋 Overview
Many people need to sign PDF documents, whether they be financial contracts or a school medical notice. You might also need to  sign a document quickly, without the tools to do so. We are constantly observing these situations in business and education and came up with a solution to empower business owners, teachers, lawyers to sign documents in real time from anywhere, using only a device and an internet connection.

What is Lumin PDF? 
Lumin PDF is a software that replaces tedious unproductive work with PDF files with efficient digital processes. The main goal of the software is to make work with PDF files efficient and enjoyable. Lumin PDF replaces back-and-forth emailing and printing PDF forms by empowering users with e-signatures and takes content discussions directly to the document.
How does Lumin PDF work? 
Lumin PDF allows users to download, edit, collaborate on PDF files in the cloud. You can also connect Lumin PDF to Google Drive to get access to your documents in Google Drive. Lumin PDF provides users with a robust set of useful features that will make everyday work with PDF files easy and intuitive.
Lumin features a number of features to help with:
When it comes to annotating PDF files, many users are limited in their options for performing annotation efficiently. Lumin PDF solves this issue with a robust toolkit of efficient features. Lumin PDF lets you annotate PDF docs online, using Mac or Windows or from a mobile device. You can also use Lumin PDF as a Google Drive extension and work comfortably with Google Docs, Google Sheets and your PDF files. Using Lumin PDF you will be able to:
Add comments in a PDF file
Add comments in a PDF file by a Free Text Option
Make comment on a PDF file by drawing
Add shapes
Highlight shapes
Insert an image
PDF pages often require adjustments. However, you may not be aware of how to do it or not having reliable tools to perform it without an unwanted hassle. Lumin PDF has many useful features to perform various manipulations with pages effectively. Using Lumin PDF you will be able to:
To Rotate Pages
To Delete Pages
To Change order of pages in the PDF
To insert a blank page
To crop pages
There is no need to go through the hassle of downloading and uploading to make small changes in the PDF document. Using Lumin PDF, you can communicate with your team members directly in the doc. Instead of wasting time sending forms and documents between team members or clients, you can use Lumin PDF for instant editing and collaboration and faster results for your organization. Lumin PDF provides users with online tools for smooth editing:
OCR (Optical Character Recognition): With this tool, you can make your scanned documents searchable and editable with OCR. Lumin OCR technology enables you to convert scanned documents into editable, searchable files.
Convert PDF files to various formats
Unlock PDF files for editing
Compress PDF files
How to sign PDF files online
You don't need to have paper, pens, printers and scanners to sign a document. You can  easily use Lumin PDF to sign all the necessary documents quickly online. There are two ways to insert your signature on a  PDF: using an electronic signature or a digital signature. 
An electronic signature is a signature image that you create by yourself or use a scan from an existing document. An electronic signature is suitable for those types of documents for which you don't need a high level of security:
Signing presentations, books, and copyright materials
Sign a non-disclosure agreement for employment
For printed materials — business cards, booklets, catalogs, etc.
Email signatures
Digital signatures are an advanced and secure form of verification from the sender. Before adding your digital signature, you will be prompted for a PIN to prove your identity. Document and signature are encrypted and bound with electronic proof seal. Digital signatures are commonly used for software distribution, financial transactions, contracts and other cases where it is important to detect forgery and tampering.
 You can create a signature by yourself. Adding a signature to a PDF document is almost like on paper. 
Click the Signature icon on the Lumin toolbar
Click Create Signature
Draw paint the signature with a brush, as in any graphics editor
Drag, resize and position the signature inside your PDF file

Lumin toolbar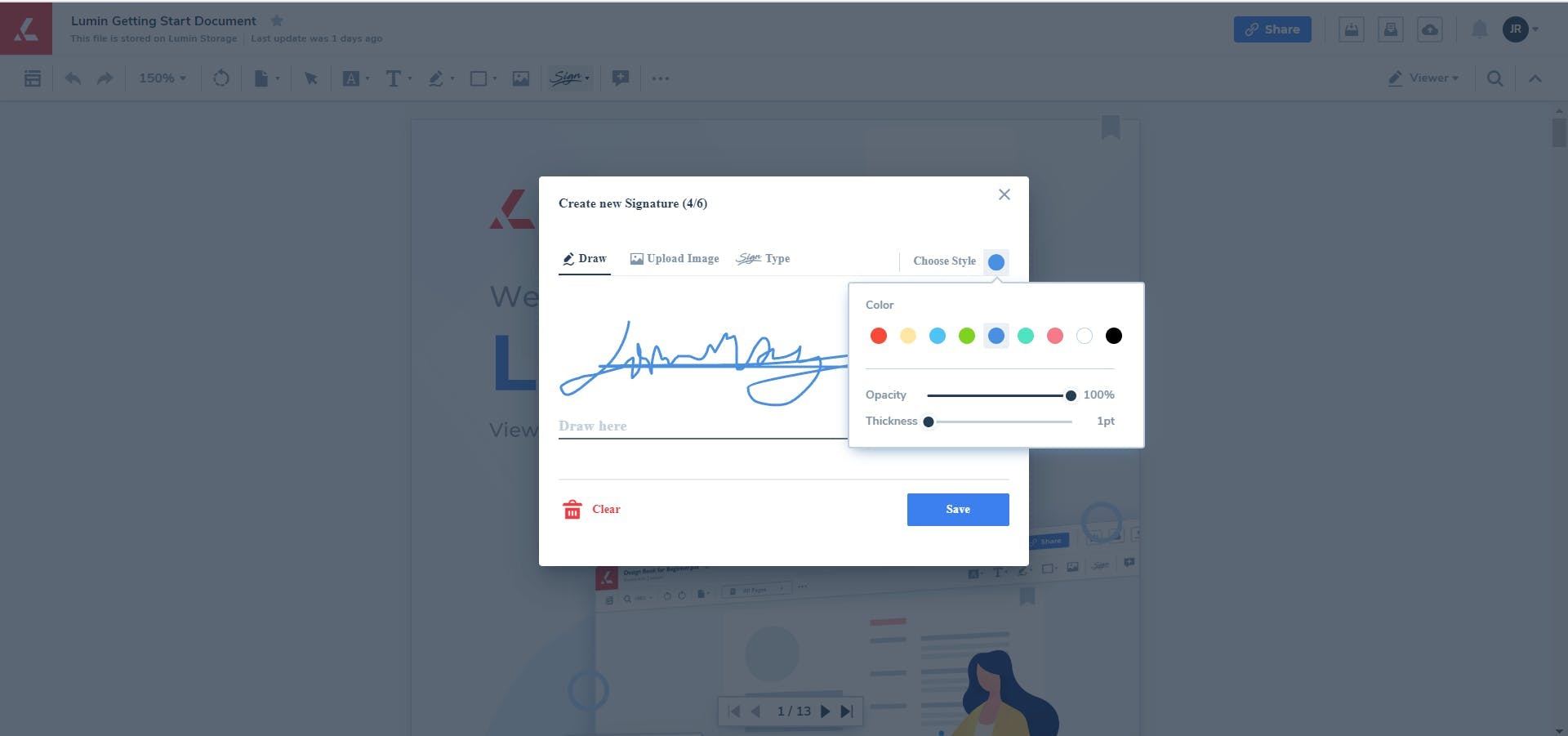 To change the brush settings, click on the Choose Style icon to change color, opacity, and thickness. You can change the parameters at any given time.
Insert Ready-Made Signatures
If you have ready-made signatures of your teammates, boss, or your own, you can paste it into the document.
Click the Signature icon on the Lumin toolbar
Click Upload Image
Choose the file from your PC no larger than 2.5 MB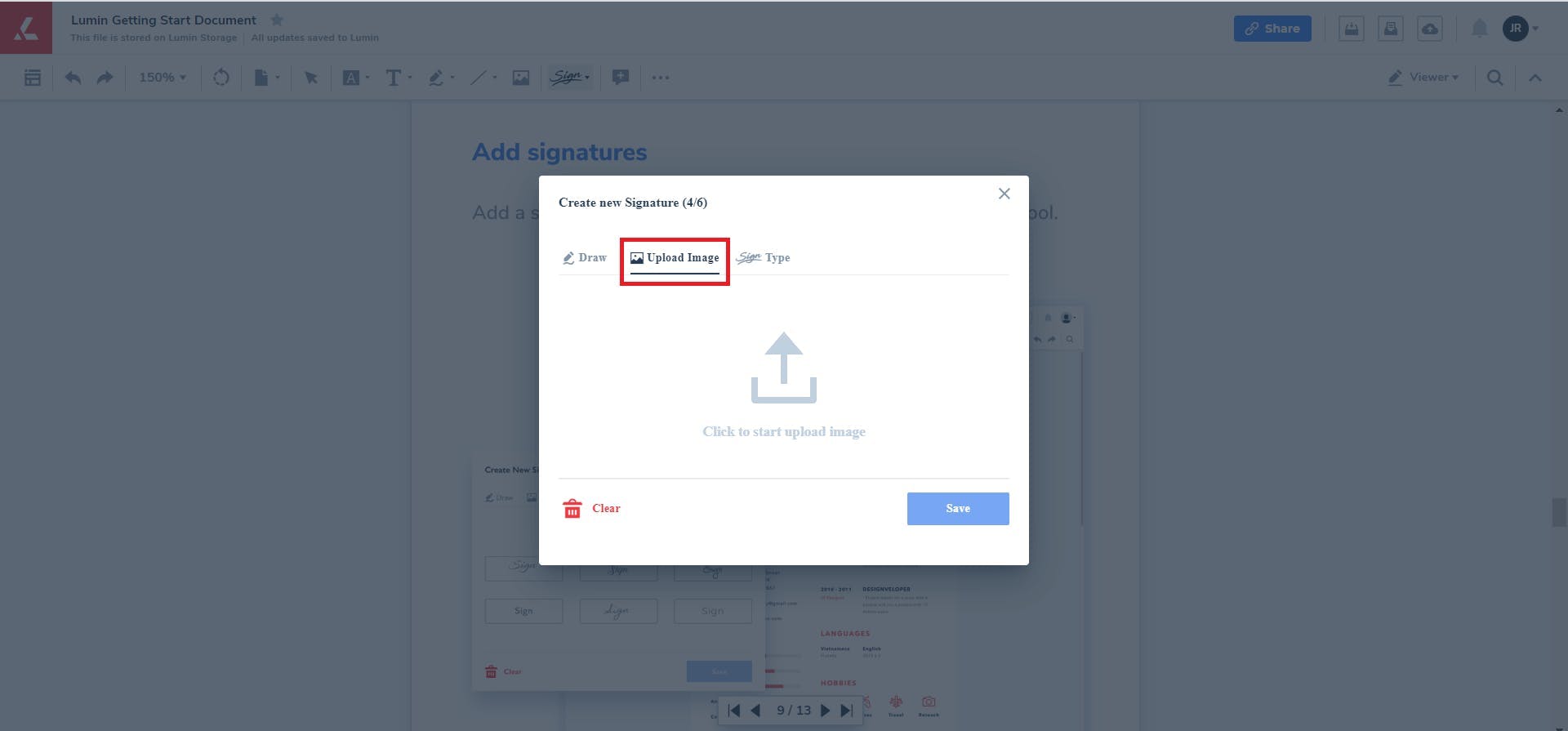 How to insert a signature in PDF
You can also insert a signature in your PDF by choosing one of six fonts. You can choose the color, opacity, and thickness of your signature.
Click the Signature icon on the Lumin toolbar
Click Type
Choose a style and fill the font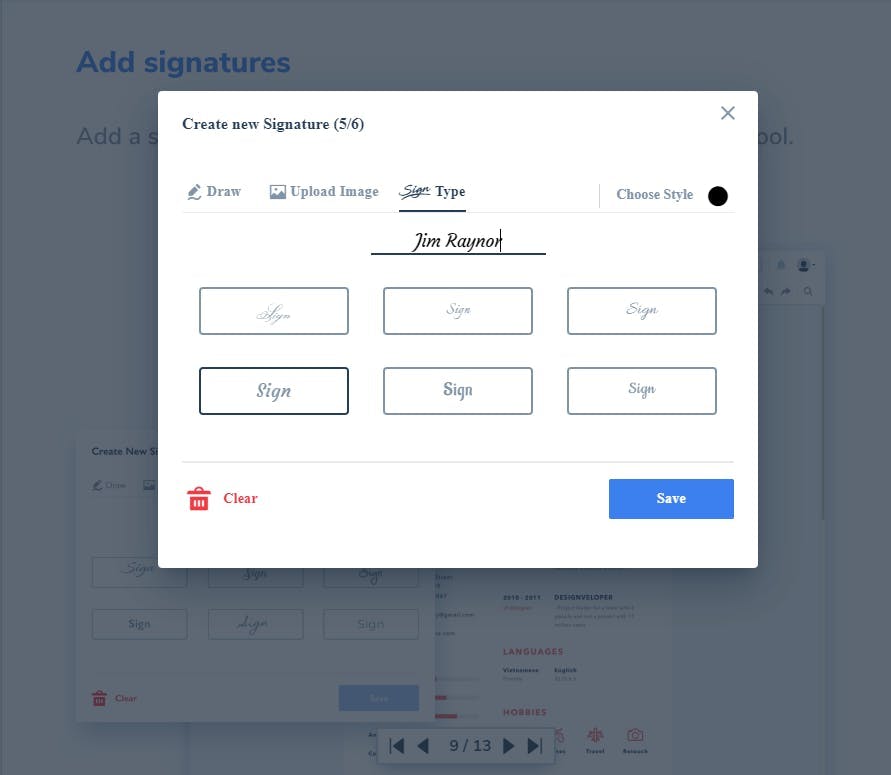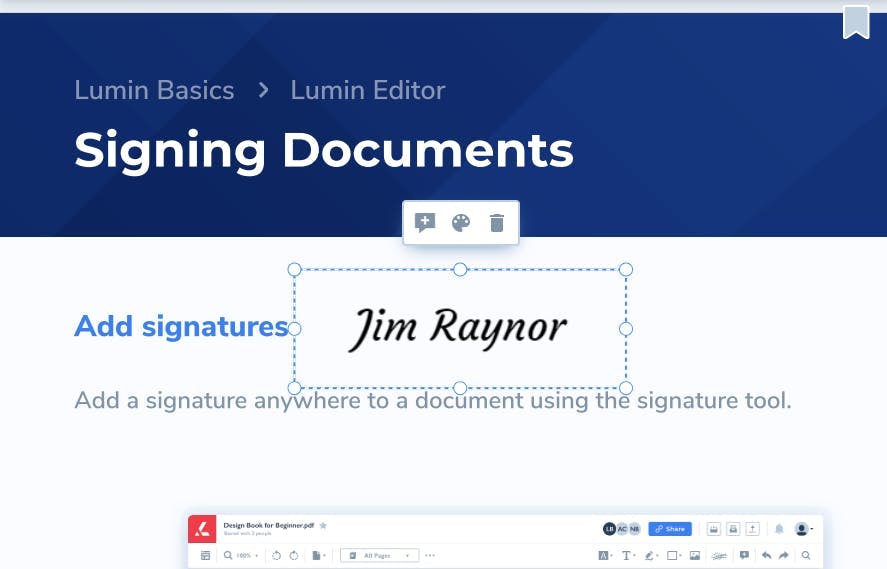 All signature configurations are saved in your account.To use a ready-made signature:
Click Signature
Click Choose Signature
Select between saved signatures