Lumin PDF brings your documents to life
Lumin PDF's powerful features are simple and intuitive to use. They're ready to go when you are from our beautifully designed cloud-based app.
Collaborate, annotate, view, share and e-sign with online tools that make the job quick and easy.
Learn more below.
📝 Edit Viewer Tool
No more paper docs and pens, prints and scans — use Lumin PDF Guide to sign all the necessary documents fast and easy online.
Create a Signature by Yourself
Add signature to PDF by drawing is almost like on paper. 
Click the Signature icon on Lumin toolbar
Click Create Signature
Draw paint the signature with a brush, as in any graphics editor
Drag, resize and position the signature inside your PDF file

Lumin toolbar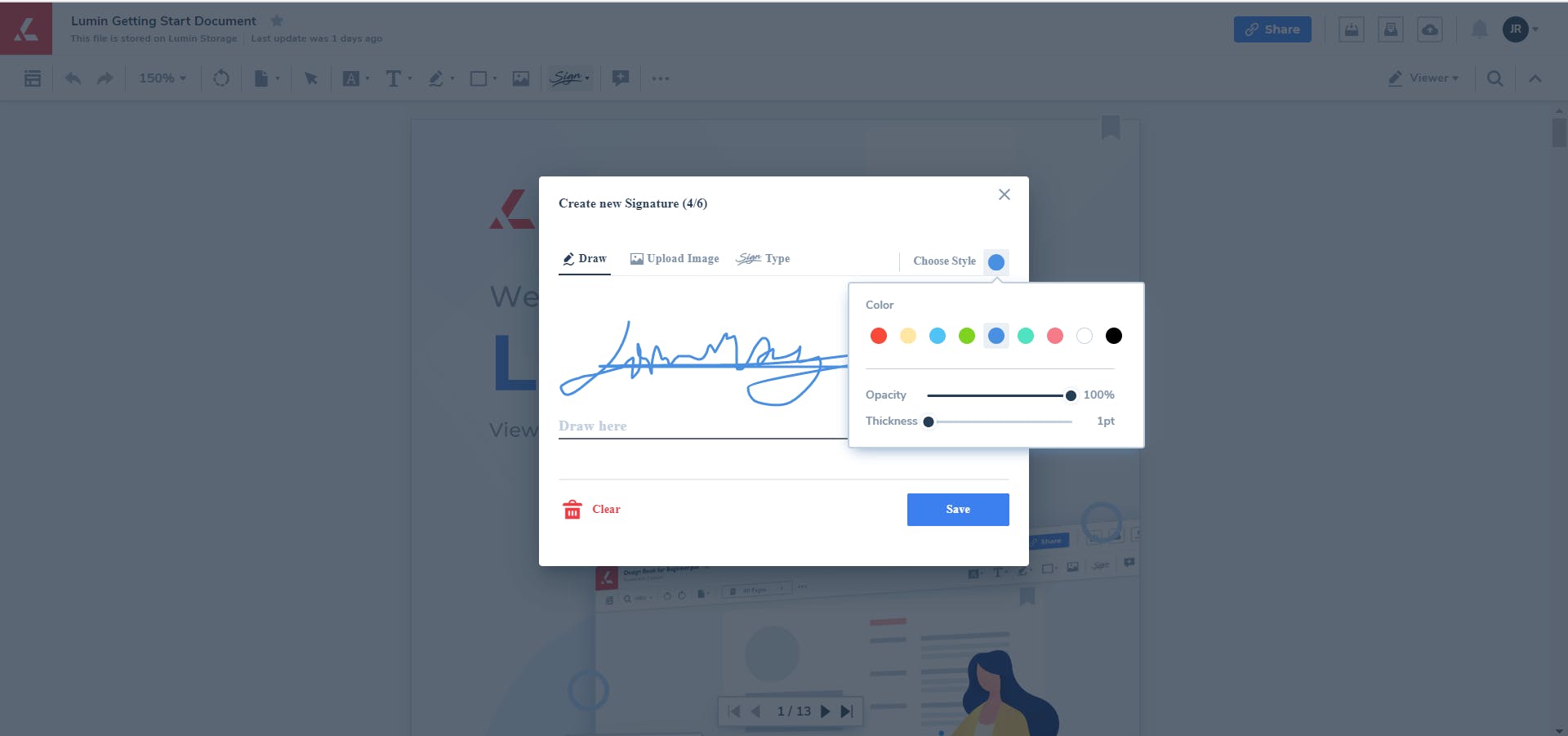 How to create an electronic signature
To change the brush settings, click on the Choose Style icon to change color, opacity, and thickness. You can change the parameters, even if you already drew the signature. 
📌Note: Drawing signatures is easier on touchpad devices.
Insert Ready-Made Signatures
If you have ready-made signatures of the teammates, boss, or your own, just paste it into the document.
Click the Signature icon on Lumin toolbar
Click Upload Image
Choose the file from your PC no larger than 2.5 MB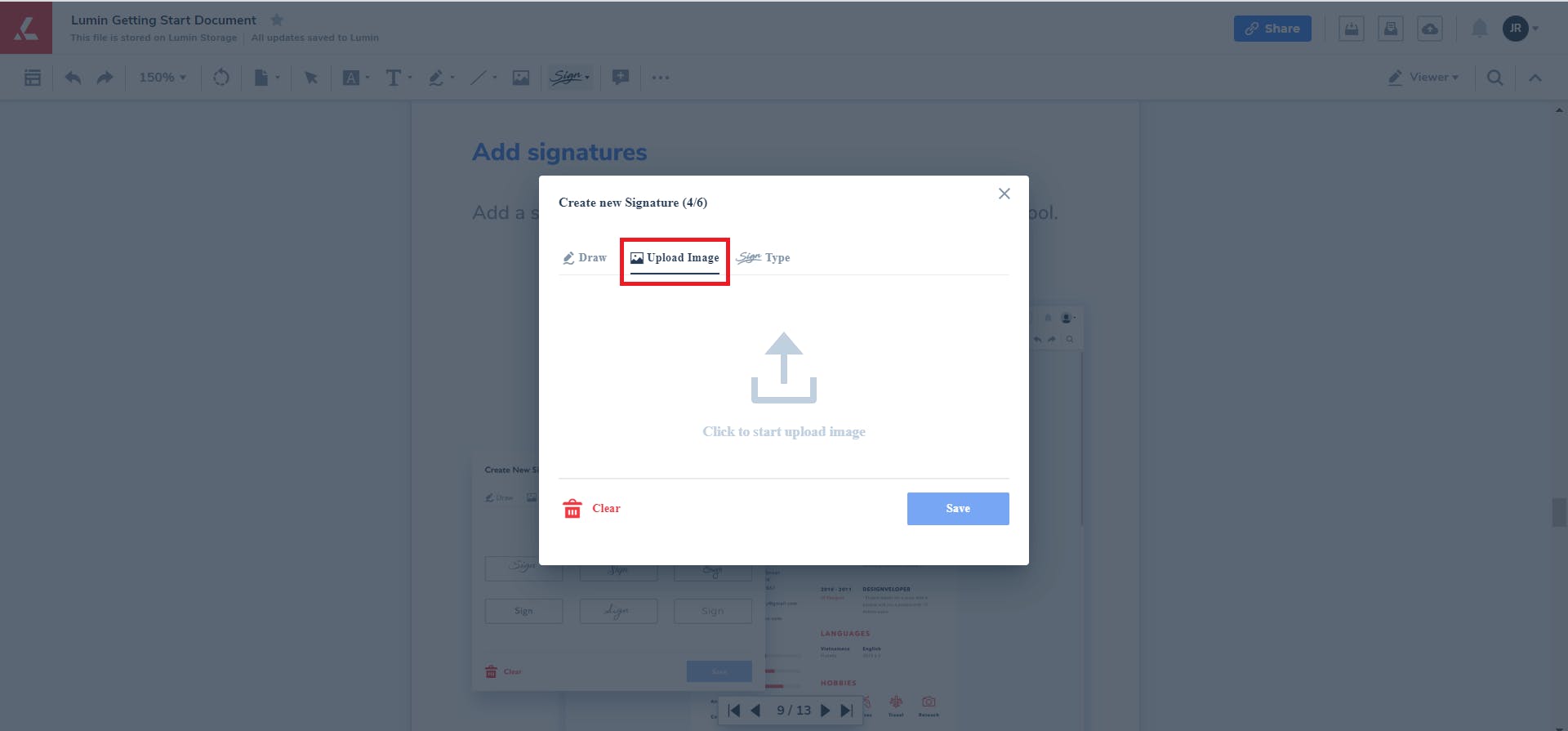 How to insert signature in PDF
Choose One of the Lumin Signature Styles
You can also insert a signature in PDF by writing one of the fonts. We have 6 types of fonts for signature, in which you can also choose the color, opacity, and thickness.
Click the Signature icon on Lumin toolbar
Click Type
Choose a style and fill the font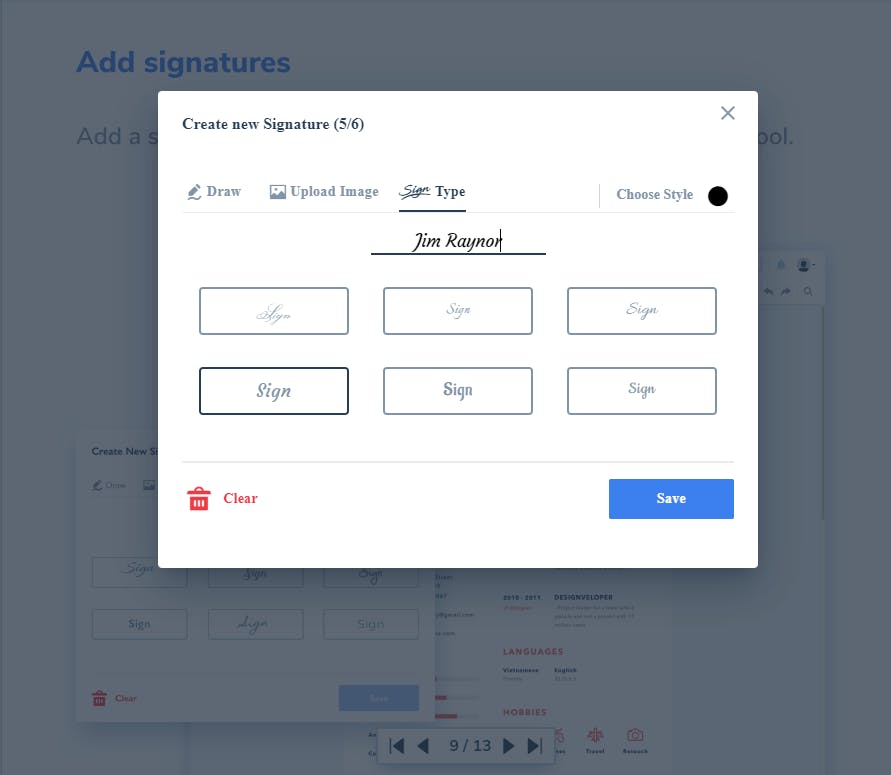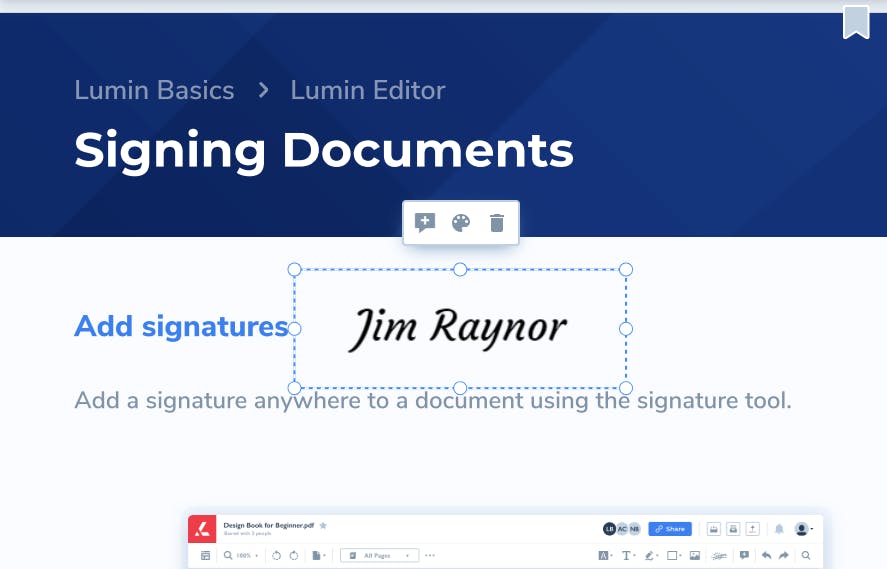 How to add signature in PDF file by type form
All signature configurations are saved in your account, so if you want to use a ready-made signature:
Click Signature
Click Choose Signature
Select between saved signatures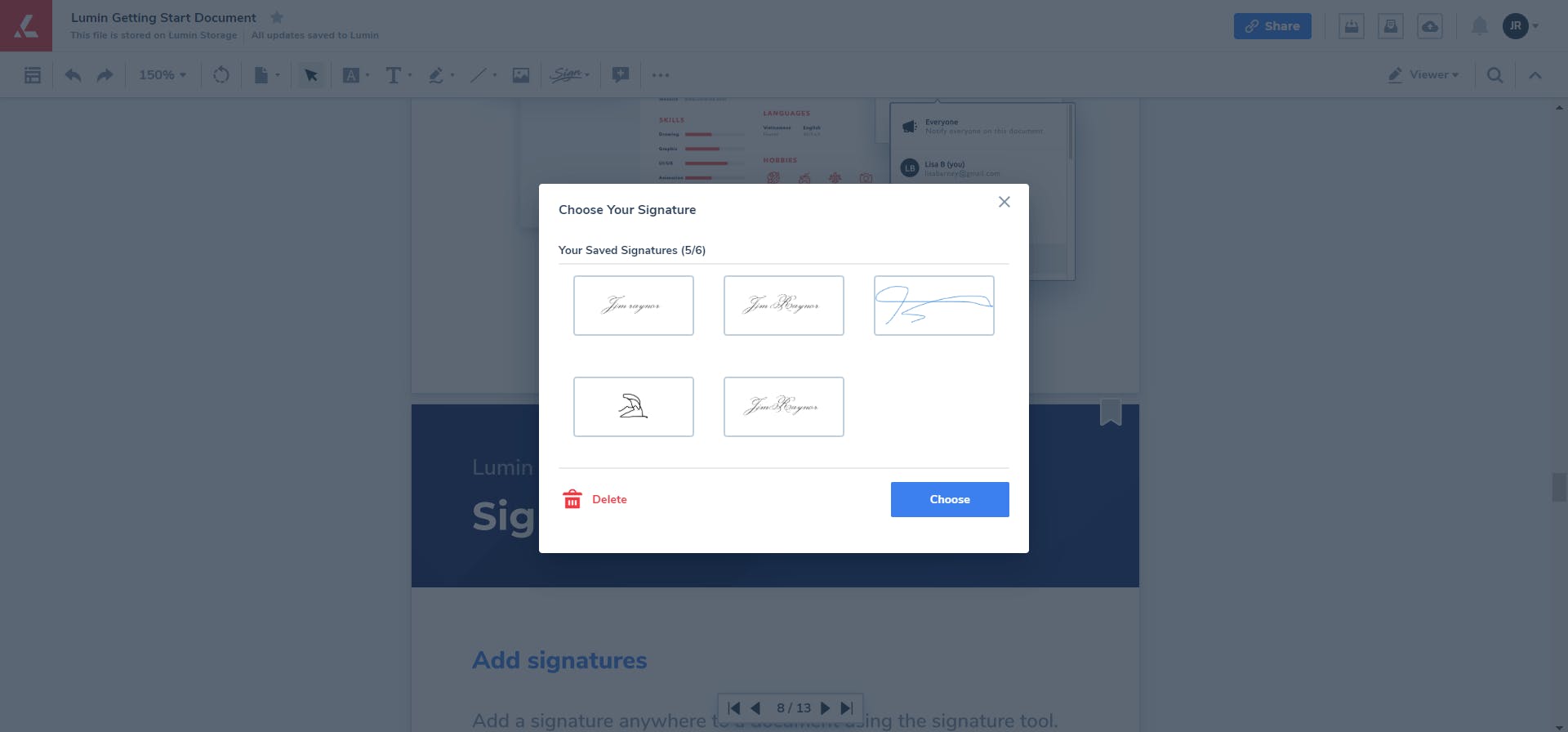 Use one from your signature pool
Once you have created the signature, you can change the opacity of the image or add a comment. You quickly find comments by navigating to the Notes button, which will be to the left of the document. Check out our How to Annotate a PDF guide to learn more about the commenting PDF files in Lumin.
📌Note: With Lumin you can only create an electronic signature, add digital signature to PDF feature is not yet available.
Don't Mix Up an Electronic Signature and Digital Signature
There are two ways to insert signature in PDF: electronic signature and digital signature. 
An electronic signature is actually a signature image that you create by yourself or use a scan from an existing document. An electronic signature is suitable for those types of documents in which you don't need a high level of security:
for signing presentations, books, and copyright materials
to sign a non-disclosure agreement for employment
for printed materials — business cards, booklets, catalogs, etc.
for signing emails
Digital signature is the advanced and secure verification of the sender. It requires a certified digital IP and PIN to prove the sender's identity. Document and signature are encrypted and bound with electronic proof seal. Digital signatures are commonly used for software distribution, financial transactions, contracts and other cases where it is important to detect forgery and tampering.