The 7 key features to look for in your PDF editor in 2022
When it comes to viewing PDFs, many people resort to free PDF readers – but they only go so far, especially at work. These are the features you need in a PDF editor to get it done, digitally.
It's been almost 30 years since we were introduced to the PDF, and it's still a go-to file format. The humble PDF has adapted to today's BYO device, cloud computing world by giving birth to cloud-based PDF readers and editors.
The first PDF editor that jumps to mind is likely Adobe Acrobat. Though Acrobat has long been regarded as one of the best solutions it's also one of the most expensive, making it out of reach for most individuals and small businesses. 
As a result, a market has formed that offers a variety of PDF editor options. They all have the tools we love Acrobat for, but with easier-on-the-wallet pricing schemes.
Here are the seven features we think are most vital in a PDF editor, especially if you're intending to use it in the workplace.

User-friendly experience

For users of all levels of experience, intuitive software is essential. You'll never get to grips with the more complicated features if it's hard to complete the most basic PDF edits.
Look for: simple design, clear messaging, and the option for a 'quick tour' of the software.

Ability to create and edit PDFs

You're not here to read PDFs. A good PDF editor makes it easy to create and amend PDF files, instead of just viewing them.
Look for: typical desktop publishing features (e.g. input text, add photos, comment) and an eSignature feature.

Searchable PDFs with OCR

If you want to go paperless in the office, you'll need to scan and digitize your hard copies. A PDF editor that can read scanned files is a huge advantage.
Look for: Optical Character Recognition, also known as OCR. This tool converts scanned documents into fully editable and searchable text.

PDF file cloud collaboration

If you're working in a team, you're probably working in the cloud; and your PDF files need to be accessed by everyone, often at the same time. Collaboration is key!
Look for: an 'annotate' tool, easy sending functionality, and most importantly integration with standard enterprise managements systems and cloud storage services, such as Microsoft Office or Google Drive.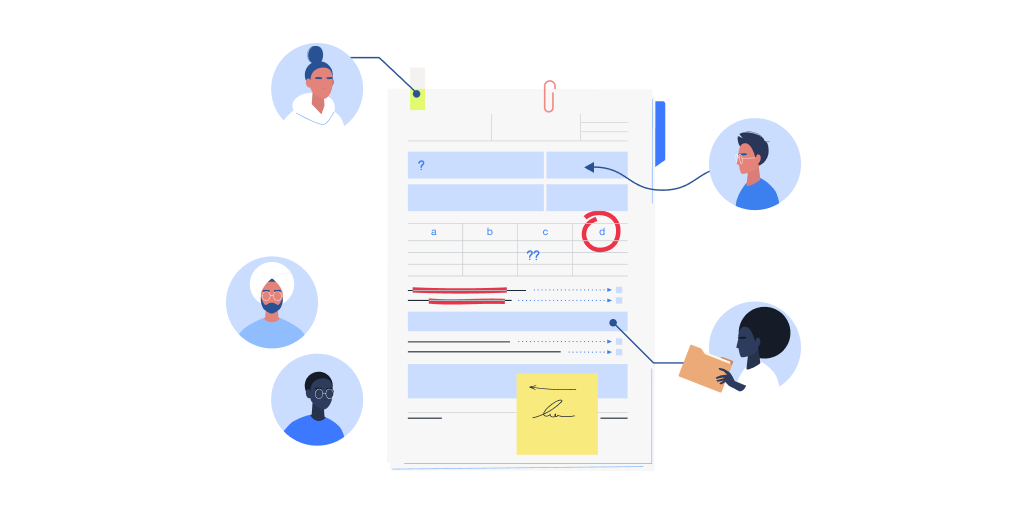 Security features

Some of you have sensitive information. That's not our business. Keeping your information on lock is. Just because you're working in the cloud doesn't mean you need to sacrifice your privacy.
Look for: password protection and restriction of access to those with the link, those within your organization, or just a chosen few.
As an added step, consider PDF software that will allow you to adjust permissions and entirely revoke access if needed, even after you've published or shared your document.

Cross-platform use

Working from personal devices means your work and attention are both divided; between your phone, laptop, and tablets. You need a PDF editor that works on all three of these so you can get your work done wherever you are.
Look for: PDF editors with a dedicated mobile app. Virtually all PDF editors are optimised for desktop use, so if one works on mobile – it'll work on anything.

Support and customer service

You may need to speak with someone and get some help. Customer service and support should be included with your PDF editor.
Look for: an easy-to-find 'support' or 'contact us' button.