Jan 20, 2022
The Start-up Series: How entrepreneurs get inspired, grow & stay connected | Spotlight on: MenuAid
Every day entrepreneurs globally are reinventing the status quo - and we want to hear about it. From passion projects that turn into global companies to teams uniting and finding their calling, it's no secret we could all learn a thing or two! Hear from start-up teams around the world on what inspired them, how they're scaling and how they stay connected as a team.
MenuAid is an online menu planning service founded by Kiwi entrepreneurs Elise Hilliam and Toby Skilton from Christchurch, New Zealand that's giving meal kit delivery services a run for their money. For the first interview in The Start-up Series, we sat down with Elise and Toby to talk about what inspired the initial concept of MenuAid, how they stay connected as a busy remote team and what's on the horizon for 2022. If you're a budding entrepreneur, start-up or just looking for some words of advice for your business, prepare to be inspired!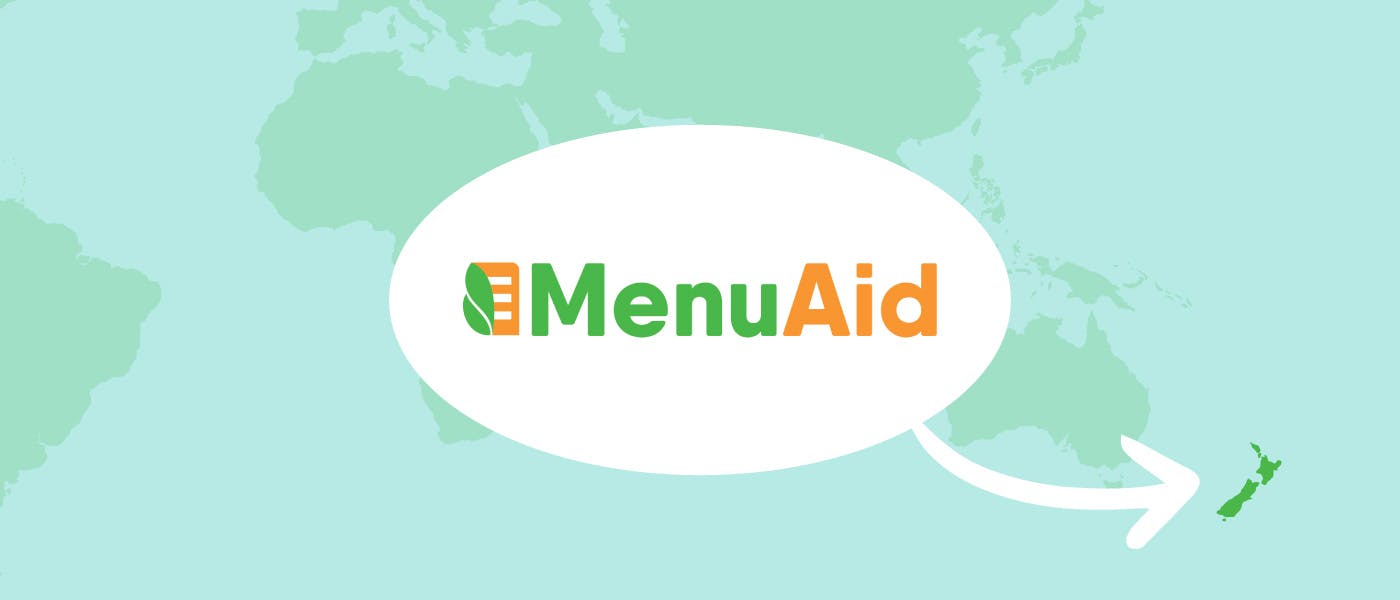 When meal planning becomes a chore, there's got to be a better way
With a background in nutrition, Elise held a burning desire to educate and was looking for ways to do this where she could make a real impact. Founder of rental company Mutu Toby was already fully immersed in business and the disruptive technology realm, forming a good base for the two to pair their strengths.
"We'd spend weekend after weekend sitting down going through cookbooks, always searching for new meal inspiration. We thought there's got to be a better way. Many of the meal kits we've tried were really inflexible, expensive and didn't fit in with our busy lifestyle. On top of this, the waste was astronomical. We went to hunt for something like MenuAid but couldn't find it, so we thought this was a great opportunity for us to make it ourselves" shares Elise.
When it comes to planning out what to cook for the week, we're faced with endless possibilities, from classic cookbook recipes to Instagram and Pinterest.
"You just get hit with choice paralysis, and then there's writing out your shopping list. It shouldn't be such a chore, eating is something we should get excited about so the motivation was to bring enjoyment back to cooking" shares Toby.
Inspired to give people the freedom to do their own groceries and swap for seasonal produce - which meal kits lack - the pair set out to develop a meal planning service that solved a problem.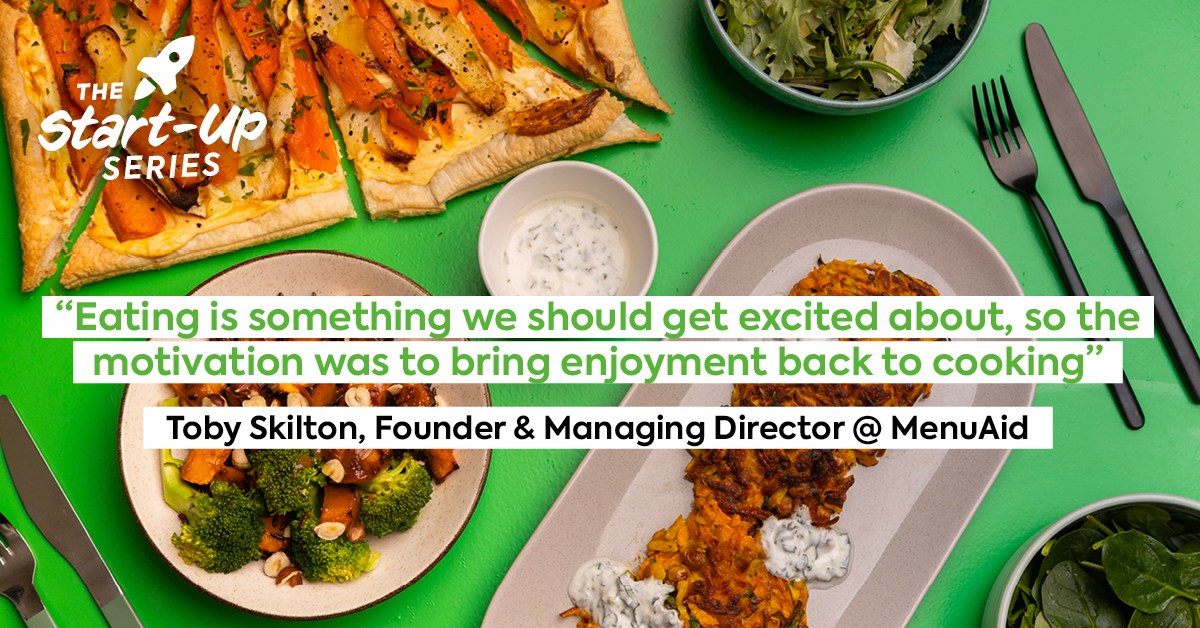 The impact of a pandemic on a new business
During New Zealand's first major lockdown in 2019, Toby and Elise tried their hand at starting up their business at home in their own kitchen with some extra time on their hands. They soon realised they needed to call in the experts, which was when they involved their two chefs Brett McGregor (winner of MasterChef New Zealand 2010) and Helen Jackson (Foodlovers blog). Next came Charlie, their content creator/food stylist/photographer/guru and Will, who's their software developer/tech wizard.
"There have been both pros and cons for MenuAid during the lockdowns" Elise shares. "It forced people to cook in their own homes and has made them become far more interested in what they're eating and how they're accessing their food. One downside to the pandemic period was the sourcing of ingredients, which we've catered for by offering people alternatives".
Staying connected and keeping the team together has been a challenge for MenuAid's remote team. Both chefs are based in Auckland and their software developer is in Whangarei in the North Island of New Zealand. The team have only had one session together since their inception, but it's been incredibly important to them to build a strong team culture from the get-go.
Quick tip: Build a strong team culture from the get-go
"One thing that's tricky with start-ups is that you're so focused on getting your product out there and trying to learn, grow and acquire new users. But there's such an importance on building a strong team culture" says Toby. 
"When it's all virtual and half virtual/half in person it's challenging. It's easy to put it in the too hard basket and say 'oh we'll just do a weekly catch up with everyone on Zoom', but there are a lot of things that we're trying to do to make people feel like they are part of this team. It doesn't necessarily have a direct impact on your business in terms of growth, but it's so important to set those foundations really early for when new people join, and there's this great culture already embedded. Moving forward we can hire based on this culture we want to build. It's a challenge trying to get people together and a Zoom can feel disconnected. It's less informal and it has been one of the major pain points for us".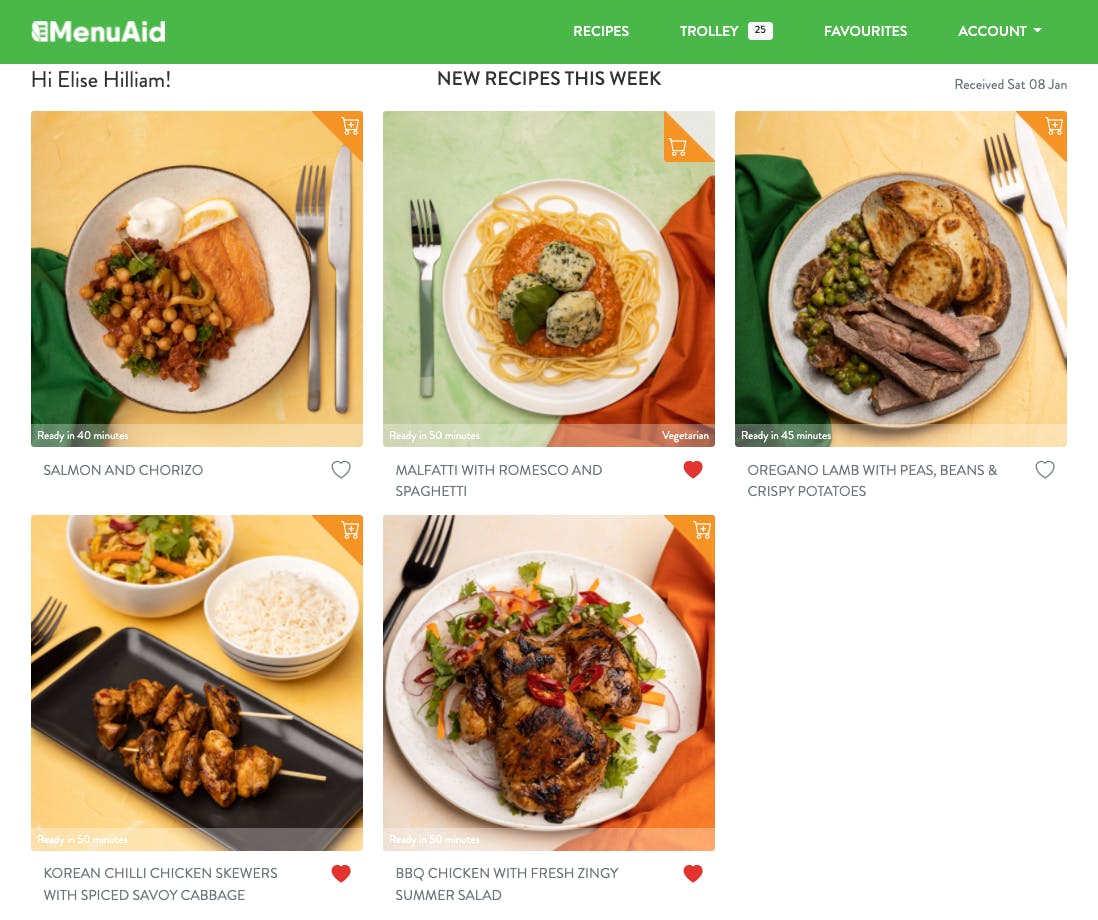 What have you been doing to try and combat this? Have there been any specific processes or resources you've come across to help you stay connected?
"Slack is our main communication channel and we've tried to set some 'rules' around having one centralised place. It's a balance between business and social - we've got a channel for dogs of MenuAid which is just the team adding photos of their dogs. We have channels for the team to post what they've had for dinner and just get the ball rolling on a bit of informal chat. It gets people talking outside of the day to day, where we're missing the water cooler chat" shares Toby.
In early 2022 the team have a day planned that's entirely focused on team bonding and feel that while we can find ways to connect remotely, nothing beats a face to face and getting to know each other when starting up a new business.
A 'Blue Skies' Slack channel cropped up in conversation, and we were curious…
"There is no idea too weird or too wonderful, just bang it in there and hope for the best! If someone has a big idea, we try and document it all in our Slack channel. Some we can get straight into and others are a nice to have in future. It's mostly me and our software developer going a little crazy in there sometimes…" shares Toby.

How are the recipes created each week, what sort of process do you follow?
MenuAid has a set of documents called the 'Recipe Pipeline'. New recipes come through from the chefs, then Elise reviews them. Helen does another once over with a fine tooth comb, then Toby and Elise hit the kitchen "Which is almost another real-life reviewing process because we have to see if it's easy or not" says Elise.
Cooking allows them to sense check everything, ensure the plate is balanced and that the recipes are really easy to follow. Once they've passed the cooking test, they're photographed, reviewed once more and finally they pass go and make it on to the platform. 
"We sat down and mapped out a process to ensure consistency. For us, as we are dictating what goes on the table each night there needs to be an element of trust coming from our brand. Part of that is identifying who the recipes are for. We had a great session early on where we thought about who MenuAid was designed for".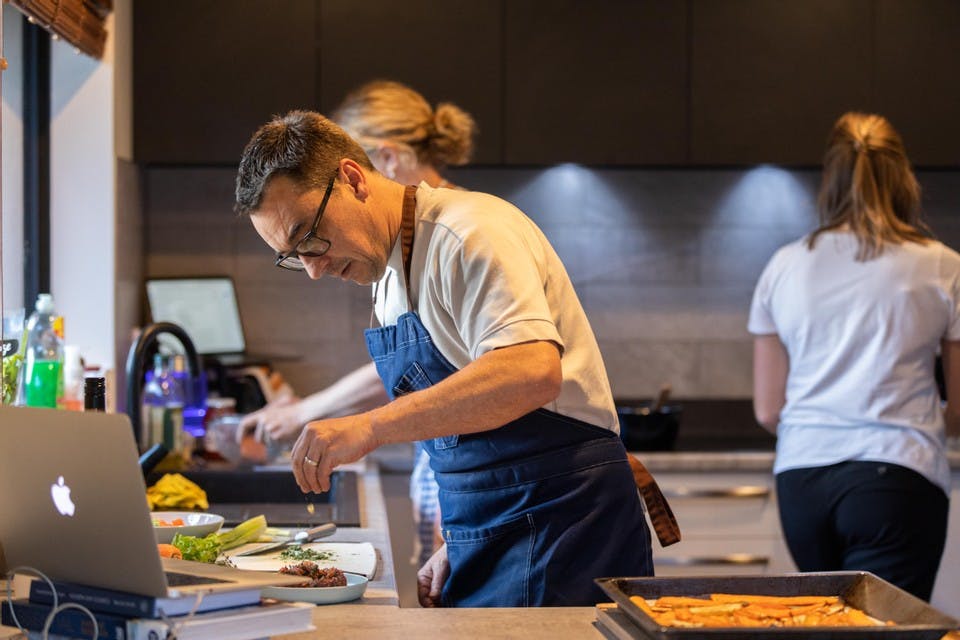 "Inherently we're going to attract all types of people to the platform, but we know we're targeting Sarah, she's a 42 year-old mum living in Christchurch. She's got a 7 year-old and a 12 year-old. Any decision we're like, what does Sarah think?"
"Everyone eats dinner, so everyone could be a target market but Sarah has an economically viable family. Our recipe writer Helen believed that when you've got kids and you've got family at home… If they're happy, you're happy. The recipes aren't designed for Sarah, they're designed for a family. That's our initial target. We've built in systems around this, checking if it aligns with Sarah and then it goes through to the next stage - does it align with our guidelines - not too many ingredients, you're not in the kitchen for over an hour etc. so all these different things form a checklist process before we make it to the user. It's a journey, but it's quite exciting for us thinking about the future" says Toby.
Community building is a key focus area for MenuAid
"At the moment, our customer feedback on each recipe card comes directly through to us via a Slack channel. We try to go back to everyone just to let them know we really appreciate their feedback as that relationship is so important to us" says Elise.
We want our members to feel like they're part of something bigger, so having our customers make recommendations on recipes such as items they swapped out that were seasonal that can then be shared back with other members would be a great feature to introduce" adds Toby.
Outreach tactics; what worked, what's next?
"We got really lucky to begin with and got a lot of press exposure" says Elise. "We had lots of newspapers and all sorts of different things going out which really helped. Facebook community groups for validating the idea were also really helpful. We absolutely slammed every group we could find. Real gorilla tactics, we had no money and we were like how can we get this out there? Launch was really good, then the next challenge was building momentum".
Chefs Brett McGregor and Helen Jackson had their own engaged communities and have acted as excellent brand ambassadors for MenuAid.
To date, the majority of MenuAid's PR has been generated directly from the team's outreach and channels have been eager to pick up their story. They've also got a lot of businesses wanting to roll out MenuAid within their workplaces, given the lack of education around food and it's association with increased alertness and energy levels, a win-win for both companies and their employees to be involved with. 
"We all know how we feel after eating something that's not good for you. You feel sluggish. We want to work out a strategy to either have Brett or Elise out in the media communicating their core messages to generate further brand awareness and put some faces out there as brand ambassadors" says Toby.
Brett McGregor is a fairly well known Chef personality in New Zealand; how did you establish that relationship?
"Toby actually found him on LinkedIn" laughs Elise.
"I pretty much just outlined that we're an ambitious young Kiwi start-up wanting to achieve X Y and Z. And said this is why we want you" says Toby. A classic Kiwi response of "Love it mate, better ask my wife" was the beginning of an epic partnership for MenuAid.
After a couple of Zoom calls, Brett was hooked on the idea and ready to dive in. It was incredibly reassuring for the team to have the backing of someone so experienced and already in the limelight to act as not only a driver of recipes, but of their brand.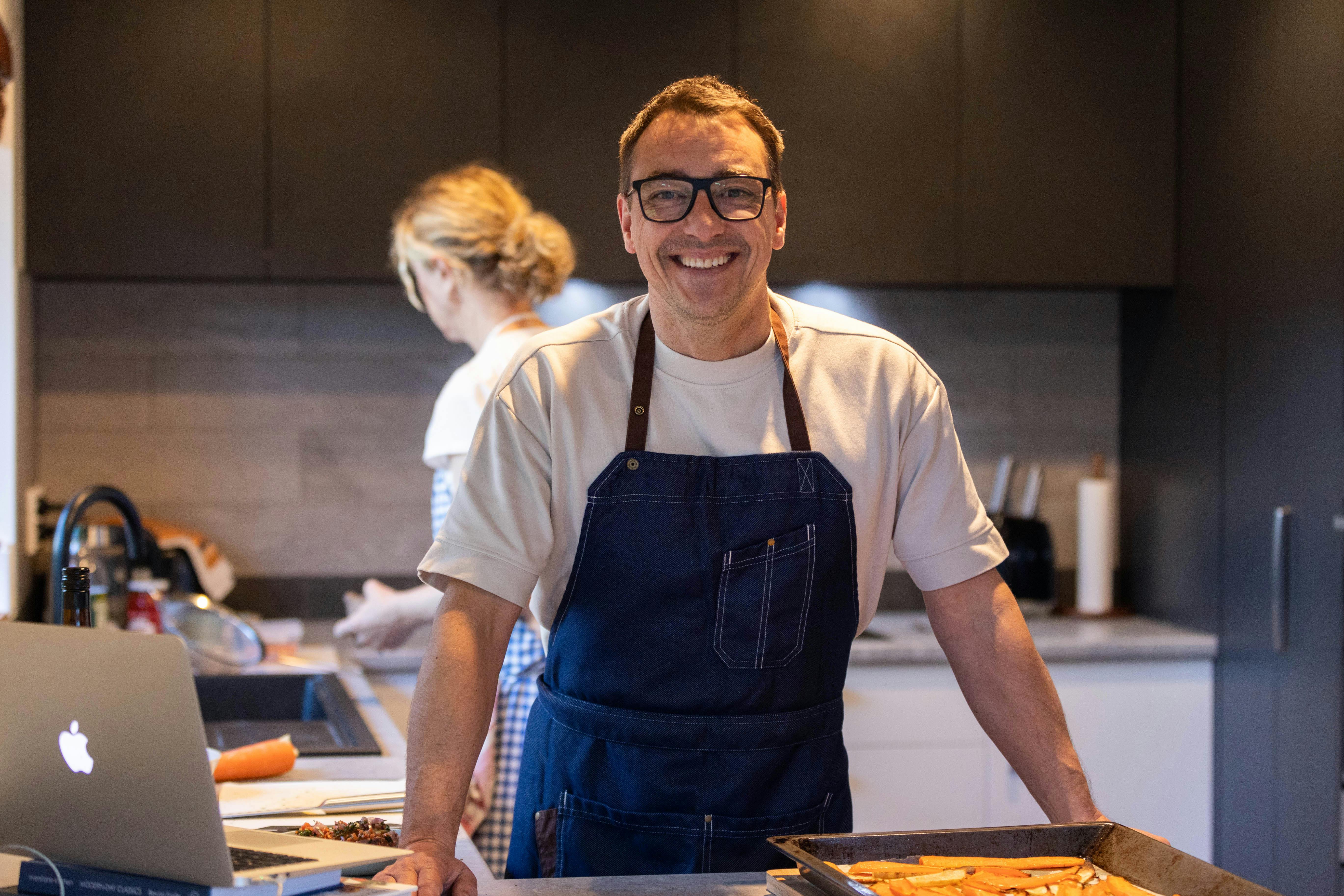 And what would you say to ambitious would-be business owners starting out? On what you'd do differently and what you learnt on the way?
"One thing I was told in the early days was to outsource great talent" shares Elise. "Outsource, outsource, outsource. I thought 'that's so silly, we have no money, we're in no position to outsource'. Now that we're in a position that we can start bringing resources in, that's really been the leverage and backing we needed. We're lucky to have gotten to this point. The others have equity in the business which helps". 
"I think there are so many ways" adds Toby. "You can test things out by being incredibly lean and not spending a lot of money".
"People see these incredibly polished apps and websites and they think they have to go and spend hundreds of thousands. Networking is a wonderful thing".
"Facebook groups worked well. We just found a bunch of groups and shared our ideas. We got a lot of responses and this helped us gain confidence and that early validation we needed to push the idea forward. People expressed their support - people within that target market we were going for. Paired with our own networks we knew we had something. That would be my best advice, would be to validate your ideas. It doesn't have to cost a fortune. You've got to be creative in how you get people's attention. No incentive was needed and this gave us the confidence to take the next steps".
"It's always a tough thing to decide whether it's a problem you're solving or if you just like the idea of it. Sometimes you also need to consider that cool ideas don't always make great businesses".
"Are we actually solving a problem here? Go through the tick box process from the start. It doesn't have to be complex. Take what's in your head, put it on paper and just conduct a bit of validation before you charge ahead".
Early validation gave Toby and Elise the reassurance they needed to start their business, but they share the importance of continuing this momentum. "During the next steps, corners were cut" shares Toby. "You could get on the phone with these people. This is the bit we probably undercut and got carried away with, so we could have taken that validation step a bit further. We could have said 'Do you have this problem, how can we solve it for you' and taken them on a journey, asking them what they'd paid, what's going to be important for them etc. Otherwise we're just building it for us".
"We try to go to everyone that churns or cancels to ask for feedback and offer to arrange a call with them to discuss what was/wasn't working. People love hearing from a founder as it's more authentic" adds Toby.
Elise adds "We were lucky enough to get a business mentor Jeff Mann and his massive thing is on market validation. As soon as we met up with him when we'd just launched, he said go and talk to your customers".
Personalisation is on the horizon for 2022
Co-founder Elise will be focusing on MenuAid full-time in 2022 and the team have plans to bring more employees on board as they grow.
MenuAid currently have two base menu plans on offer; Balanced and Vege Fix, but they plan to make their plans and recipes more tailored to their customers.
"This is where we've been speaking to Max at Lumin about how we can leverage machine learning to personalise the experience, we would love to be able to ask our customers a couple of questions to understand their unique needs, then be able to send highly curative recipes that are a great fit for them and their family or group. No one else is doing this in our space" shares Toby.
"We just want people to be able to open up the app and be like yes, boom. Five recipes that I want to cook right there. I don't even have to think about it. Personalisation is the big goal for 2022" - Elise
Also in discussion is integration with major supermarkets, so the process of recipe planning and grocery shopping is well and truly done for you.

Many people who've since chosen to cancel their MenuAid subscription have expressed the need for integrations with supermarkets, so the validation has been done and the challenge set. Now it's just about navigating the ins and outs for MenuAid to bring this highly sought after feature to their customers.
Last but certainly not least, we asked Toby and Elise what their go-to easy weeknight favourite is
Elise: A Mediterranean pasta. Nice, fresh and easy. I love olives, gherkins and sundried tomatoes.
Toby: Fajitas, hands down. Mexican food is so quick, so yummy and you can just pack it with veges. On my birthday for maybe the first 15 years of my life it was just compulsory fajitas. I'll probably have it tonight. I don't think we've had a MenuAid fajitas yet…
3 top tips for fellow start-up entrepreneurs or business owners to-be…
Validate
Your ideas before you dive in to a new business venture. Are you solving a real world problem people have? "It doesn't have to cost a fortune" Toby shares, and you can look to Facebook groups or various resources to ask people to share their opinions. 
Talk
To your customers along the way, not just at the beginning of the validation process. Sense check your ideas before you implement them and keep up the momentum. Ask them what's important to them as you go.
Connect
With your team regularly, especially if you're working remotely. Get creative with how you stay in touch and share ideas. Use online resources and channels like Slack and don't forget some good old fashioned in-person meetings for team strategy or bonding sessions where you can!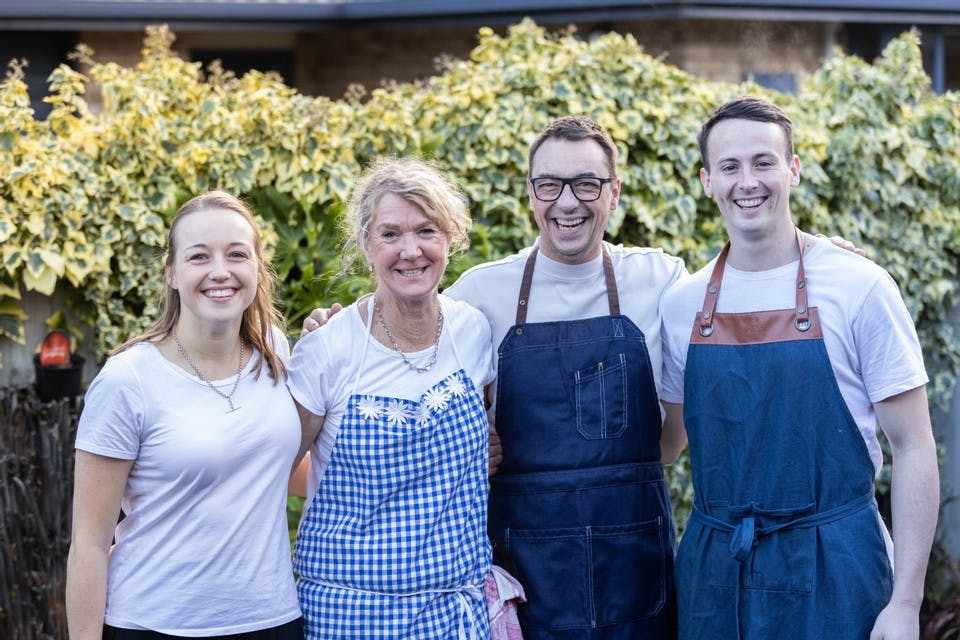 Hear more about MenuAid in the News.
Every day, entrepreneurs globally are paving the way in the SaaS industry. We loved speaking with Toby and Elise about their journey to success and hearing about what's on the cards for the future. Stay tuned for the next instalment of The Start-up Series. Until then, if your team is in need of tools to collaborate and share feedback when working remotely, give Lumin's digital toolkit a try by signing up today. It's completely free to get started.