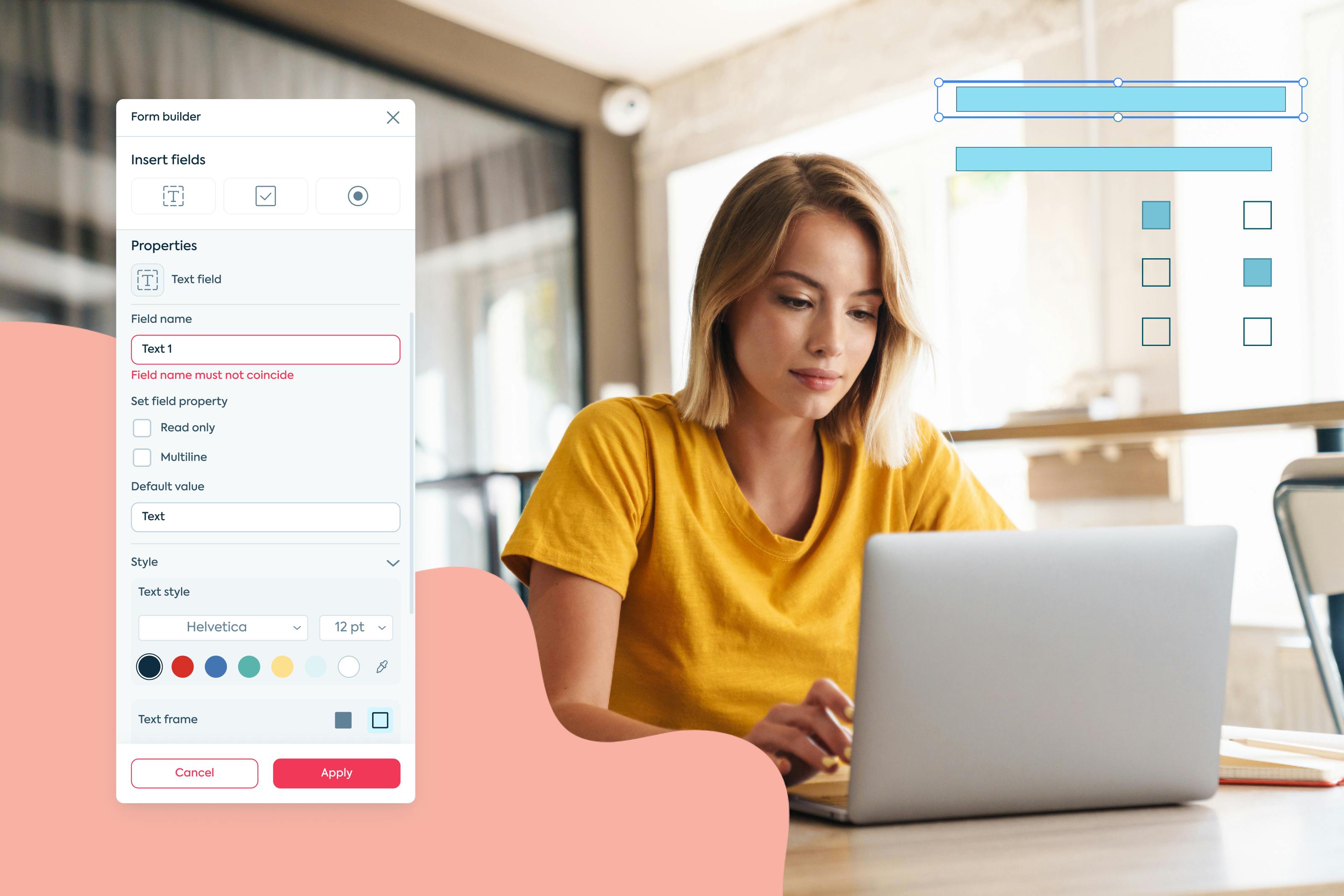 Article
Published: November 28, 2022
How to create a fillable PDF
Fillable fields can supercharge your organization. Learn how to master fillable fields – also known as fillable forms – and stay at the top of your game.
In the digital age, the humble online form has become something of a menace to effective workflows. Sections have to be filled in and boxes ticked – a frustrating and time-consuming process if you don't have the right tools to work with. That's why Lumin is launching one of our most requested features yet: fillable PDFs!  
The breakdown:
What are fillable forms?

What are the benefits of using fillable forms?

How do I create a fillable PDF with Lumin?

How do I create a fillable form in Google Docs?
What are fillable forms?
A fillable form is a document containing special fields that can be edited directly: it could be something like a survey, a health and safety checklist, or a tax form. Instead of adding text boxes, users can simply click on fillable fields and start typing. They can type into text fields and click on checkboxes and radio buttons. And once it's filled out, that fillable form can be shared online or printed and shared in person.
Fillable PDF forms have a place within any organization which regularly sends documents back and forth for completion and signing. As such, there's a virtually limitless number of ways that fillable forms can be used, such as:
Employment contracts
Questionnaires
Surveys
Tax documents
Client briefs
Enrolment forms

But to create a form that can be filled out electronically, you need the right software solution.

Lumin's fillable PDF tool not only makes it easy to build fillable forms from scratch, but also to publish your forms as templates that can be shared with the rest of your organization via the Circles tool.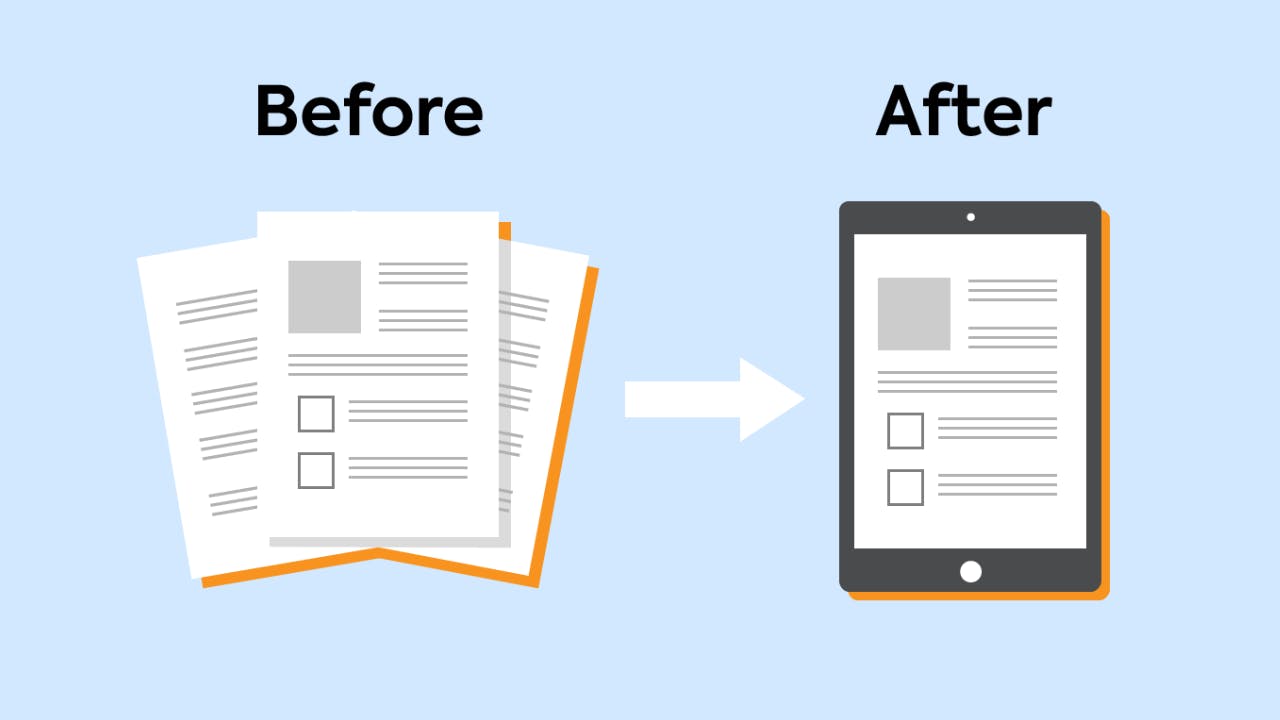 What are the benefits of using fillable forms?
Enable anyone to edit and fill out your forms digitally
Remember: most people want to work with companies that make their lives easier, not harder. Draining your clients' time with endless non-fillable forms isn't going to win you any brownie points.
You might be a healthcare practice manager and have a paper form for enrolling new patients. Scan the form and upload it to Lumin, add your fillable fields and put it on your website. New patients can now fill out and submit their information without having to come to the clinic.
Or maybe you're a paralegal who needs to easily sign and fill out contracts and agreements while on the go. You also need to keep them organized. Combining Lumin's form filler tool with our Bananasign mobile app allows you to manage documents electronically from formatting to signing – made seamless by our integration with Google Drive and Dropbox for auto-syncing.  
With a fillable PDF tool, your clients can say goodbye to fiddling around with all those text boxes (we've all been there). All you need to do is open the form, click on a fillable area, and get typing!
Make company documents easily fillable and shareable
Briefs, PTO requests, project timelines – document templates are the backbone of every organization. Yet the workflow often belongs firmly to the pre-computer era. Either they need to be printed and filled out manually, or we start fighting with those dreaded text boxes. 
With Lumin, you have a two-in-one solution; as well as being able to create fillable forms, you can also store your templates within easy reach of your team. 
More cost-effective and easier to use than other software options
A common challenge with fillable PDFs is that this functionality isn't available with free PDF editing software. Yet popular solutions such as Adobe Acrobat can be expensive, leaving fillable forms off-limits to smaller organizations and teams. 
Lumin's fillable forms tool belongs to our cost-effective Business plans which boast a bunch of value-added features including eSignatures, redaction, edit PDF and more. 
There's no need to spend time and money briefing freelancers to create fillable forms for you; our system is so intuitive that you can have a template created in minutes.
Make fillable forms accessible to your whole team or company
Being able to create a fillable PDF isn't going to speed up workflows if other team members don't also have access to the same capabilities. Thanks to Lumin's Business and Enterprise plans, it's easy to roll out the full PDF editing toolkit to the rest of your organization and make seamless form-filling a reality.
How do I create a fillable PDF with Lumin?
Upload any form you'd like to fill out to your documents
Open the document with the Lumin editor and select the 'form builder' tool in the top toolbar
Drag and drop the fillable fields you want to use into your document (e.g. text, checkbox, radio buttons) and position them as needed
Publish your new fillable form as a template that can be shared with other members of your Circle
If you want to make any changes to your fillable form, simply select 'edit template' and sync these adjustments for everyone.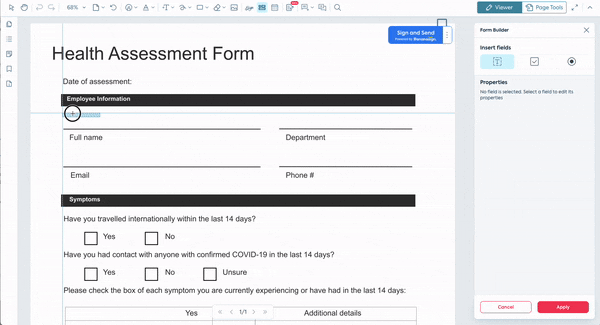 How do I create a fillable form in Google Docs?
Did you know that Lumin has seamless integration with Google Drive? Any Google document that you open with Lumin and turn into a fillable form will be synced with the original file in Google Drive when auto-sync is switched on. Our Help Center has a detailed walk-through of the creation process.
With the addition of fillable fields, Lumin offers the true end-to-end PDF management solution for organizations large and small. From adding notes to signing documents and checking all the boxes (literally!) Lumin is the perfect addition to your workplace.