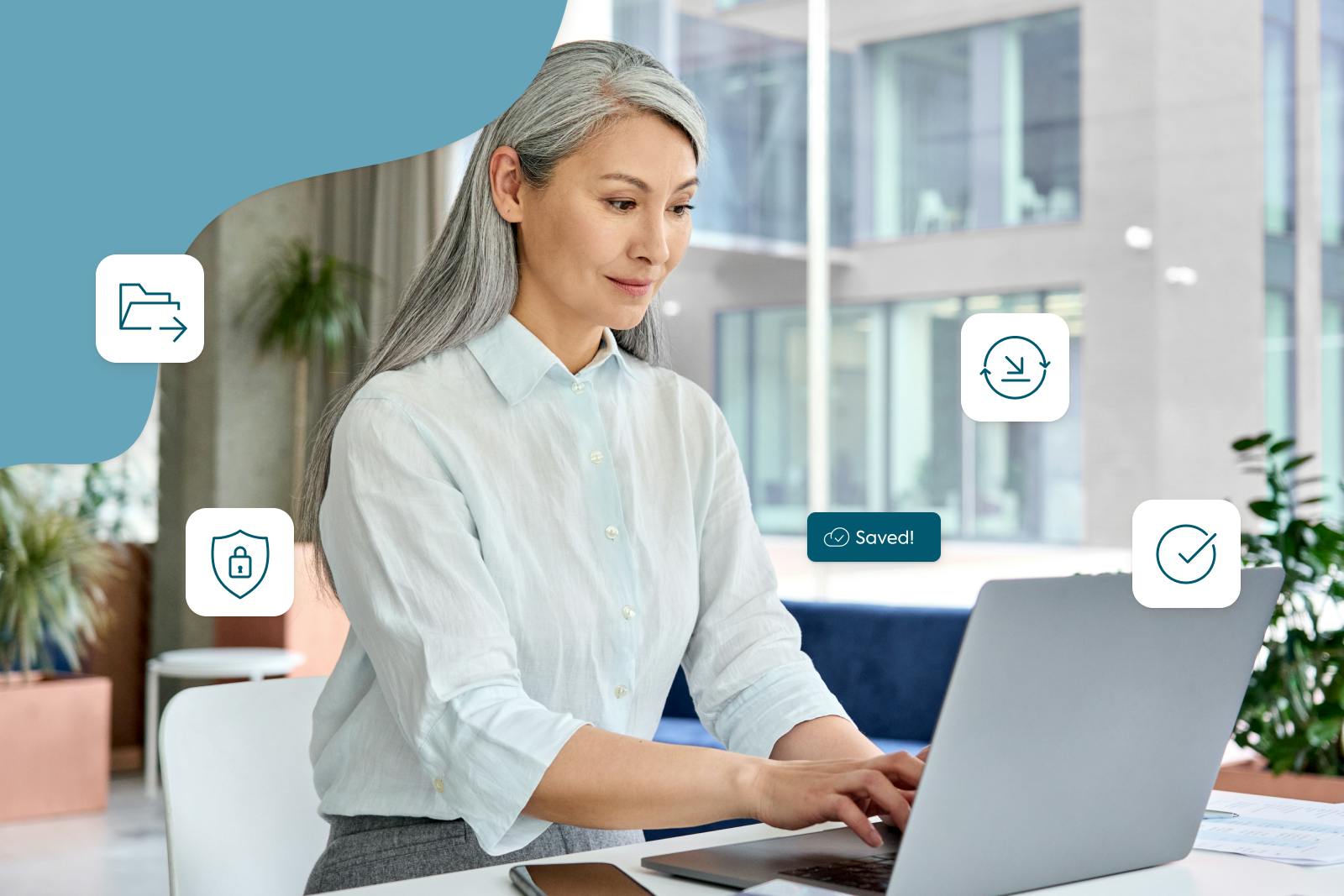 Article
Published: May 17, 2022
Paperless Law Office: The Best Digital Solutions for Legal Documentation Automation in 2022
Contracts, client intake documents, and court documents all generate a lot of paper in law firms. When you walk into a law office, you're likely to notice stacks upon stacks of paper on every desk.
Law firms go paperless: digital solution guide for 2022
Unfortunately, a lot of paper can lead to inefficiencies in your company. For starters, you'll need to devote valuable time to filing out documentation. You may sacrifice hours hunting for the paperwork you need for each case if the filing process isn't streamlined (that is if you can find them at all).
The good news is that there is a solution — going paperless! It may seem like an impossible task, but it's not. From filing to signing documents, technology allows us to accomplish everything a filing cabinet and pen can. But there are a few things you should know before you start transforming your law office into a paperless one.
This article will take you through everything you need to know about going paperless, including suggested actions you and your team could take to succeed.

Why should you switch to a paperless law office?

Let's face it, law firms and offices are businesses, and businesses compete with one another. There is ongoing demand to enhance efficiency and minimize expenses while maintaining a high-quality level of work. Going paperless is a fantastic way of achieving this. Here are some of the benefits you can expect from making your law office paperless:
Save Money

Adopting a paperless law office saves your firm more than simply paper. As your reliance on paper decreases, you'll save money on printer maintenance, ink, toner, shipping, and physical storage, just to name a few. According to EPA, this is why switching to a paperless system saves businesses on average $80 per employee.
Paperless offices can process a much larger volume of paperwork compared to traditional offices in the same amount of time. Bare in mind you pay for your employees' time; the more time they spend performing value-added work rather than manual paperwork, the higher the return on your investment in them will be.
Save Time


Time spent filing, sorting, and looking for papers could be better spent on other, more important tasks. In a paperless law office, all of your digitized documents are kept in a single repository, which is essentially a well-organized digital filing cabinet.
You'll be able to use the same sophisticated search capabilities that you're used to on Google when you use a digital document management system. Employees can locate files with a single mouse click, rather than the time-consuming, manual process of looking for a certain file in a hidden folder. Employees could put their extra time to good use by working on revenue-generating tasks.
Improves Organization

Manually sorting and keeping track of papers takes time; a cluttered, chaotic stack of loose documents makes it even more time-consuming, especially if you're looking for a specific document for your trial or case. Disorganization can significantly reduce your productivity; according to the Tile App, the average person spends roughly 10 minutes each day looking for misplaced objects. That means you spend around six months of your life searching for lost items.
Going paperless will relieve you of the stress of having to keep up with the clutter. You'll also never have to worry about losing that one important document that needs to be found — because it'll be stored safely in the cloud!
Benefits the Environment


Develop a more sustainable business by reducing your paper waste. Even with recycling, the amount of paper used in offices in the United States increases by 20% every year. Every year, the average employee utilizes a whopping 10,000 sheets of paper. By reducing the overall amount of paper used, your law firm can do it's bit by contributing to environmental well-being.
The printer, ink, and ink cartridges, in addition to paper, are all hazardous to the environment. A laser printer and inkjet cartridges require more than 3 gallons of oil in production. Printers and ink also contain potentially dangerous chemicals that, if carelessly disposed of, can pollute water and soil, causing ecological devastation. An environmentally responsible strategy is not only more sustainable and better for the environment, but it also benefits your business' image. 
Boosts Security


Physical papers are difficult to track since stacks of paper might be misfiled, lost, or destroyed without anybody realizing it - this is the case for many organizations, but especially true for law firms. It can also be difficult to keep track of who has access to sensitive files, who prints them, and who copies them. Advanced security capabilities in document management software can address these issues. Strict access rights, which assign permissions at the document level (e.g., settings based on the document type), user-level (e.g., settings based on person's job function), or system level, can be set up by system administrators (e.g., overarching security for all data in the system).
Access rights aren't the only security benefit of a paperless workplace. Law offices can also use document management software to use electronic signatures, protect confidential client documentation, edit paperwork, create audit trails, and more.
Streamlines Collaboration


When you digitize your paper-based operations, your entire team has quick and easy access to the information they need. A file left on someone's desk, a stray note with crucial information, a filing system that only one person understands, these all create risks for an organization.
If a key employee calls in sick or you need to leave the workplace, your staff may have trouble finding the information they require without you there. Paper-based processes might result in a loss of productivity as well as a reduction in customer service quality.
By going paperless, you can avoid a breakdown in vital information sharing. Rather than getting lost, files may now be accessed from anywhere at any time, giving your employees easier access to the information they require.
Steps to making your law firm paperless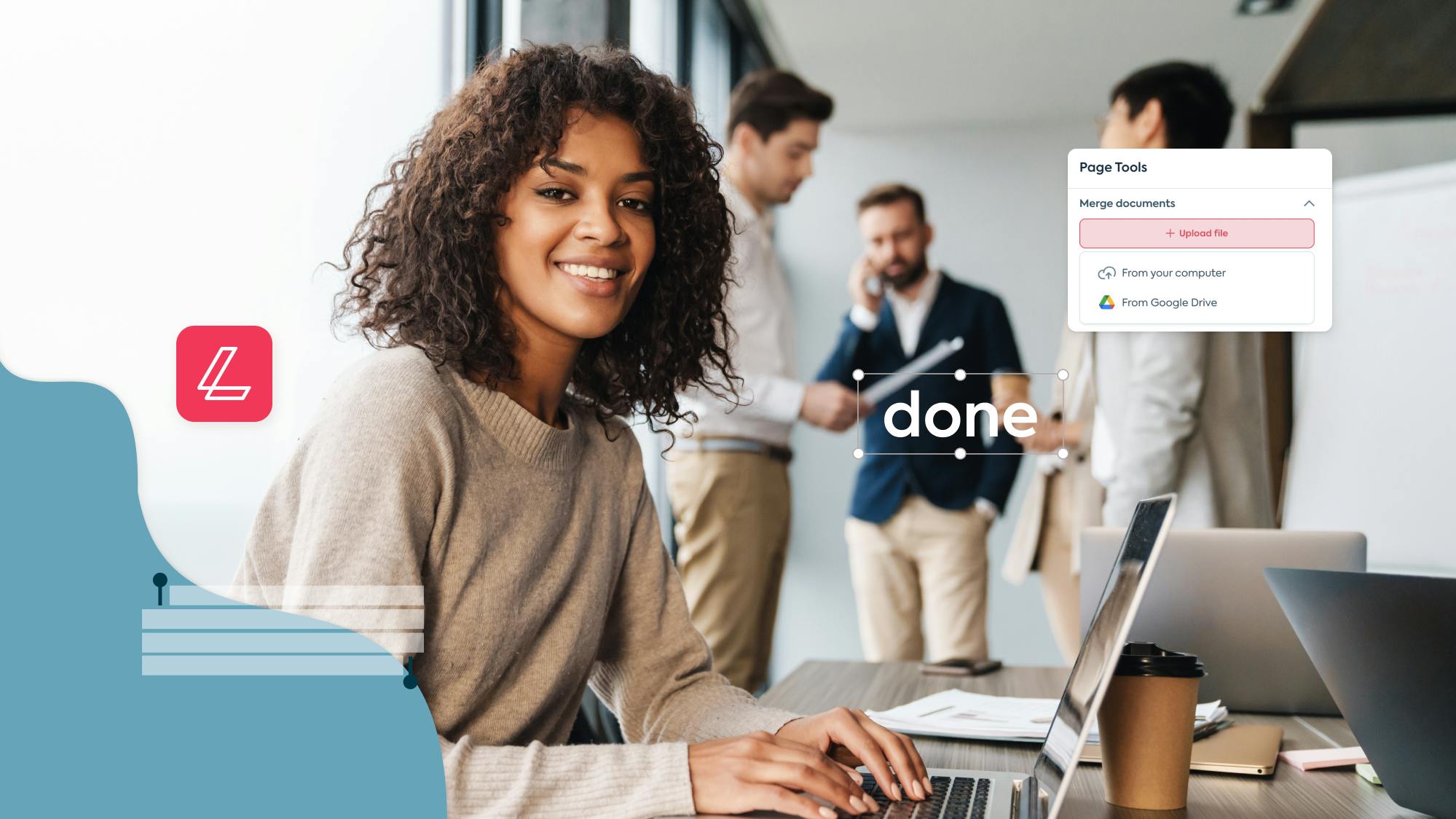 Transitioning to a paperless law office doesn't happen overnight; it requires some effort. To ensure that your transition goes seamlessly, here are some things you need to consider:
CRM System
Any modern business that wants to keep its customers happy and boost engagement and retention needs a CRM or customer relationship management solution. Choose a CRM that integrates with your other tools, such as your phone system, communications platform, and other software platforms that you use.

Cloud Storage
Putting your papers in cloud storage allows you simple access to them while also providing secure storage. The majority of modern cloud storage systems have robust security features, as well as encryption as a backup safety mechanism. One such tool is Lumin, which provides secure and user-friendly cloud storage for you to save all your important documents in.

PDF Editor
Working with clients means relying heavily on document management, and law workers require sophisticated technologies to process paperwork as needed. A PDF editor is one of the useful document management tools that lawyers and legal professionals require in order to save time and give a better experience to their clients. Lumin delivers smart editing and markup tools that assist lawyers and paralegals in easily annotating PDF documents and client files. As a result, anyone can benefit from the product to its full potential.
Paperless procedures and protocols

Here are some pointers and best practices to get your paperless journey off to a good start.
1) Make digital files searchable
One of the major benefits of going paperless is the ability to search for keywords in documents, so make sure you're taking advantage of it. One way to do this is to use the Optical Character Recognition tool that Lumin Tools offers.
2) Keep digital files organized
Digital files are easier to organize than physical files, thanks to the search capability as well as the various name and filing systems available.
3) Keep only legally obliged documents in paper form
There are some states that require "wet signatures" on certain types of paperwork, so keep that in mind. If one of those states is part of your practice area, you'll need to maintain some papers in analog form; however, keeping paper copies that could be digitized is pointless. To put it another way, destroy anything you don't absolutely need and keep the rest. As a bonus, there will be significantly fewer paper documents to look through, making it far easier to have the ones you do need readily at hand.
4) Have a paperless onboarding system
The more your employees understand how to handle paperless operations, the less likely it is that paper copies will be printed. Simply put, informing your new hires about your paperless procedures and workflows during onboarding will save you time and money in the long run.
5) Keep files accessible for everyone involved
The right users should be able to access paperless files conveniently. When you put in the time and effort to make sure the correct people have access to the relevant papers, accessibility becomes a huge asset. Naturally, not everyone requires access to all files. Make sure your sharing settings are set up correctly so that each folder is only available to the users who need it.
6) Train your team to become paperless
You can start a company-wide program to discourage printing (or encourage double-sided printing), support reusing and recycling, and promote the use of digital tools as a paper substitute, along with training them on how to use tools like Lumin in order to go paperless.
Technology and systems for going paperless

We briefly touched on this before, but there are three main things you need to get your paperless office running seamlessly — searchable PDF software, reliable hardware, and a place to store your files.

PDF Software
PDFs are known to make sure document formatting remains the same for the person who receives a document you have created. This is why PDFs are the preferred method for providing clear statements that indicate contractual and monetary obligations. Loan contracts, invoices, and purchase orders may take a while to create from scratch, but with advanced PDF editing software, templates (that your law office probably has already) can be downloaded and personalized quickly and easily. Detailed contracts can be sent and signed on the cloud, with auto-saving creating a trace of any changes made for both parties to view. Additionally, Lumin has additional security features that help you keep your clients' confidential information safe. To try out Lumin for yourself, click here.

Hardware
Get a good scanner or three! They will be instrumental when it comes time to digitize your old files. Additionally, clients will still likely drop off paper files, so a scanner will always come in handy. There are many options, such as portable scanners, scanner apps on smartphones, as well as all-in-one printers that have scanners built-in. Research what will be best for your law office and invest in a powerful scanner — you will not regret it.

Storage system
Use a cloud storage system, like Google Drive, for example, to organize and file away your files. The simplest way to do this is to create new folders for each past or present client and start dragging files over.


The sooner you get started with a paperless law office, the more time you'll save in the long run

Switching to a paperless law office is a huge undertaking. You and your entire team will have to adjust to storing documents in the cloud rather than in a filing cabinet or folder. You may want to start utilizing a smartphone or tablet instead of a yellow pad to take notes.

But here's the good news: when disaster strikes (whether it be a fire, a natural disaster, or a break-in), your files will be protected and safely stored in the cloud. That's not to say that this minimizes the task that's in front of you. Migrating to the cloud can be tricky; but you don't have to do everything at once. Start with active cases, or have your most tech-savvy attorney take the plunge first and iron out the kinks in your system before inviting everyone else to join. You can do it with a little determination and in the long run it will definitely pay off.