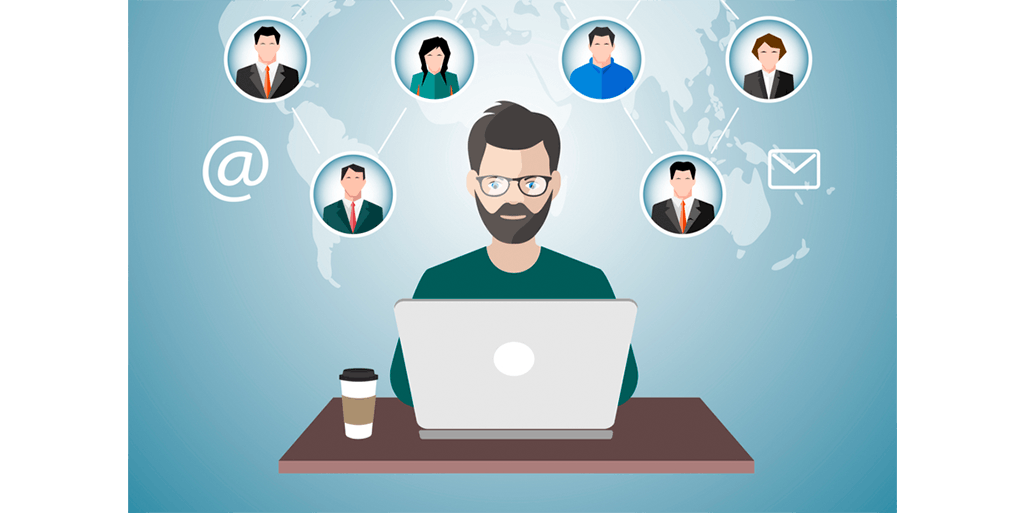 Article
Published: August 11, 2022
Why Right Now Is Remote Work's Tipping Point
If the beginning of 2020 taught us anything, it is that flexible working conditions are not a luxury or an advantage that, in principle, you can do without. For everyone who works with digital technology, remote work is what awaits us in the future, not only in the United States but all around the world. While working remotely in many industries has been swiftly introduced due to security measures in various countries, The Guardian and other sources have predicted a "permanent shift" towards working from home. This view is strengthened by the results of multiple surveys and studies that have shown that the upward spike and growing popularity of remote work is a trend that did not emerge yesterday.
Companies that have invested in infrastructure to work remotely have a unique opportunity to cope with challenges and risks, such as the current COVID-19 pandemic, which Time magazine recently called "the world's largest work-from-home-experiment."
The successful collaboration between team members working both inside and outside of the office is becoming the norm for many companies. That said, there is plenty of compelling data highlighting dramatic changes in hiring practices, satisfaction, and the productivity of remote workers. This article provides statistical information about remote work that may surprise you.
Remote work's tipping point
With increased internet speed, the advent of more reliable cloud solutions, and a shift in attitudes towards work-life balance and health, remote work has become an increasingly attractive option for employees. As Forbes notes — "remote work is no longer seen as a privilege". Increasingly, employees are interested not only in the size of their salary but also in the sense of freedom remote work instills, including work-life balance, flexible hours, and working conditions. Check out some of these interesting facts surrounding remote work:
Over the past ten years, the popularity of remote work has increased by 91%
By the year 2028, it is projected that 73% of work teams will include remote professionals.
In one renowned study, 62% of participants reported that they work at least part of the time remotely, and a whopping 38% of office employees reported working outside the office on a full-time basis.
Regus predicts the US economy will grow by $4.5 trillion by the year 2030 due to flexible operating conditions.
Remote work can improve a company's competitiveness in hiring
80% of US professionals say they will refuse a job offer if they do not have the opportunity to work under flexible conditions.
In a survey of 880 American specialists, 74% of respondents said they would be willing to leave their jobs to switch to a remote model.
By 2030, when all Gen Z members enter the labor market, the demand for remote work will increase by 30%.
50% of teleworkers plan to start working for themselves someday. 
34% of participants in one poll said they are ready to sacrifice 5% of their earnings for the opportunity to work remotely.
What do these statistics tell us about the future of the labor market? Firstly, they show that flexible working conditions will continue to be the most crucial factor in attracting talent. PwC's international cross-generational survey found that many young employees view "work as a phenomenon, not a location." The cloud-based digital workspace reinforces this belief and aspires to bring flexibility and transparency to day-to-day processes.
Pros and cons of working remotely
The term "remote work" is quite controversial. Modern technology is blurring the boundaries caused by distance and time zones, and is instead opening up more business opportunities. Digital communication has become so commonplace that people in the same room often prefer it over face to face. Let's take a look at the main benefits of remote work for developing your project:
Extensive opportunities to find highly qualified personnel.
Minimization of time and money spent on resources.
Fewer co-worker distractions and the use of collaboration solutions like Wrike enable employees to manage their workload better and stay connected with colleagues.
85% of CEOs say their staff productivity has increased "as a result of increased flexibility."
In one experiment at Stanford University, remote work increased productivity by 13%.
Office workers spend an average of 66 minutes per day discussing non-work-related issues, while remote work workers spend roughly 29 minutes shooting the breeze.
75% of remote work workers say working from home has improved their work-life balance.
71% of remote telecommuters are satisfied working from home, compared to just 55% of their counterparts who work in the office.
36% of retirees are confident that they would not retire if they had the opportunity to work from home.
40% of remote workers say they usually "experience no stress" during their workdays.
57% of employers say flexible working conditions increase their employee motivation and drastically reduce turnover.
However, remote collaboration isn't always rainbows and butterflies. Like anything, it carries various risks, some of them including:
Workflow issues due to team separation.
Risk of missing deadlines due to untrained personnel.
Lack of informal connections: you may not fully understand the lifestyle of your employees, their personal preferences, expectations, etc.
Cloud and digital tools are becoming highly simplified, making it more natural to adapt to different work styles. Remote workers are reporting a drop in email volume and, as a result, spend less time searching for the information they need. 
Of course employees say flexible work conditions improve their health and satisfaction, how could it be otherwise? Telecommuters spend less time on public transport, spend more time with their families, and even take less sick leave than their office counterparts. Remote work is the future. Statistics clearly show that the modern working environment is changing, and flexibility is becoming a critical factor for employees planning their career paths. Based on projections, businesses will see further growth in the popularity of remote work as many employees abandon traditional ideas about the need to travel to the office and back every day.
How will the team track project progress and measure results?
Collaboration and communication within a team can quickly go wrong if managers do not carefully monitor it. Be sure to follow Agile and Scrum techniques, which are very helpful in managing large teams to achieve the most effective work results. Our company has a strict and understandable system that coordinates the work process. Each sprint ends with a flashback meeting to summarize the results of the previous sprint. Participants analyze past achievements and failures. Based on this experience, new tasks are planned. It is essential to have all the tools to support remote workers before you switch.
Communication: When working remotely, teams need a tool to communicate with each other indefinitely. Email is not always a good option, so you should choose a means of communication for a faster response. The following are a few services that can be used to conduct online rallies:
Skype - the maximum number of participants in group video calls is up to 50 people. Skype is video-optional and can be used for presentations as well as meetings.
Hangouts - the maximum number of participants in group video calls is up to 10 people. In Hangouts, you can also share the screen.
Google meet can be used if you have access to a paid account.
Zoom is a handy video conferencing program.
Messengers: Slack, Viber, WhatsApp, etc. You can create channels, chats, and make video calls. No other messengers are used, and the employee has the right to choose whether to install them or not.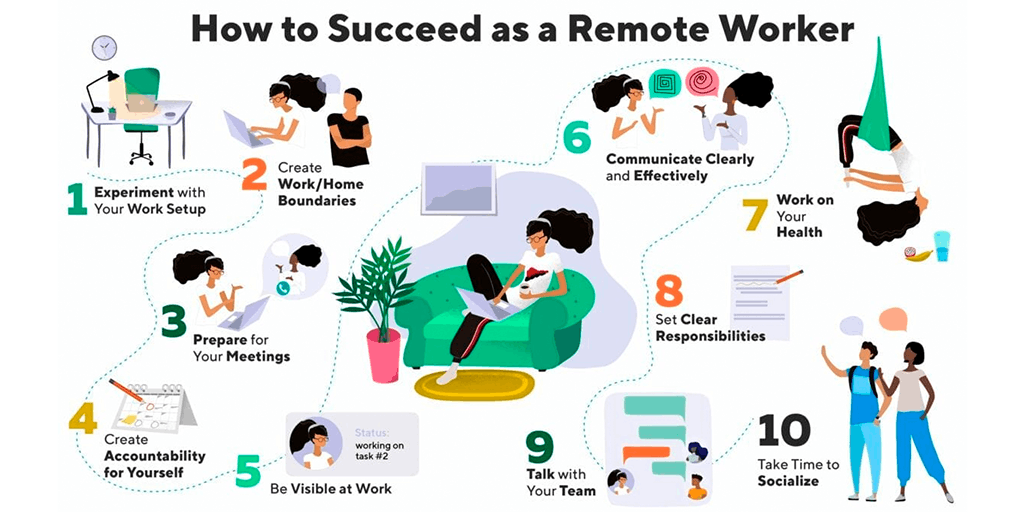 File sharing: Chaos in working materials takes up the time of the performers and sometimes leads to errors, for example—old banners can be launched into new advertising campaigns. Choose a cloud-based file storage system so that they can be accessed from any device, wherever team members are. When organizing remote work, all participants must have access to the current and updated files that they need. Consider a file organization and folder hierarchy. For example, data can be organized by the client (everything related to a project) or by task type (banners for social networks for all projects in one place, illustrations for content in communities in another). And make sure that all employees strictly comply with the system. Several good reasons to use LUMIN PDF include:
The LUMIN pdf tool provides ease of use: Not very computer savvy? No problem. Even if this is your first time using LUMIN PDF, the user interface is straightforward to use, and our tools are easy to handle. This way, you shouldn't face any unique problems.
The LUMIN pdf tool speaks your language: the LUMIN pdf tool will understand anyone, regardless of their location. LUMIN PDF is available in multiple languages, and you can choose your preferred language from the menu.
Your concerns are our priority: When it comes to working with your files, it is our job and duty to provide the best possible service. The LUMIN pdf tool strives to provide you with the smallest file size while maintaining the highest quality possible.
Your safety is our concern: To avoid the theft of your files, the LUMIN pdf tool automatically deletes all archives within two hours.
Use your time profitably: The LUMIN pdf tool has created a whole set of reliable tools that will speed up your workflow processes. The LUMIN pdf tool will help you save time (and money). You can bulk edit your files instead of having to painstakingly work through them one at a time. Your files will be processed as quickly as possible, provided you are using a high-speed Internet connection.
Freedom to manage files: Arrange them alphabetically or in reverse alphabetical order. Forgot to add the data? You can add, remove, or rotate them after loading. Sometimes, working with files can be frustrating.
Do the work right from the cloud: The LUMIN pdf tool is integrated with Google Drive and Dropbox. This allows you to upload files directly from the cloud and, after processing, save them back to your cloud storage.
Edit on the go: Since the business doesn't stop working while you're on the go, you can edit and convert your PDFs on your Smartphone using the LUMIN PDF Mobile app. Available for iOS and Android.
Productivity: How do managers know if their remote employees are working? Currently, most remote teams rate their employees based on the number of tasks completed and whether they are meeting their goals, rather than the number of hours spent. However, it can still be difficult to track everyone's performance. If productivity starts to slow down, time tracking tools like Toggl, Tick, and Timesheets can be used to monitor projects or simply measure how long it takes to make improvements to track our performance and control our work.
Safety: Remote work means many team members will connect to WiFi networks in cafes, coworking centers, libraries, and other public places to get their jobs done. Therefore, it is vital to have an information security policy before moving to remote work. Remote teams must create secure passwords and update them regularly. Sensitive information should be stored on a secure cloud platform, and it is recommended to use a VPN or Proxy when connecting to public networks.
How to start transferring a company to a remote location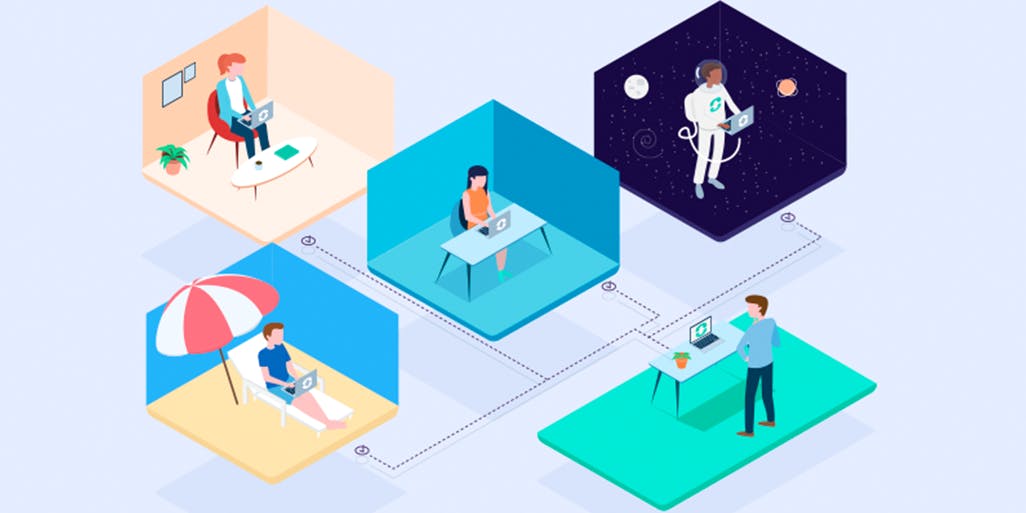 Create a set of rules and guidelines for employees. Psychologists advise creating morning rituals to tune into work, being mindful to not overwork, and communicating with colleagues via video calls. Here are a few other examples that help: participate in the morning meeting via video link, this way you can be sure that all employees are tuned in to work, and not daydreaming with the microphone turned off; share the plan for the day with the entire department as it is best for everyone to personally voice their ideas at a scheduled video meeting so that others will know exactly what their colleagues are doing — at the end of the day or the next morning meeting, you can voice the results.
If your employees are formalized, you need to take care of legal delays. An employee writes a statement. In the application, you need to indicate something like: "Please transfer me to remote work in connection with the COVID-19 epidemic." If an employee does not want to write an application, transfer it to a remote location yourself under article 74 of the Labor Code. You are drawing up a supplementary agreement to the employment contract. According to the Labor Code, if an employee will work from his computer, you need to pay him extra for it. Pay as before. Transfer to a remote location cannot be a reason for a decrease in wages, and you need to pay money in the same way as indicated in the employment contract. Taxes and contributions are paid in the same amount.
For an employee to not just sit at the computer at your expense, you need to know what he is doing. There are two options to monitor this:
A terrible, but loved by many option includes continuously asking: "well, how is it going?" It gets on your nerves and makes you scream at the monitor.
A mediocre but effective option is to install a time control program on computers. You will know what exactly the employee is doing during the working day, but not all of your subordinates will like that their screen is being recorded.
A great but time-consuming option is to organize all the work in the task manager. A manager is a program where you can see who is performing what task and how much time is left to complete. The employee starts the job, and after completing it, marks the task as finished. There may be a problem: if the employee has not worked with the task manager before, he will get confused about the functionality and forget to update the task status. But if everything goes smoothly, you will, at any time, see the progress of tasks and the workload of the entire team.
An open and understandable task control system "heals" procrastinators and reminds us that working from home is just work, not a vacation. The transition to the new format will require new regulations. For example, you will have to answer the questions: "Is it tactful to call a colleague in broad daylight?", "How to correspond so as not to annoy anyone?" "What to do if I cannot complete the task?" It is better to put the answers in a separate document as soon as these questions arise. As a result, you will get a real FAQ that will help employees work effectively.
We switched to a remote work format – what's next?
After transferring a company to remote work, you need to monitor how work processes are progressing, and ensure that tasks are completed. The manager must always be in touch and make it clear that the company is not dying, but is merely using a new format of work. There are different points of view about the transition to remote work. For example, a Gallup study claims that a remote worker can do as much in 5 days as an office worker in 6 days. But some remote employees are climbing up the wall and waiting to return to the office. We can only wish such people patience and perseverance, because the end date of the pandemic is unknown, not to mention the fact that some companies are not going to return to the office at all. Lack of experience in remote work is not a reason to give it up. Regulate remote work, make a clear list of rules, and convey to employees the importance of its implementation.