Aug 05, 2020
Teaching Remotely In the Fall of 2020? Here Are Seven Tools to Make Your Life Easier
Recent global developments have forced education professionals to quickly adopt IT solutions for continuing the learning process remotely. Thanks to the existing online teacher tools, it is possible to set up class administration, foster collaboration, ease communication, and encourage students to study independently.
There are hundreds if not thousands of digital teacher tools. In the list below, we will take a look at some of the most fundamental ones that have proved their efficiency in various academic environments.
Teacher Tools Online: Web Conferencing
Since there is no possibility to interact directly on-site and there is no classroom observation tool, video conferences have become pivotal in ensuring two-way communication between teachers and students. 
Some popular video conferencing tools for online teaching include:
Google+ Hangout – it is one of the popular G-suite solutions and an all-time favorite on the list of easy teaching tools that can work fine for carrying out online classes as well. The best part about it is that it is free and does not display any ads. However, there is a price to pay for all these benefits: the platform can accommodate only small groups of up to 10 members.
Mikogo – a specialized online tool for online meetings, presentations, screen sharing, and distance educational/tech support. It can be used in any of the supported 35 languages as well as branded in line with an institution's firm style.
Twiddla –one of the best apps for teachers, which is basically a browser-based digital equivalent of a classroom whiteboard, with interactive elements where teachers and students can collectively brainstorm on a blank canvas, add notes, images, graphic elements, etc. 
AnyMeetingAnyMeeting – a free app (functioning thanks to ads) that can host video calls with up to 200 participants. It also offers useful features such as screen sharing, VoIP, recording, and follow-up options.
Meetin.Gs – a video-conferencing application that offers some extra features compared to the previous ones. For instance, these include an integrated calendar for scheduling meetings, file sharing, the possibility to take notes, and collective document editing. The only limitation is the maximum group size: 6 participants.
Teacher Tools Online: Digital Storytelling & Podcasts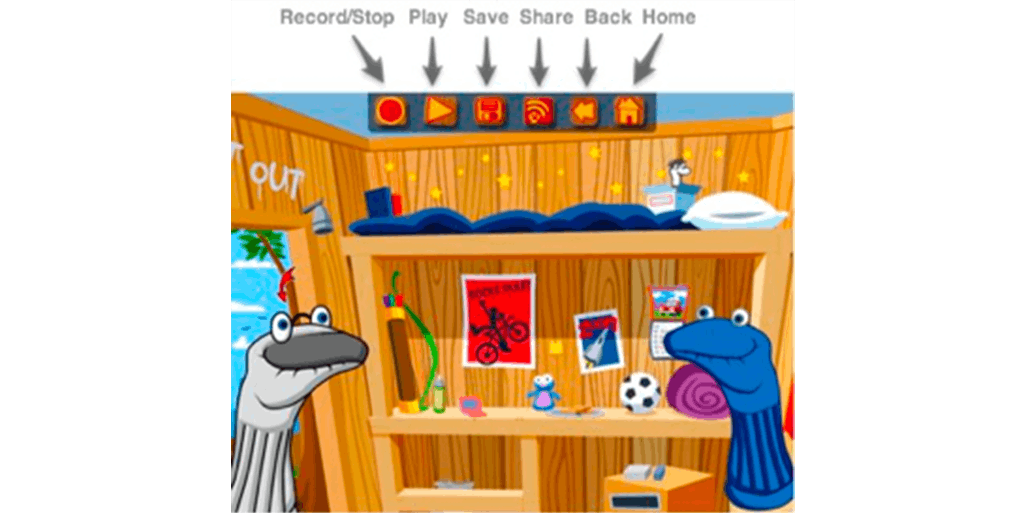 To compensate for the lack of real-life conversation and to motivate students who may struggle to organize themselves, teachers have to think creatively about formatting content for classes. Ideally, the syllabus includes presentations, images, videos and quizzes — much more than simply text only. Knowing how fast generation Z loses focus, the only way to reach engagement is via the best apps for teachers.
There are some curious teacher tools for digital storytelling and podcasting that can make classes more interactive and exciting:
Animoto – this app was designed specifically for education professionals and students. It offers a wide array of video and presentation templates for effortlessly creating engaging interactive content. Many schools have already used it for promotional video tours, touchable videos to support fundraising events and presentations on specific topics.
MakeBeliefsComix – one of the most trusted easy teaching tools, with the help of which teachers and students can develop their own characters, storyboards, and comic strips. This is quite an original and fun way to explain complex concepts, the way students like it! Especially given the popularity of the Marvel movies.
Sock Puppets – this app has reached immense popularity thanks to its genuine approach to teaching. Its users can register their voice with the desired content, and sock puppets will lip-sync to the recording. With a wide variety of backgrounds, props, and characters, everyone can have maximum fun creating video presentations. 
SoundCloud – one of the big names in the podcast world and popular in ratings of easy teaching tools, this app provides an intuitive dashboard for voice capture, uploading, and sharing. Published podcasts can then be easily shared on social media or embedded on an e-learning website.
TalkShoe – apart from audio recording, this app provides the possibility to schedule a live show and save recordings for future use on any other website.
Teacher Tools Online: Text To Speech
Teachers' work has its pros and cons. Seeing the twinkle in the students' eyes and sincere interest is truly rewarding. On the other hand, reading aloud the same material a couple of hours a day may be tiring and stressful on the vocal cords.  
When it comes to preserving an instructor's speaking capacity, digital teacher tools can really come in handy. One piece of audio or video content can be recorded once and reproduced an infinite number of times, but it can get even easier: text-to-speech tools can generate audio narrations from text instead of an instructor. Also, audio content makes classes more accessible when it comes to visually impaired students.
Some popular applications to transform text to speech:
Announcify – this popular browser extension and mobile app reads aloud any website text.
Balabolka – a combined solution for reading & listening that can extract text from different file formats (pdf, epub, Mobi, etc.) and save it as an audio file (wmv, mp3, ogg, etc.).
PowerTalk – one of the best apps for teachers, it reads out loud PowerPoint presentations including the hidden speech text accompanying the slides.
PediaPhon – there is no more need to exhaust one's eyes reading Wikipedia because this app specifically targets Wikipedia articles, transforming them into educational podcasts, making it a perfect background for jogging before classes.
Teacher Tools Online: Surveys & Polls 
Organizing the teaching process requires some preparatory work. When it comes to remote learning, it may be sometimes problematic to make certain collective decisions fast. This is where online surveys and polls become an integral part of teacher tools for reaching out to students and taking their opinion into consideration.
Google Forms – probably the first option that comes to mind when it comes to creating a poll. Similar to other Google products, it is free and offers some essential functions that can cover up to  99% of needs. 
PollDaddy – this application is a bit more advanced compared to Google Forms. Apart from actually collecting data, it also offers some advanced features such as multiplatform distribution (email, social media, website, iPad, etc.) and the automatic generation of visually appealing reports (including maps, figures, icons, etc.).
SurveyMonkey – one of the popular easy teaching tools that caters well to the needs of online educators. What makes it stand out compared to other solutions is a great selection of templates, from research projects to questionnaires about emotional satisfaction.
Wufoo – a sprout of SurveyMonkey, Wufoo goes beyond survey forms and automates data workflow. It offers more advanced styling options, the possibility to attach files, and even processes payments. (Imagine a teacher asking who would like to go on a class trip and then offering the possibility to pay the booking fee straight away!)
Orbeon – this application is for more advanced users (e.g. online learning webmasters) that seek to automate the coding process for integrating W3C x-forms with the e-learning platform.
Teacher Tools Online: PDF Editors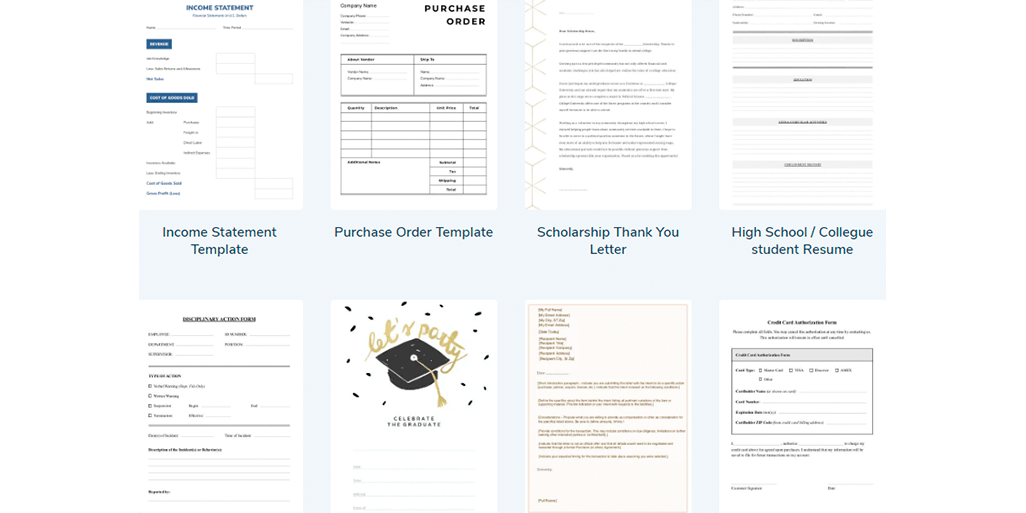 Organizing document exchange is an important part of any online teaching process. With the help of pdf tools, it is possible to minimize file ping-ponging to ensure maximum collaboration and fast exchange among users.
The following tools can come in handy for managing pdf study flows:
Adobe Reader – this is probably the most widely known pdf tool used by millions of people all over the world. It gives the possibility to easily view, print, annotate, edit, and share pdf documents. Also, it incorporates interactive media (video clips, hyperlinks) and provides the opportunity to authenticate documents with a signature.
Lumin PDF – this web-run application stands out among other pdf editors by combining the best practices of cloud-based collective document editing (think Google Drive) with the functionality of pdf editors. Simply, teachers and students can work together on shared files instead of sending them back and forth all the time. When it comes to reviewing multiple assignments, this automation can save you lots of time. As an extra bonus feature of this pdf tool, there are multiple standard templates and forms for different occasions, e.g. a scholarship award letter or an invitation to a graduation party.
PDFill PDF Tool – similar to Adobe Reader, this pdf tool offers the basic functionality for working with pdf files. It is especially appreciated by its users for the ease of file modification, be it rotation, splitting, merging, reordering, or cropping. There is also an option to add standard forms, headers, footers, and watermarks. 
Doro PDF Writer – an intuitive pdf editor, this application can grab any text document or image and instantly convert it to the pdf format. What can be especially useful for organizing the online teaching process is this pdf tool's feature that allows the user to indicate the author of the document (think student paper) and protect it with a password.
PDFTK Builder – this simple and minimalistic pdf editor operates in a  similar fashion to the other pdf tools and does not need installation as it runs as a portable app from individual devices.
Teacher Tools Online: Annotation 
All learning processes require taking notes (students) or leaving comments (teachers). In the absence of a classroom observation tool, annotation tools play a vital part in organizing online learning.
To simplify this process, you may consider one of the following teacher tools:
Crocodoc – a leader among easy teaching tools,  Crocodoc allows you to edit different types of files (text, pdf, images). Once uploaded to the app's server, they can be modified in different ways, like highlighting or leaving comments and sketches. The final document can then be shared with anyone via a link.
Bounce App – a simple annotation app that allows you to generate screenshots from URLs and add annotation boxes over them. These boxes also feature the reviewer's name for easy identification of an individual's input.
Markup.io – compared to the previous annotation tool, this application bypasses the screenshot stage and allows you to leave notes right on the page. Apart from being one of the quickest tools for leaving suggestions, it is also free.
Diigo – one of the best apps for teachers and students, this application organizes visited web pages in a way that mimics taking notes on paper. If you are surfing through different sources while collecting research data, you can easily bookmark, tag, and highlight relevant excerpts, add comments and search through all accumulated saved pages later on. Also, you can share your notes with others, so they can contribute, too.
A.nnotate – the key feature of this tool is the possibility to collectively comment on shared documents, thus avoiding sending emails back and forth. 
Teacher Tools Online: Testing & Quizzing
Finally, any online teaching process requires regular assessment of the students' efforts. Given the remote nature of learning, teacher tools with quizzing modules can help substitute for real-life control papers.
Some of the well-known testing and quizzing tools include:
What2Learn – this application gamifies the learning process for subjects ranging from Mathematics and Computing to History and Languages. There are thousands of games, from pre-kindergarten to grade 12, that can be accessed upon subscription. What's more, teachers from all over the world can design their own unique, custom-made games to teach and test specific skills.
Easy Test Maker – if you're in the market for easy-to-use teaching tools, then look no further. This teaching tool allows you to create matching, multiple-choice, true-and-false, or short-answer questions; in addition, the test creator can add specific instructions. Any teacher using this platform will appreciate the included automation tools such as instant grading and report generation. 
Hot Potatoes – this simple, free quizzing software was designed with a view of enabling the creation of tests comprising 6 different types of questions: multiple-choice, short-answer, jumbled-sentence, crossword, matching/ordering, and gap-fill exercises.
ClassMarker – initially designed for corporate users, this tool works equally well for academic purposes. Compared to the previously mentioned applications, ClassMarker offers features such as time limits, randomizing question order, postponing the data of test completion, and the generation of certificates.
Quandary – this is one of the best apps for teachers. Quandary has moved away from the typical theory-based tests to more thought-provoking, case-based open questions. Through this application, teachers can build tests for assessing how students would critically assess a certain situation based on previous theoretical knowledge.
Wrapping Up Our Reviews Of Teacher Tools
The global pandemic has forced teachers and students into remote learning. However, this does not necessarily have to lead to negative outcomes. Instead, thanks to the vast array of online teacher tools to aid and facilitate studies, the learning process can be more efficient as well as enjoyable. From content creation and presentation to video communication and quizzing platforms, there is a solution for virtually every aspect of the educational process. With the help of a simple set of classroom observational tools, a pdf editor, and a video conferencing app, education can continue to thrive under any conditions.
Share this