May 17, 2022
Creating an Electronic Court Book in 2022: How PDF Editors Can Automate Legal Documentation
Court Book preparation is a critical part of the counsel's job in the courtroom, yet it is sometimes done incorrectly, or not at all. Everyone, including the judge, court personnel, counsel, lawyers, and witnesses, can benefit from a well-constructed Court Book.
Thousands of documents and tens of thousands of sheets of paper are frequently involved in traditional paper-based trials. Making a hard copy Court Book takes time, is difficult to navigate, and greatly slows down proceedings. When changes need to be made to a hard copy bundle, a lot of time, resources, and effort are wasted. Additionally, the judicial system's extensive amount of paperwork can have a significant impact on the environment.
In recent years, virtual court hearings have become more common, and physical copies of Court Books are no longer needed. They are large, expensive to produce, often need edits and corrections, and will ultimately need to be sent to numerous different parties - which is a long, expensive, and inconvenient process.
Ways to combine PDF files into a Court Book in 2022
A poorly prepared Court Book can cause hearing delays, interruptions to evidence, and even create unnecessary costs, which is why Electronic Court Books are the way forward.
It's usually a partner or the senior counsel responsible for the case that's involved in the preparation of the Court Book. It is strongly discouraged to delegate this work to junior associates or paralegals, as it's a task that requires deep knowledge of the case and a strong ability to pay attention to detail.
For virtual trials, it's necessary that the Court, all counsel, and witnesses have access to identical versions of the e-court book. The best way of achieving this is by having a single PDF document containing all the relevant documents needed for the trial, and sending it out when it's complete.
So how do you combine all these documents into one PDF file?
Splitting and merging PDF documents is very simple with Lumin! When you have the right toolkit, it can be a very quick process.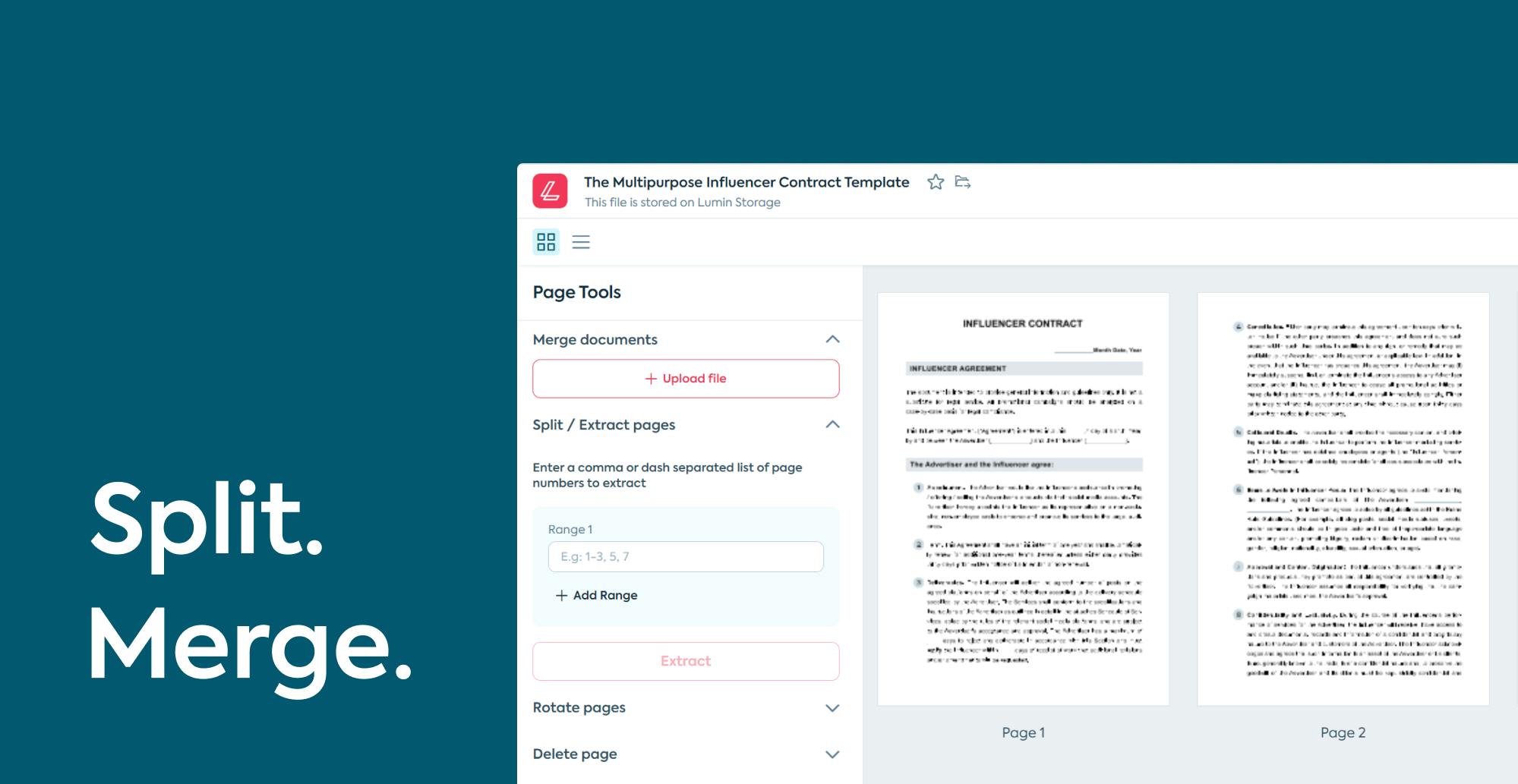 Lumin's Split/Merge tool gives you the ability to split one PDF document into many or merge multiple PDF documents into one. You can combine PDF files or remove any unnecessary pages. To split a PDF file with Lumin, you need to:
Select the relevant file and upload it to the software. Don't worry; you aren't limited to uploading one file into the system. You can upload as many files as you want and perform manipulations with pages to create one PDF file.  

After that, you'll be able to access your document and can split the file by simply deleting the pages you don't want.

Next, download the updated file and you're good to go.

To merge PDF documents, upload the PDF file into the software, delete pages that you don't want, and press Merge. The remaining pages in the PDF file will be merged automatically into one PDF document.
Keep in mind: If you edit a PDF document as described above, you'll likely lose any text-search capabilities. As a result, you can use Optical Character Recognition to refresh your documents and restore their capabilities.
In addition to Merging your files into an Electronic Court book, Lumin has a number of other useful tools that legal professionals could benefit from. These include:
- Annotation tools such as the text tool or highlight tool,
- eSignatures,
- Optical Character Recognition,
- PDF unlocking functionality,
- Page manipulation tools such as Rotate, Split and Merge,
- Cross-platform use,
And so much more!
Lumin is a budget-friendly option with a variety of packages to choose from that will suit your needs. To find out more about Lumin in general, visit our website.
Interested in signing up for a free trial? Click here.
What's involved in creating a Court Book?


By the time the hearing comes around, the number of documents that must be included in a Court Book could be in the hundreds or even thousands. Even when the process of combining them is completed, these documents need to be indexed and placed in chronological order, which could take around 12 hours per Book. By switching to Electronic Court Books, a lot of time is saved and production costs are reduced by up to 75%.
Witness Testimony
This is the evidence you'll provide to the court through the testimony of your witnesses. Make a plan for asking witnesses and providing your own testimony for this area of your Court Book:
Make a list of the facts you'll use to establish your case, either via your own testimony or by the evidence of a witness
Create a new page for each witness. Write the witness's contact details and the date of their testimony at the top of the page. Make a precise list of questions to ask each witness after that.
Before the trial, go over your questions with your witnesses. To avoid surprises or confusion at trial, it's critical that you know the responses your witnesses will offer. However, remember that you must not instruct your witnesses on how to respond to the questions.
Documents
Make a list of all the papers you intend to submit into evidence at trial. Affidavits, financial statements, letters, pictures, receipts, and reports are examples of listed papers. Make a note of which witness will be the one to identify each document (unless you and the other person have agreed that the document can be introduced). You'll be putting together a separate e-book of documents that contains the documents themselves, so make a note of the number in that PDF book of documents where each document can be found.

When the time comes for cross-examination, make a separate page for each of the other person's witnesses (including the other person). When it's your turn to cross-examine, make a list of the questions you want to ask them. During the trial, you'll most likely come up with new questions, so add them as you go along.
Finally, you'll make your closing argument after all of the evidence from both parties has been heard. This is a quick summary of your proof and how it backs up your arguments. This is also the moment to make any legal arguments you may have. This is your last chance to persuade the court to grant your request. This is also an opportunity for the other individual, so keep that in mind. Sum up your case for the judge by describing what you had to prove and what evidence you gave to prove it.


Automating Court Book Creation
A PDF Editor, like Lumin, can automate the process of compiling hundreds and thousands of PDF documents into one single file. With Lumin, you can quickly generate and add a Table of Contents or apply corporate branding to the entire document.

By using a PDF editor, you can also automate small but significant operations like creating hyperlinks and bookmarks. Page numbering, date and time stamps, and document metadata such as the author or Doc ID can all be added to the headers and footers by users, making it easily accessible for everyone.
How to Combine PDF Files into a Court Book in 2022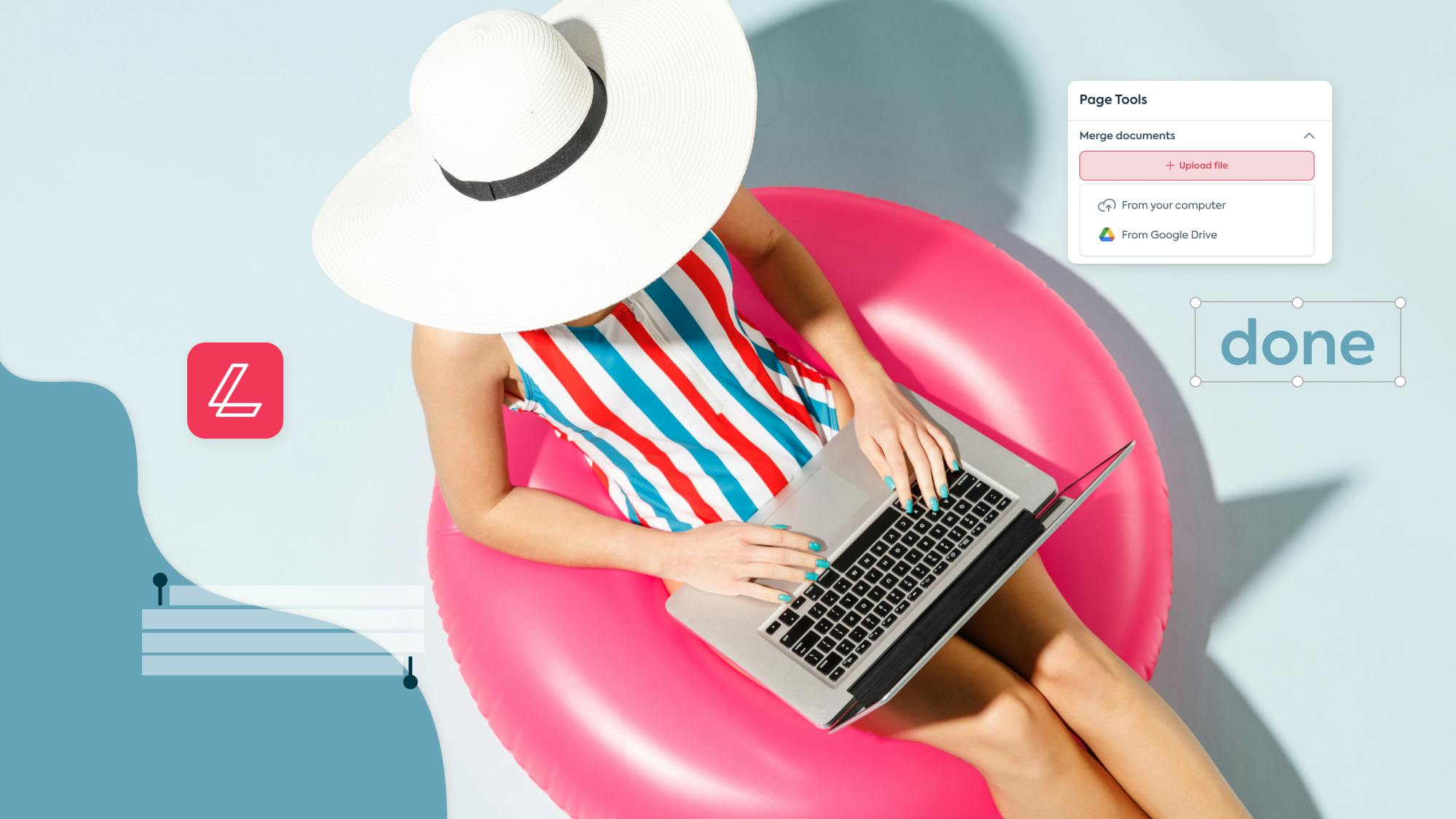 Lumin makes collaboration easy when there are multiple people working on the same document, or in this case, Court Book. Document collaboration is extremely important, especially for lawyers or people in the legal profession, so your choice of a PDF Editor should be able to support multiple users in your organization. It should include tools like collaborative review and annotation to fit into normal team workflows.
Additionally, court documents, such as those included in a Court Book, often contain sensitive and confidential information, which should be protected. So when thinking of using a PDF editor for your Court Book, select one which offers additional security features, such as password protection. To find out more about how you can secure your documents online, click here.
There will likely be moments when you will need to add, remove or edit something in your Electronic Court Book. Luckily this is much easier to do with an Electronic Court Book than a physical one. By using Lumin's Optical Character Recognition tool, you can easily convert paper documents and photos into editable PDF files. This can be done with the help of a scanner and OCR functions that can be turned on after a document has been successfully scanned using a PDF application. In other words, you will be able to edit text that was previously a static image.
The main benefit of OCR is how much time you end up saving. Instead of having to create an entire document in order to have a digital and editable copy on your computer, you can simply scan it and use the OCR tool. This is truly a game-changer when it comes to a large document like an Electronic Court Book.
Additionally, digitizing your documents with OCR allows you to perform a search for keywords within the text, which saves you a lot of time in the long run. Lumin's OCR tool is very simple to use and can help you edit your documents faster and more efficiently.

To use Lumin's OCR, all you need to do is:

1. Select the OCR tab in the Lumin browser,
2. Upload your PDF file via their local drive or any cloud-based platform like Google Drive or Dropbox,
3. Drag and Drop your file into the browser to begin the OCR process. 
Another added bonus of OCR is that if you lose an initial version of the file due to a crash and have a paper copy with you, you will just need to scan it and save yourself from having to retype the entire document. Once you've scanned your document, you will be able to make changes directly in the file itself and quickly search parts of the documents that you need.
Use Lumin for your editing needs
Consider Lumin if you need a dependable and user-friendly PDF editor. Users may annotate, copy, split, merge, convert, and compress PDFs using Lumin software, which connects with Google Drive for real-time editing. To find out more about all of Lumin's key features and benefits, click here. Lumin works on both desktop and mobile devices, so no matter where you are, you can use all of our powerful editing options. To download the Lumin app on your iPhone, click here. For Android smartphones, click here.

Lumin provides security on many levels, as well as role-based permissions, and more stringent authentication requirements, so you can rest assured that your papers, and Court Book, will always be safe.