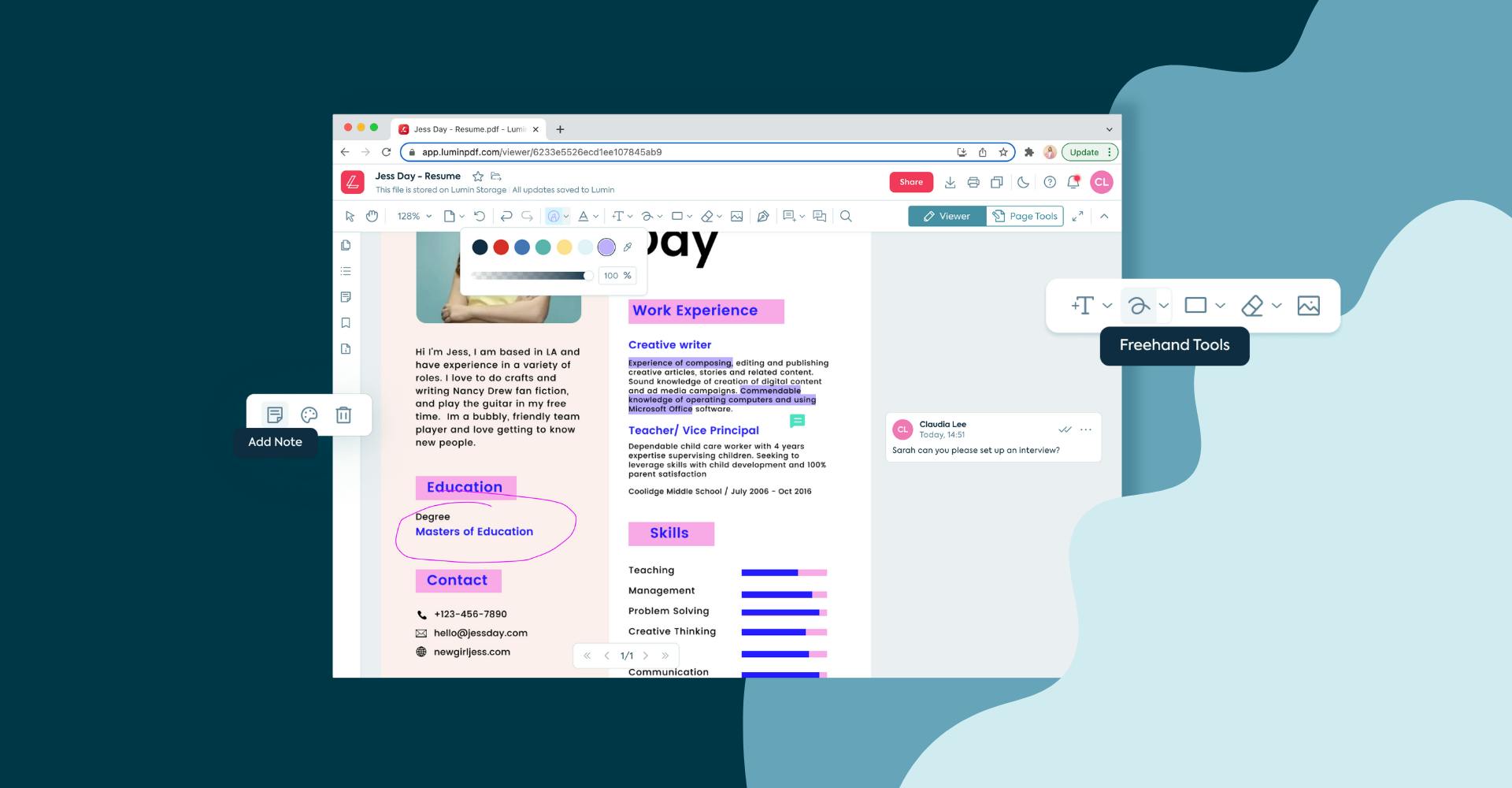 Article
Published: November 02, 2022
Here's what you get with Lumin PDF.
Edit, view, share and collaborate with Lumin, a comprehensive solution for document editing, cloud collaboration, and project management - all from one intuitive, user-friendly interface.
Regardless of whether you're a remote-first team or enjoy sharing an office, being able to exchange information seamlessly is the key to being a productive organization. This is why Lumin has a toolkit bursting with features to make editing and sharing your documents easier than ever.
Why cloud collaboration is the future of work
We're long past the era of printing documents, filling them out, scanning them, and then emailing them back to colleagues; being able to collaborate on projects across multiple devices in real-time is the way forward in an increasingly cloud-based world.
It's notable that while 44% of global companies don't allow remote work, 16% of them are choosing to hire 100% remote teams. There are a variety of reasons for this; it helps reduce running costs, while some businesses may need people based across multiple time zones. But it's the advances in cloud-based document management that have made remote collaboration a reality for organizations both large and small.
Lumin is one such toolkit that has enabled businesses, schools, and non-profits alike to enhance communication between teams and make project management a breeze. 
Here's how we do it.
What exactly is Lumin?
Lumin is a comprehensive solution for PDF editing, cloud collaboration, and project management - all from one intuitive, user-friendly interface. 
With Lumin, you never have to worry about documents going astray or pinging emails back and forth; our all-in-one system makes it easy to edit, review, and manage your resources.

Why is PDF editing such a crucial tool?
PDF stands for 'Portable Document Format' and refers to an open-source file that's independent of any particular operating system or hardware. PDFs allow both text and images to be viewed across desktop and mobile and via web browsers. They're a safe and trusted way of communicating information because they can be secured by passwords to protect sensitive data and carry a complete record of changes. 
However, PDFs do have some downsides, namely that they come in a read-only format. This means there is no way to edit a PDF directly. While adding text to a PDF using text boxes is possible, this is a fiddly and time-consuming process. Many of us have experienced the frustration of trying to convert PDFs into Word files and back again, only for this to corrupt the formatting.
This is why a PDF editing solution such as Lumin is such an important tool for seamless collaboration. But Lumin offers far more than just editing capabilities:
Work together on documents in real-time
Create fillable and multi-media PDFs for engaging classwork
Access projects on the go, wherever you are
Let's dive into these abilities in a bit more depth.

What Lumin offers you
Share your ideas by annotating and commenting on documents. Give valuable feedback on projects and assignments with our basic editing tools. Quickly tag specific members to give them an alert with your latest instructions, add comments for effective project management, or get creative with our freehand tool with visual annotations.
Collaborate with your team via Teams and Organizations. With our Circles and Teams functionalities, it's never been easier for people to share and work on documents together. Create shared project folders for easier storage and add as many collaborators as you like - from a single person to your entire organization. Make use of our Insights tool to monitor interactions on your documents in real-time and stay in the loop with your team's activities.
Sync your documents in real-time across devices and platforms. Rest easy about the security of your documents with Lumin's advanced cloud integration with Google Docs and Dropbox. Real-time syncing means that all changes made by either you or your collaborators are saved automatically across devices and platforms. Best of all, this means you can access, edit, and upload documents on the go - no matter where you are in the world.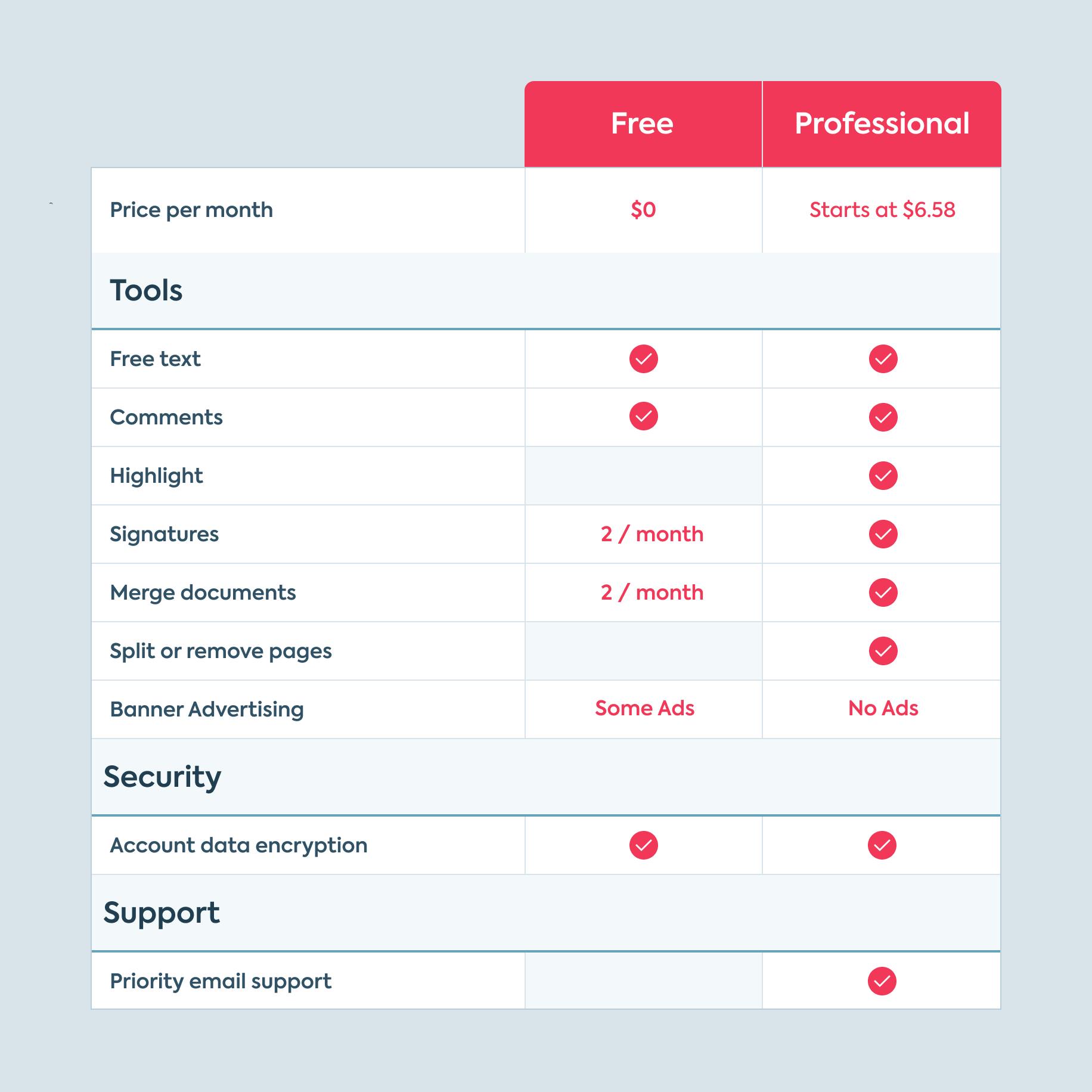 Take your editing capabilities to the next level with our Business plans
To leverage the full benefits of Lumin, consider upgrading to a Professional Plan or Business Plan. Here, you'll gain access to a full suite of advanced features to make PDF editing and collaboration more seamless than ever, including:
Additional editing features. Start highlighting, underlining, and striking out text in your documents for a premium PDF editing experience. Add images and shapes to make your PDFs more engaging for students and stakeholders alike.
Take full control over document formatting. Use our advanced Page Tools to add, delete, merge, and crop pages within your documents for complete control over your projects.
Make signing easy with unlimited e-signatures.  Take away the hassle of printing and scanning documents whenever signing is required. Our e-signature tool enables you to save your signature to drag and drop into documents whenever you need - it really is that easy.
Unlimited storage capacity. Store and upload as many documents as you like to your Lumin account and keep them there for as long as necessary for superior project management.
Lumin is the ultimate document editing solution for organizations of every size and purpose. Our easily scalable software makes us suited to meeting the needs of businesses, educational providers, and non-profits who want to enhance collaboration and productivity between teams. 
Ready to join the Lumin community alongside 48 million + users? Create your account today.