Dec 15, 2020
Best ways to edit PDFs in Google Docs in 2022
When you think of PDFs, you no doubt imagine agreements, purchase orders and legal contracts. If you have read an online magazine or newsletter you will notice that they are also most commonly presented in PDF form. Ever since their inception in 1993, PDFs have become a staple of our online world. 
The rise of cloud-based storage with applications such as Google Drive has allowed us to take our documents anywhere and edit them directly, without the need for printing. This has saved businesses time and has made remote work that much easier. With the ability to easily edit text documents, spreadsheets, or presentations, people naturally want to be able to do the same with PDF files. This article will outline the best ways for you to edit your PDFs in Google Docs in 2022.
With many of us working remotely for one reason or another, Google's suite of cloud-based applications makes collaboration with colleagues quick and easy. Any document can be shared between multiple people instantly, with real-time syncing so that any comments and edits can be viewed and addressed as soon as they come up.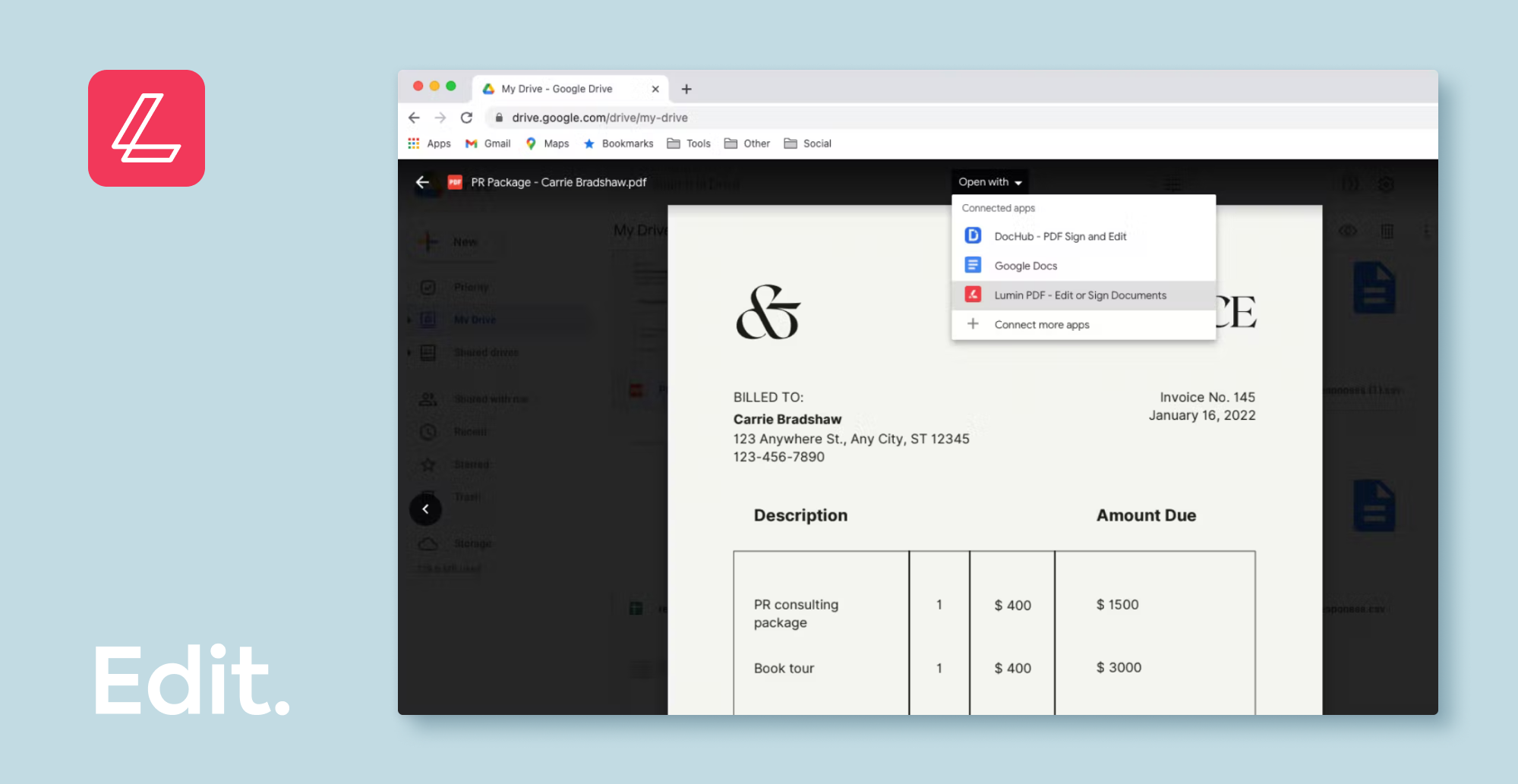 If you're looking to edit a PDF in Google Docs without a dedicated Google PDF editor, here's how you can do it:
Go to your Drive and click My Drive > Upload Files. (You can also just drag and drop the document.)
Double click to open the PDF in view-mode. Note that in view-mode, you are able to search and copy text from the PDF and add any comments. If this is all you need to do, there is no need to work with the PDF in Google Docs.
At the top of the PDF, you will see the option to Open with Google Docs. Clicking on this will create a Google Doc, automatically filled with the contents of your PDF.
After you've done this, you'll be able to change the text and use the rest of Google's tools to edit and annotate the PDF. This includes inserting and editing images, setting paragraphing styles, adding footnotes, running translations, and incorporating charts and tables. The fact that there is such a huge range of features that can be used in Docs makes it the app of choice for many.

Sounds great so far, doesn't it? While it may seem like that's all there is to it, here are a couple of points you should bear in mind:
1. What you have in Google Docs is only a copy of your PDF. When you make changes, the original PDF document will, of course, remain unchanged. After you have finished editing the contents of your PDF in Google Docs, you will then have to convert the document to PDF to have the up-to-date version in PDF format. 
This can easily be done in the Google Doc itself by going to File > Print > Destination > Save to Google Drive. When you go back to your list of documents in Google Drive, you will see your new PDF there! (Just make sure you don't confuse it with the old version! Give it a different name to be safe.) Google Drive is a strong cross-platform tool, so if you want to save the Google Doc as a PDF on iPhone, Android, or tablet, it is just as easy as doing it on a desktop computer.
2. You are likely to come across the biggest concern people usually have with PDFs in Google Docs, which is formatting. Upon conversion, the format of your document completely changes. You may have had well-formatted tables and graphics, only to see them turn into a mess when converted. The reason for this is that part of the content of your PDF either won't be supported by Google Docs, or will render differently due to the program's reading of PDF elements. 
If you have a PDF document with basic text and little formatting, uploading the PDF to Google Docs, editing the text, and converting back to PDF for delivery may not cause any problems. However, if you have a complex document, you will soon find out that having to reformat and redo sections just to edit some text in Google Docs isn't worth the effort. In short, if you want to use Google Docs to edit your PDF, make sure it's only a simple document. 
So, where can we go from here? The benefit of PDFs is that complicated formatting can be presented professionally and viewed on any device.
PDFs are rarely a simple text document and therefore require editing tools that Google Docs is not well-equipped to support. Luckily, third-party apps like Lumin can solve this problem!
How else can I edit a PDF in Google Drive?
One great thing about PDFs is that they are self-contained, meaning that you don't have to have the same software or version of software to view it as the person you are sharing your document with. Any PDF viewer will display the document as intended by its creator. In recent times there has been an explosion of free PDF viewers for download, but browsers such as Google Chrome have a PDF reader built-in so that documents can be viewed immediately without any third-party software.

While Google Docs is not able to convert your PDF without formatting issues, there are plenty of third-party applications that are not going to cause these problems. This is great for users, as it allows them to take advantage of the software of specialized programs within the cloud.
Online PDF editors in Google give users the option to completely bypass Google Docs and make edits in the PDF file directly. This means no conversion and a greater PDF toolkit! One of these tools is Lumin.
Using Lumin PDF with Google Drive
Lumin was created to seamlessly integrate with Google Drive so that your documents can be edited in real-time for easier collaboration.

There is even a guide to help you get started, which lays out the process of connecting the Lumin PDF app to your Google Drive. If you have been looking for an easy-to-use Google Chrome PDF editor, then this is it!

Once the Lumin app is connected, editing PDFs becomes much easier. As a PDF is uploaded to your Google Drive, open it in view-mode (just as the description for opening a PDF in Google Docs instructs), but instead of clicking on Open in Google Docs, you click the arrow which will drop down to reveal suggested third-party apps, under which you will see Lumin PDF.

Here are some of the things you can do quickly and easily with Lumin:

Annotation and Editing
Lumin uses real-time sync to allow you to edit text and format your images in real-time for easier collaboration. By syncing with Google Drive, you will ensure that your stored PDF reflects the changes you make in the Lumin app.

Anyone who has an access link to your PDF will be able to see the changes as they occur. If they have the right permissions, they will also have the ability to make changes and add comments to the doc.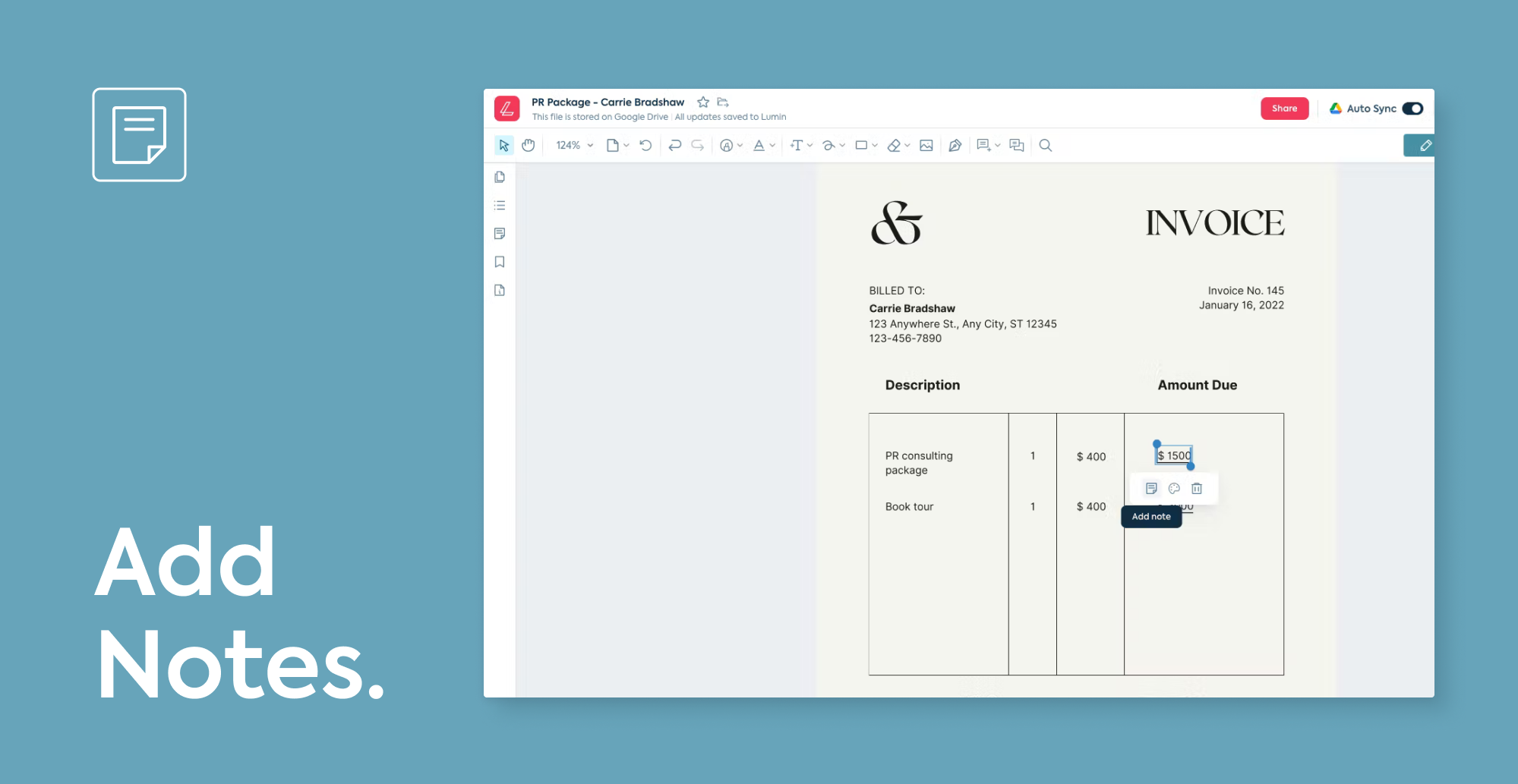 Highlighting
Draw attention to the extra important parts of your document by highlighting them. This feature is particularly useful as digital notes are easy to search, and it's quick to jump from one critical passage to another.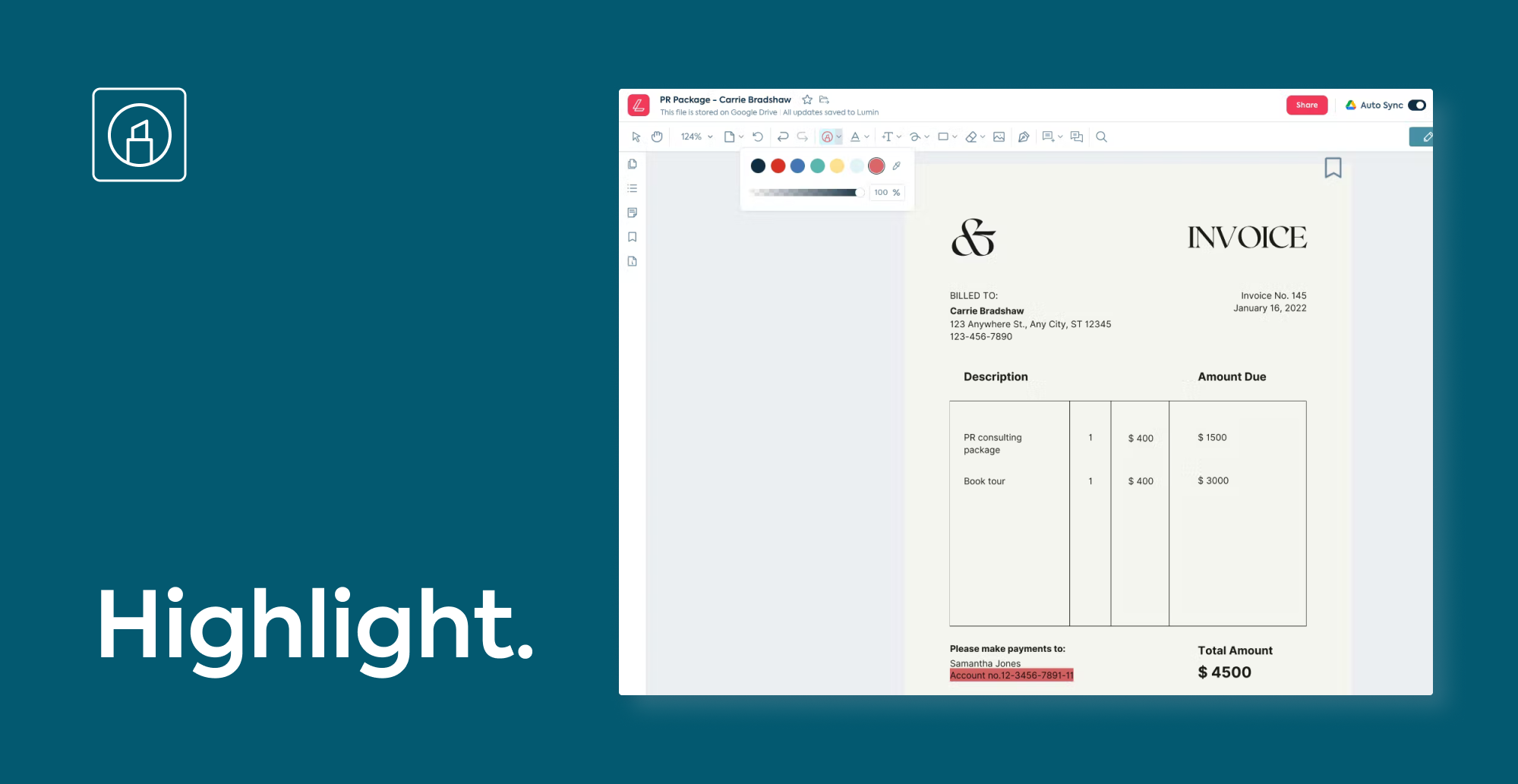 Electronic Signatures
When it comes to signing documents, Lumin helps you save time and resources on printing and scanning. Create your own signature or select from a ready-made one so that you can sign your documents quickly, without wasting resources on printing.

Make sure you don't mix up electronic signatures with digital ones! To find out the difference between the two, click here.


Draw
A picture is worth a thousand words. Sometimes it is easier to express your thoughts through drawings and markups. As well as being able to draw anything you want, Lumin also lets you highlight sections of your document, add shapes and images, and remove all annotations if needed (in case you've changed your mind).


Optical Character Recognition (OCR)
Optical character recognition is a technology that was developed to make it easier to convert printed and handwritten text into digital formats. Digitizing your documents with OCR allows you to perform a search for keywords within the text, which saves a lot of time in the long run.
An added bonus is that if you lose an initial version of your file due to computer troubles and have a paper copy with you, you will just need to scan it, saving yourself from having to re-type the entire document.
Once you've scanned your document, you will be able to make changes directly in the file itself and quickly search parts of the document for things that you need.


Add Text
Adding text and comments to your PDF is a quick and efficient way of editing documents and collaborating with your team. Lumin uses real-time sync so you and your collaborators can work on new edits immediately after they come up.



When choosing which PDF Editor you're going to use in 2022, there's a variety of key factors you should keep in mind. With so many options out there on the market, here is a list of things we think are most vital in a PDF editor:

1. User-friendly experience,
2. The ability to create and edit PDFs,
3. Scan and Optical Character Recognition tools,
4. Easy collaboration,
5. Security features,
6. Cross-platform use,
7. Good support and customer service.

We have a blog post that covers these in more detail, which you can check out here.

Needless to say, Lumin offers all of the things listed above and is a great and affordable option for your 2022 PDF editor! Here are some areas in which Lumin is particularly useful:
Education
In recent years, PDF files have become common in many schools and universities. Not only have bulky textbooks been replaced with portable PDF files, but assignments, notes, research papers, and notices have been as well. There is no better way to store and organize your learning materials than with Lumin!
Business
The business world benefits from PDFs due to their small file size, password protection abilities, and editing tools. Collaboration with your colleagues is made simple and efficient through the use of PDF documents.


Medicine
Medical professionals such as doctors and clinicians may use PDFs to highlight or annotate patient notes and medical research.
Using Lumin PDF's tools with Dropbox

You can even sync your Lumin account with Dropbox to make sure you never lose another document!

To synchronize your PDF files from Dropbox to Lumin, open the Documents tab, and:
Click on the plus icon in the lower right corner
Click on the Dropbox icon
On the pop-up window, choose PDF files you need
Confirm sync
And voila, that's all there is to it!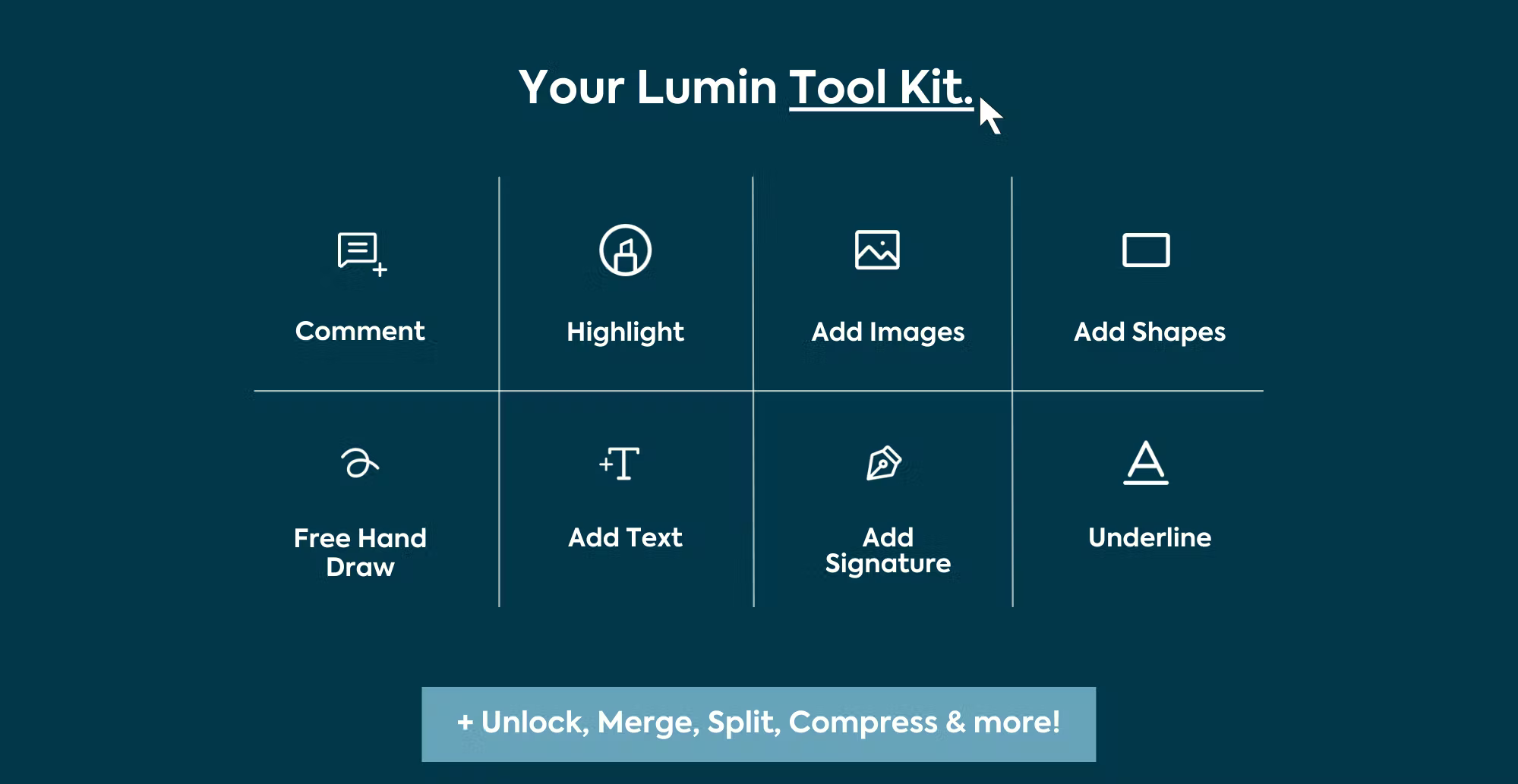 A PDF editor for all your needs
Editing PDFs in Google Docs is not easy, which is why people assume there are some hidden tips and tricks to make it less complicated. Google Docs is a great way to edit simple PDFs without too much hassle. But when it comes to more complex PDF documents, using a third-party app like Lumin will provide you with more control over your work. Lumin does away with the difficulties of editing PDF content in Google Docs by providing an advanced tool kit, features of which we have seen above.

To sign up for a free trial of Lumin and experience it in all its greatness, click here.