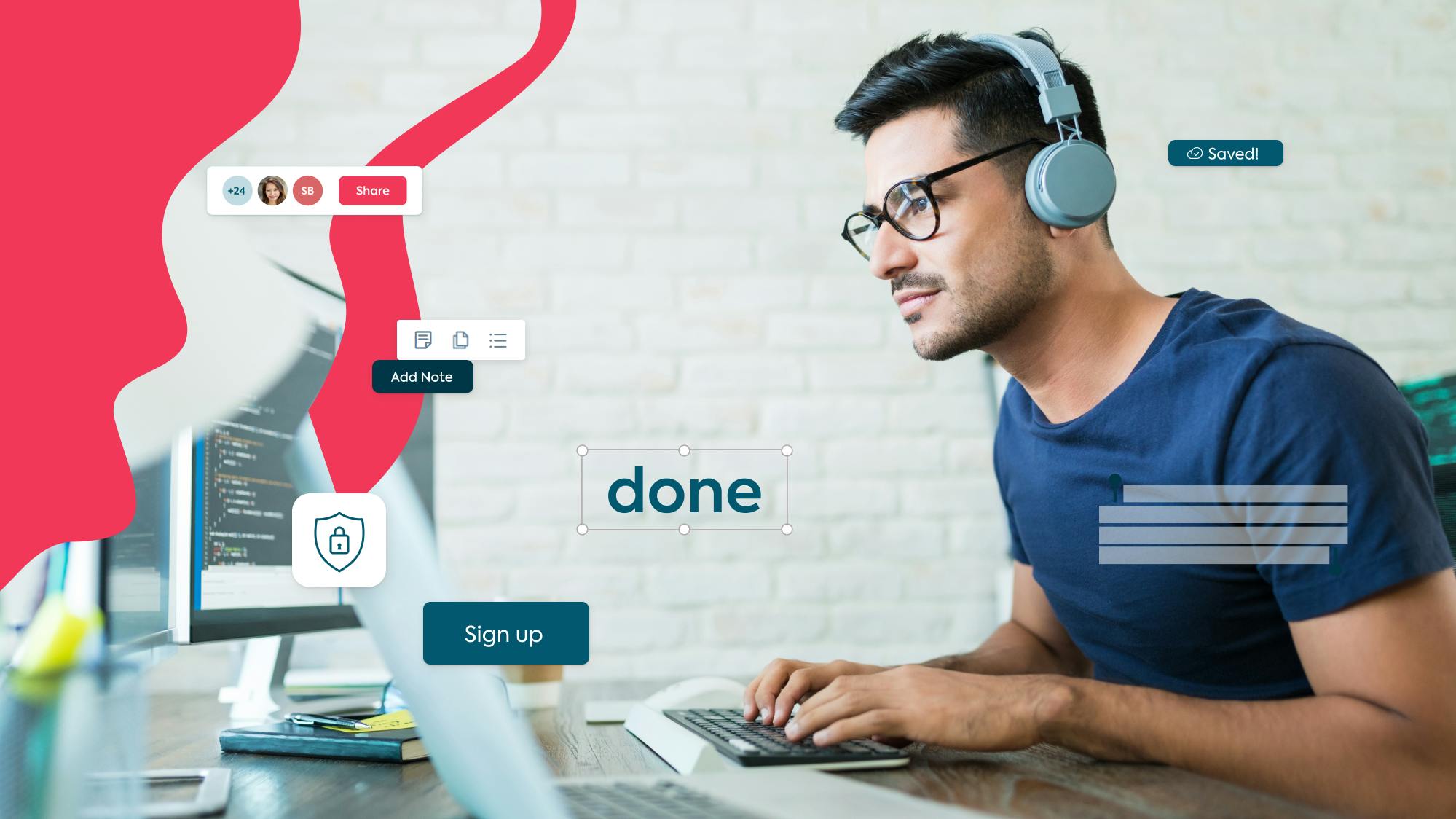 Article
Published: August 10, 2022
Scaling for success: How Lumin's partners are super-charging our cloud-based platform
In the SaaS space, it pays to have friends on side who can turbocharge your offering with reliable, streamlined technology solutions. Here at Lumin, we take pride in our partnerships with key software platforms that are paving the way for faster, smoother PDF editing and collaboration - and exciting new features and integrations!
Lumin's journey to success
What started as a bootstrapped effort to build a more intuitive way to store and edit PDFs has grown into an all-in-one cloud-based solution, supporting organisations of every size and shape around the globe. 
As of 2022, Lumin has enabled over 70 million users and organizations to edit, share, and collaborate in real-time. No matter whether you're working between offices or across continents, Lumin puts the power of seamless PDF management right at your fingertips - and our own. 
We understand as well as any business the demand for easy and accessible document management. With offices in Vietnam, the Philippines, and Ukraine in addition to our headquarters in New Zealand, we are taking part in our own vision to enable businesses to fill, sign, and send PDFs in seconds. Lumin is proud to assist our users with creating as many as 700 unique annotations per second - equalling 2 million per day - to save on those endless emails and Zoom calls. 
Today, Lumin is going from strength to strength by bringing fresh features and new capabilities to our users. The challenge? To keep growing at scale and meet the demand of a growing user base. That's why Lumin is embracing new opportunities to partner with like-minded partners and software solutions that bring enhanced flexibility and scalability to the Lumin ecosystem.
The partners that are keeping Lumin at the top
MongoDB: Supercharging developer productivity
Document storage is a central part of what we do here at Lumin, and it's the backing of the MongoDB application data platform that has enabled us to scale PDF collaboration and sharing with confidence. 
When Lumin began back in 2016, we needed a database that would supercharge our development productivity and enable us to rapidly iterate and evolve the product. We chose MongoDB not just because it has a flexible data model, which was perfect for where we were on our journey, but also because we knew it was a highly scalable database that would support us as we grew. 
More recently, in 2019, we shifted away from a self-hosted version of MongoDB to MongoDB Atlas in the interests of increased flexibility and reduced development time. MongoDB Atlas gives our developers the ability to effortlessly expand the size of our database as our user count grows - an invaluable functionality with the growth of remote working and collaboration in the pandemic era. Automated backups and advanced multi-cloud cluster management allow for precise data management, creating a firm foundation that Lumin can rely on to deliver the streamlined services our users expect.
What does MongoDB offer our customers?
Lumin users are leveraging the power of MongoDB at every touchpoint in their editing experience. Every annotation, highlight, or comment actioned in a PDF is synced and stored using MongoDB's database service for seamless editing and secure storage, so no one has to worry about crucial ideas going astray. Best of all, the competitive pricing of MongoDB Atlas enables us to continue offering basic editing capabilities through our free Lumin plan!
PDFTron: Custom PDF solutions
Every document user knows that PDF editing software is not created equally. From a lack of basic tools to difficulty rendering different file formats, making changes to a PDF is rarely as straightforward as it should be. That's why Lumin licensed PDFTron SDK in 2019 to build the most intuitive suite of PDF editing capabilities on the web.
The PDFTron SDK platform equips SaaS providers with a fast and easy way to build out the functionalities they require throughout the document lifecycle - without needing to rely on third-party servers. From document creation, page manipulation, editing, annotation, and signing, PDFtron SDK provides the backbone for the entire Lumin experience, enabling us to keep bringing our users more advanced capabilities to manage their PDFs.
What does PDFTron offer our customers?
PDFTron has provided Lumin with the ability to continue growing and improving our toolkit so that users can harness the power of seamless PDF editing. Thanks to their best-in-class rendering capabilities, Lumin will soon be adding additional functionalities, including:
Direct PDF editing
Redaction
Conversion of PDF files to Google Docs
Watch this space for more exciting features to come!
Ory: Optimal user security
No matter whether you're completing assignments or signing confidential paperwork, the safety of your documents matters. Lumin uses Ory's open-source, cloud-based identity and user management solution at scale to ensure that our user's data stays secure - no matter where in the world they're accessing their PDFs. 
Security continues to be a top priority for Lumin as our PDF toolkit grows, and Ory is assisting us with continuously refining our security protocols for the very best user experience. This includes powering all user logins for our apps to ensure a cohesive security approach across all of our services. 
What does Ory offer our customers?
Ory is helping us to support seamless integrations between our open API and other Lumin systems, including our eSignature platform Bananasign, so that users won't lose productivity from switching constantly between platforms.
What's next for Lumin?
As Lumin continues to scale and support new users, we are pushing the envelope to develop fresh features and capabilities that elevate the user experience. 
Seamless PDF editing and storage are more vital than ever as the business and education sectors embrace a digital-first approach. With organisations coming to rely on a growing toolkit of platforms to manage their day-to-day operations, Lumin is striving to be at the very centre of this cloud-based network. 
The creation of our soon-to-be-released public API will enable developers to utilize the Lumin PDF annotation toolkit to enhance their workflows and introduce a faster, more seamless way of organizing their ideas. With the backing of Ory Cloud and MongoDB Atlas for security and storage respectively, this opens up a world of possibilities for in-house development teams who are looking for smarter solutions to manage their documents.
In the short term, stay on the lookout for our Lumin + Bananasign integration to complete the document lifecycle with seamless electronic signing. This is the first of many value-added integrations to come from this new ecosystem - and the start of an exciting new chapter at Lumin!