Dec 21, 2021
Your complete how-to guide for editing pdfs with Lumin.
Editing a PDF has never been easier. This guide will teach you how to annotate, compress, merge, comment and more in a few easy steps.
PDF remains the top dog when it comes to official documentation, whether that be in the world of business, education, or personal endeavours.  Invoices, résumés, reports, sheet music, beautifully-designed online magazines — the final product always comes in PDF format.
Until recently, there remained one drawback; PDFs were clunky and difficult to edit, and could only be tackled  with expensive software. 
Recently, this has been changing, with a proliferation of online software that can be used to edit, annotate, and reorder PDF documents. With our affordable online tool, Lumin PDF, you'll gain the ability to carry out your daily  operations on your PDF documents for the price of two large coffees per month.
In this guide, we'll give you an overview of the functionality offered by our free and Premium versions, along with step-by-step guides to editing and sharing PDFs with Lumin.
4 easy steps to edit your PDF with Google Drive :
We get many requests about how exactly to edit a PDF using Lumin. Here's how you can do it in just a few simple steps:
Step 1. Open up Lumin PDF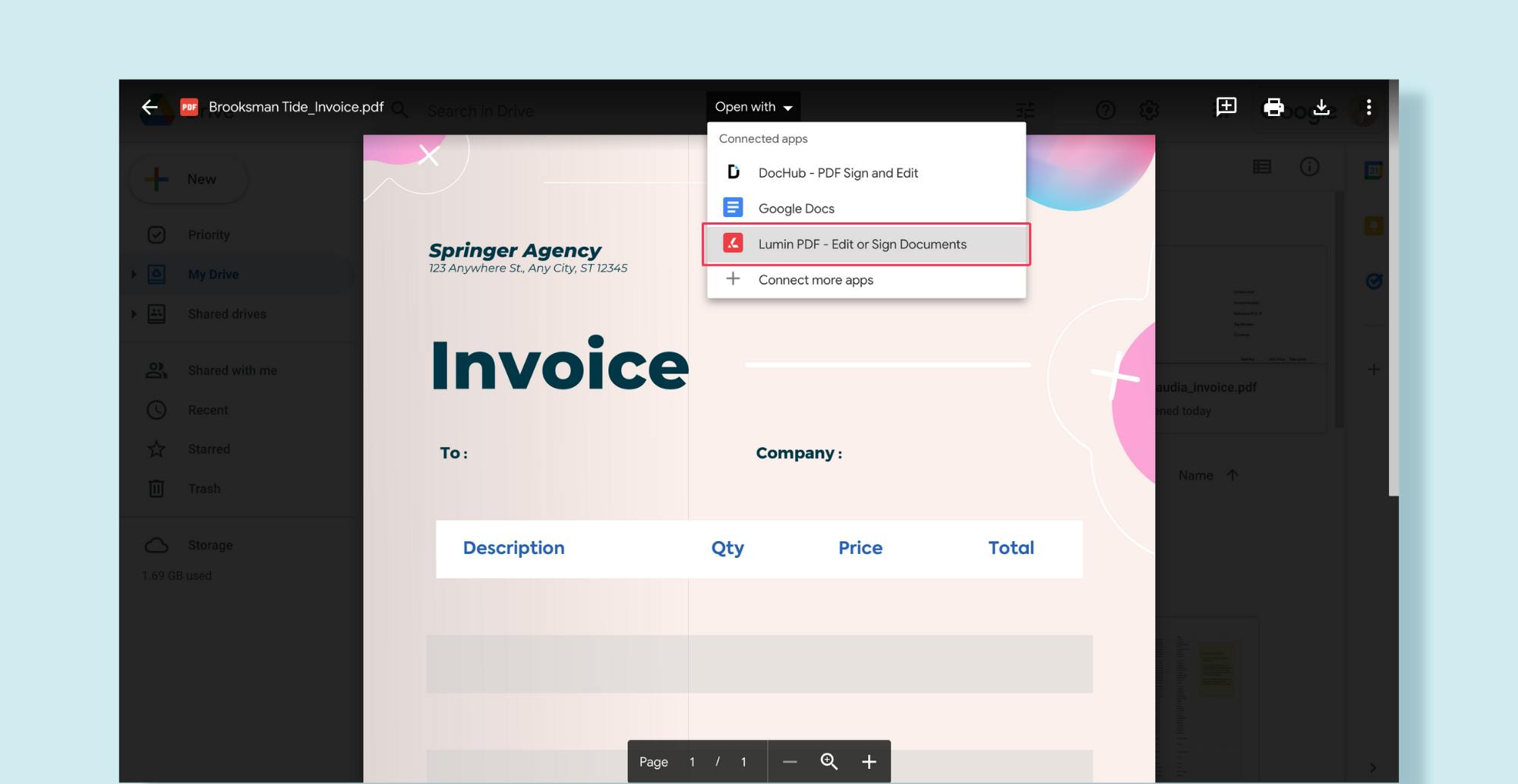 Go to Lumin PDF's website, sign in, and you will be taken to your personal documents. Or open a pdf directly from Google Drive into Lumin PDF.
Step 2. Open the document of your choice and choose an editing feature from the toolbar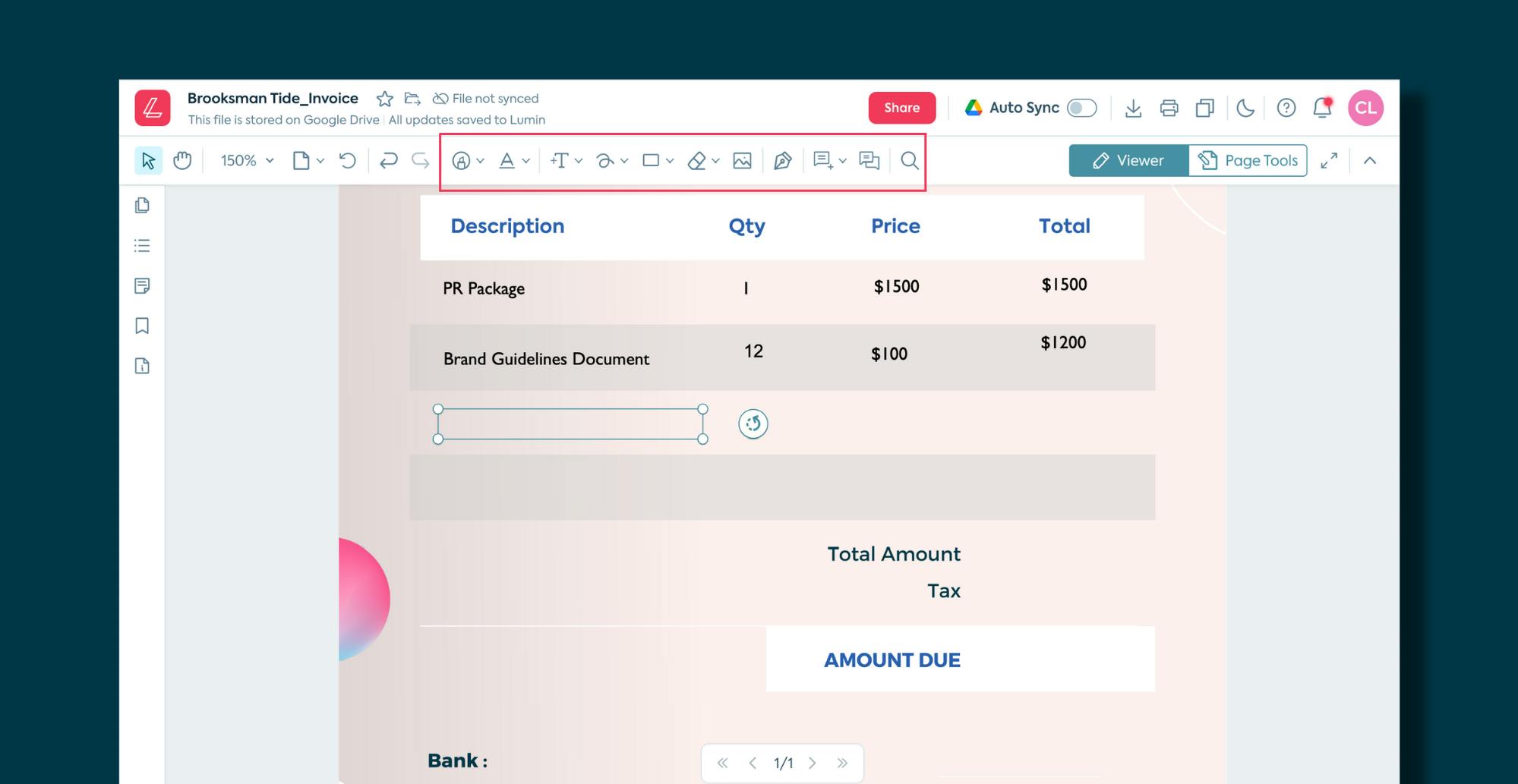 The toolbar gives you an array of editing capabilities, such as freehand drawing, highlighting, text insertion, and commenting.
Step 3. Make your edits in the document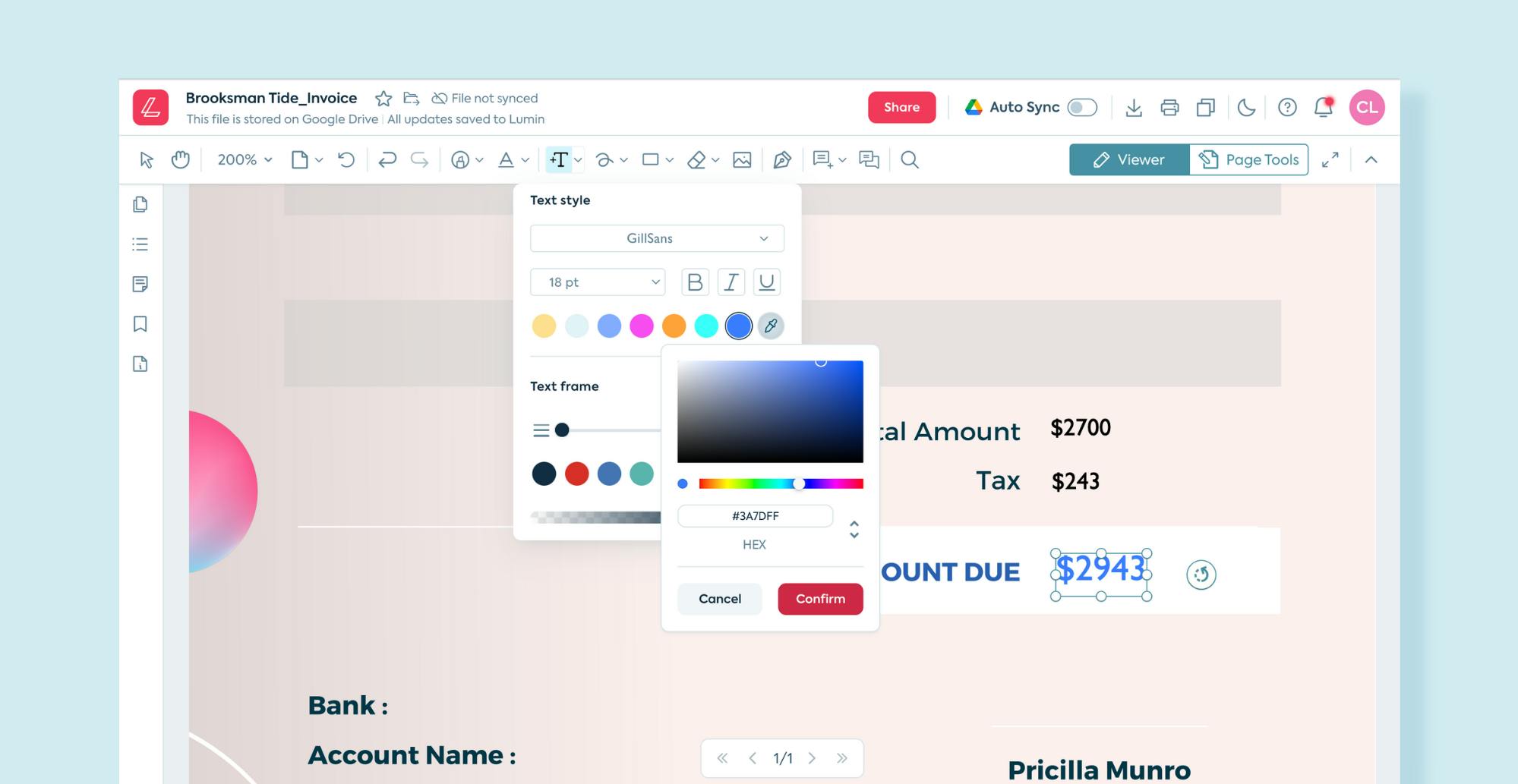 Changes will automatically be saved to Lumin storage and can be synced to Google Drive.
Step 4. Save and Share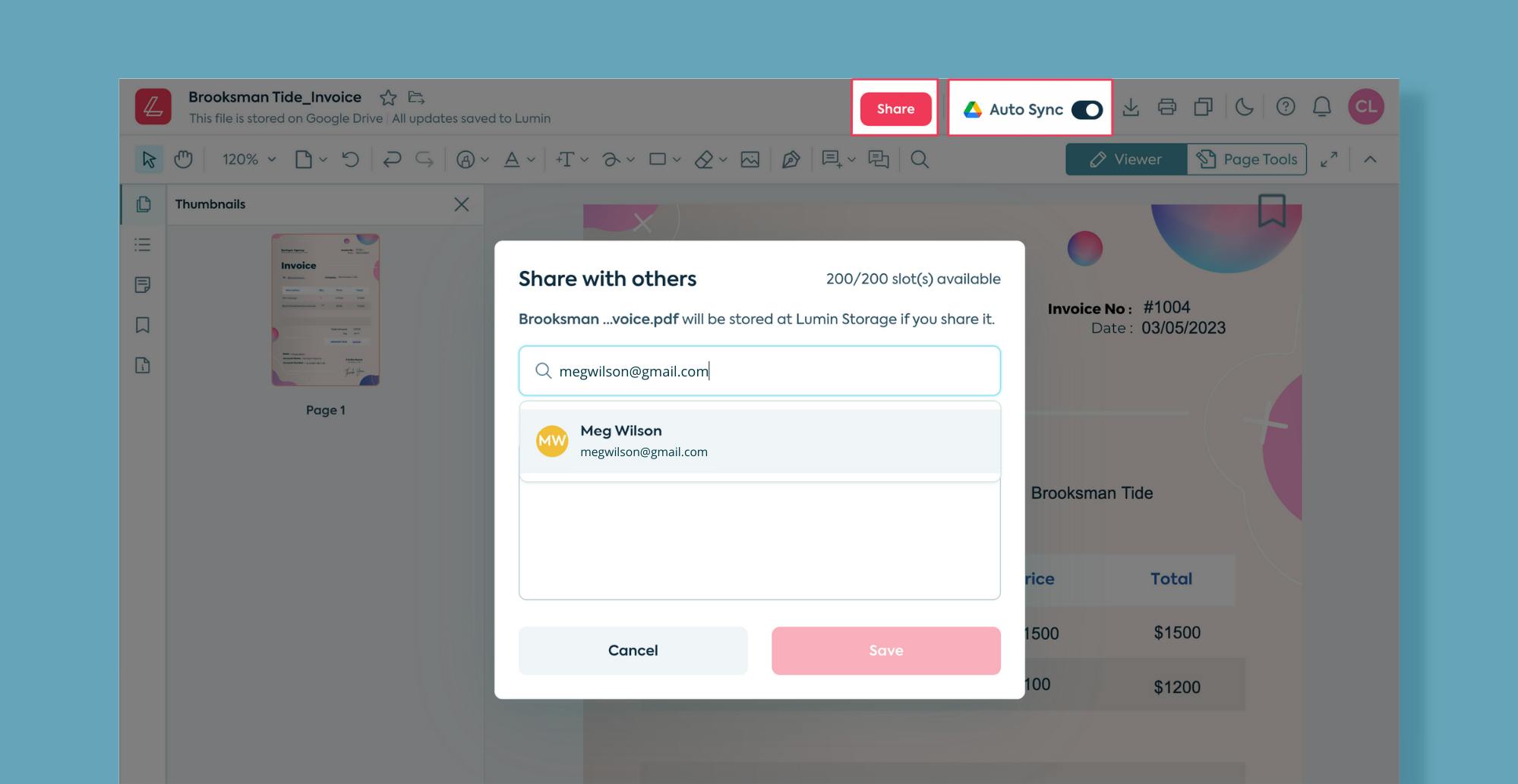 Turn on Auto Sync so your edits sync back to google drive. Click share to assign colleagues or friends different levels of access, depending on how you want them to interact with the document. You will be sharing a live document, meaning that if someone is permitted to make changes, they can be viewed, altered, and commented on in real-time.
As you can see, editing a PDF in Lumin is as straightforward and intuitive as using editing software for other document types.
*Edits were made from a Lumin Business account. Functionality in the free version has some limitations Upgrade now
All the ways you can edit a PDF
Editing a PDF involves a whole range of different functions; school students may wish to use the Optical Character Recognition and page reordering features so they can organize their school notes and find specific information for assignments quickly, while businesses that are jointly working on PDFs in the cloud may rely more heavily on the ability to mark up a PDF and add comments that can be viewed in real-time.
No matter your aim, we have you covered with a set of amazing features.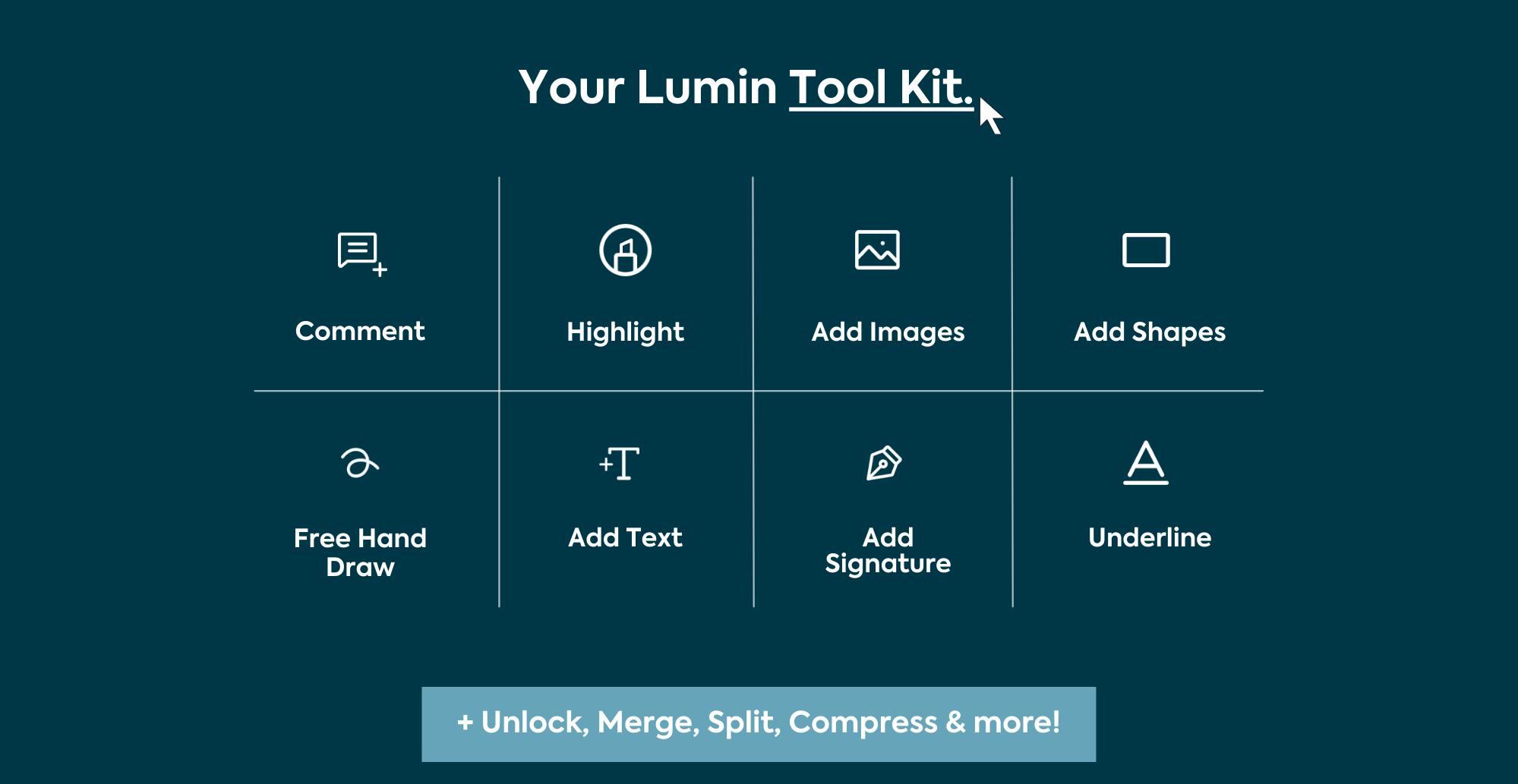 Freehand drawing on PDF
Use customizable markers to draw on your PDF document.

Add shapes to PDF
Add a selection of customizable shapes to your PDF document.

Add annotations to PDF
Annotate any element of your PDF document. Learn how.

Add & edit comments
Add, edit and respond to comments in your PDF for easy collaboration.

Highlight PDF
Highlight a section of your PDF with customizable highlighters.

Add images to PDF
Insert images into your existing PDF document.

Sign PDF
Add your signature to a PDF document in seconds, without the need to print. Learn how.

Merge PDF
Bring two different PDF documents together for ease of use. Learn how.

Move, Reorder and Delete PDF pages
Reorder and remove unwanted pages in your PDF document. Learn how.

Split PDF
Create two separate documents from a single PDF. Learn how.

Rotate PDF pages
Rotate pages in your document. Learn how.

OCR (Optical Character Recognition) in PDF - Using Lumin Tools Try now
Utilize a machine-readable PDF document for copying and searching text. Learn more.

Compress PDF - Using Lumin Tools Try now
Decrease your document's size to make sending and sharing a breeze. Learn how.
How to convert your document to a PDF
One of the most common operations undertaken using PDF editors is to convert different document types into a PDF format, or vice versa, for the purposes of editing. Our Lumin Tools software allows you to convert your document into a PDF in just a few clicks.
Word to PDF
Excel to PDF
PPTX to PDF
JPG to PDF
Convert your document now with Lumin Tools
Common PDF editing challenges
Despite PDFs becoming easier to edit, there are still some headaches that people come across when trying to work with their documentation. This is because PDFs were originally designed to be static. 
Here are the main hurdles faced when editing PDF documents:
Elements are impossible to move
PDFs are perfect for complex documents that incorporate text, design, images, videos, and other files; however, all these elements can prove difficult to move around.

Font troubles can occur
If you are looking to include a font from another file type such as a Word document into your PDF, it could render differently or cause some formatting issues.

Image sharpness can be an issue
When manipulating an image taken from somewhere else, there can be problems due to a lack of file information or incompatibility with the PDF editing software's reader.

Objects can change
Some PDF software can have trouble distinguishing between different objects. If something is added, it can unexpectedly cause other objects to change or move.

Lumin PDF is designed to solve these challenges, with an intuitive platform that makes editing a PDF easy.  
Free PDF editing vs Premium
https://www.luminpdf.com/pricing/individual
When editing a PDF, the choice is often between a free internet tool that offers limited features, or a Premium tool that offers advanced capabilities but costs a lot. 
Lumin is different; we are dedicated to giving you an expansive list of functional features for an affordable price.
Lumin has packages for both individuals and organizations, with our complete Premium package unlocking all features and functionality at less than $6.58 a month (with a yearly subscription, USD).
Why Edit PDFs with Lumin PDF?
Get the most out of your PDF editing with Lumin. We're here for you around the clock with a range of amazing features at an affordable price.
Go paperless - You'll never have to print out a PDF ever again, with the ability to edit and leave e-signatures using our software.
Easy sharing - Share documents with your entire team at the click of a button.
Cloud integration - Work with Google Drive, Dropbox, or simply use our very own Lumin cloud storage.
Cross-platform - Access and edit your PDF documents on any browser and any device.
Start editing PDFs with Lumin today!
Lumin is the PDF editor that can be used by business professionals, administrative workers, and students to view, share, and collaboratively edit PDF documents in the cloud. Affordable and functional, you can sign up and start working on your documents in seconds.